Household Support Fund - 1 October 2022- 31 March 2023
On 26 May 2022, the Chancellor announced, as part of a number of measures to provide help with global inflationary challenges and the significantly rising cost of living, that the Household Support Fund (HSF) would be extended from 01 October 2022 to 31 March 2023. As has been done for previous schemes, the fund will be made available to County Councils and Unitary Authorities in England to support those most in need.
Ashford Borough Council has now received funding from KCC and a scheme has been devised which supports those that missed out on the Cost of Living payments that are in receipt of Housing Benefit but not one of the qualifying legacy benefits.
Those eligible for this support will be written to advising how and when payments will be made to them.
Preventing Fraud
It is very important that we make sure that all applications to our scheme are made legitimately. Please note that if you falsely declare your circumstances, provide a false statement or provide false evidence in support of your application, you may have committed an offence under the Fraud Act 2006. Ashford Borough Council has a zero-tolerance approach to fraud and financial irregularity and any suspicions of fraud relating to this scheme will be referred to the appropriate partnership organisations.
This funding scheme will close on or before the 31 March 2023, this is in line with Government guidance about the allocation of the funding.
People's Pantry
As part of our Household Support Fund scheme, we are working with the People's Pantry, which is part of the Repton Community Trust to support residents across the borough with regards to access to food.
If residents are in need of support or access to food during this cost of living crisis then please contact the People's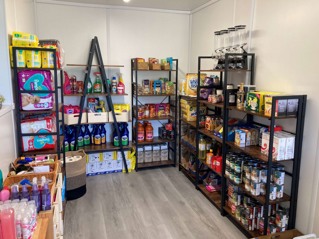 Pantry directly. They have been provided with a sum of grant funding from our allocation and this will be used by them to support as many households as possible. This will include households who are single, couples, with children or of pension age.  
The People's Pantry is a community shop based at the Repton Community Centre (TN23 3RX). Their aim is to provide a community led service to reduce food insecurity and food waste in Ashford.
Their team are able to make deliveries in emergencies to vulnerable people, whilst they also have a food locker facility available 24 hours of the day to ensure that essentials such as food, hygiene, cleaning products and blankets are always accessible.
More details about who the People's Pantry are and their open hours and support can be found on the People's Pantry website or via the People's Pantry Facebook page.
For information regarding other food banks in the borough, please visit our food bank web page. Kent County Council also has a Cost of Living support hub which provides information on additional support available for households during this difficult period.
Frequently Asked Questions
We will contact you if we require any further information. Please refer to the letter dated 11 January 2023 for details on when to expect payment.
Awards from the fund will be fixed at £200 per Housing Benefit household. We will review applications as detailed in the letter.
The First Right of Appropriation means that when you pay money into your account, you have the right to tell the bank how you want that money to be used. Therefore you must inform the bank (as soon as you find out your application was successful) how you want the money to be used at the time of payment.