Housing Matters - Ashford Borough Council Housing Tenants Newsletter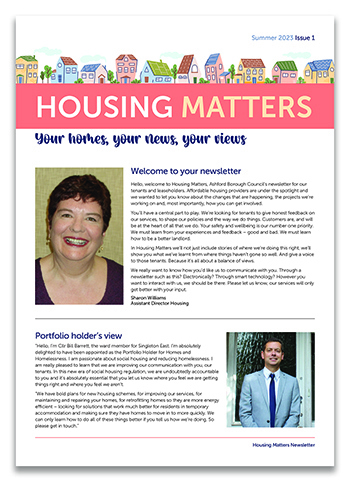 We are pleased to share our new publication for Ashford Borough Council tenants and leaseholders, Housing Matters. This newsletter will provide you with information about important changes that are happening regarding housing and the services we provide.  It will also set out the projects that we are working on and involved in and most importantly how tenants and leaseholders can start to get involved. 
We have not communicated with tenants and leaseholders in this way for sometime so we would welcome any comments or feedback you have on Housing Matters, any ideas for articles or information you want to read about. We are also keen to hear about how often you would like to receive this publication.  You can let us know your thoughts by emailing us at tenant.contact@ashford.gov.uk.
Download our first newsletter, all editions will be stored here and can be printed and posted upon request, using the email provided above.