Mayor's Musings - Blog Eight
Last updated 31 July 2020

Like many of you, this enforced time of quiet isolation has not only given me the chance to get focused and spring clean the house from top to toe, but also to pause and reflect.  In between clearing out cupboards and cleaning shelves, I have been scrolling through my many photographs of the lovely events that David and I have attended.  What an incredible variety of engagements we have enjoyed and more importantly, what amazing people we have met.
It has been a wonderful experience, we have been greeted with warmth and kindness by so many people, organisations, cultures and especially the school children. We have embraced every moment and appreciated the opportunities that made it possible for us to be a part of each visit and celebration. Exceptional memories that we will always cherish. 
As we continue with our lockdown seclusion, I thought I would share with you some of the highlights of my year (and a bit longer) in office.  Some of you may have attended one or more of the engagements so it will bring back happy memories for you too!
My Mayor's Cadets – Ashford Sea Cadets – throughout the year
Always such a pleasure to have the Sea Cadets with me at Full Council Meetings and at selected civic events.  At the top of the blog is a happy memory of the last Full Council meeting before the local authority had to quickly adapt to Virtual Meetings. Here at the incredible Ashford Museum for the launch of the HMS Albacore Exhibition.
Peace March with the Hare Krishna Group – July 2019
What a celebration of colour and sound as the Hare Krishna group arrived in Ashford Town Centre for their walk of peace. It was a wonderful experience taking part in the dancing and singing as they made their way across East Kent.
Cambrai Tank – Summer 2019
Representatives from the Medway branch of the Royal Tank Regiment Association joined the Mayor at a special event (Saturday 3 August 2019) to mark the 100th anniversary of Ashford's WW1 tank being presented to the town.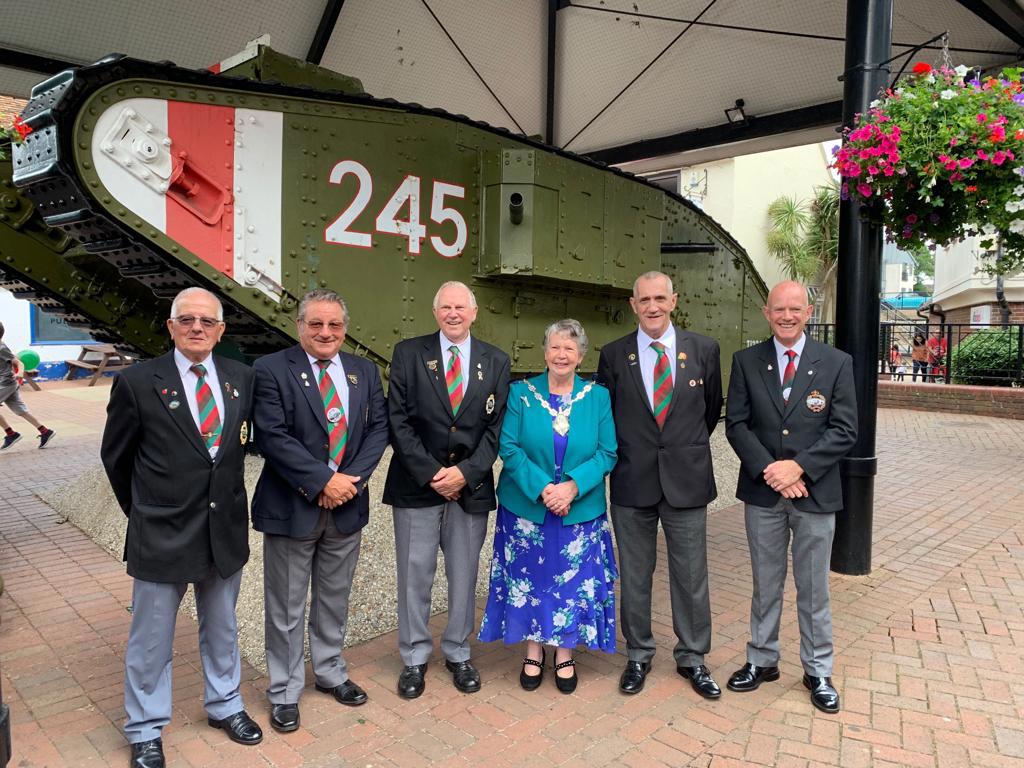 Appledore Flower Festival – August 2019
This annual display in Appledore Church is an inspiration to all gardeners and budding florists! The theme was musicals and it was truly inspiring to be able to appreciate the creativity and the beauty of the flowers and arrangements on display.
Remembrance Day – November 2019
"No one will ever be forgotten - we will always remember them all".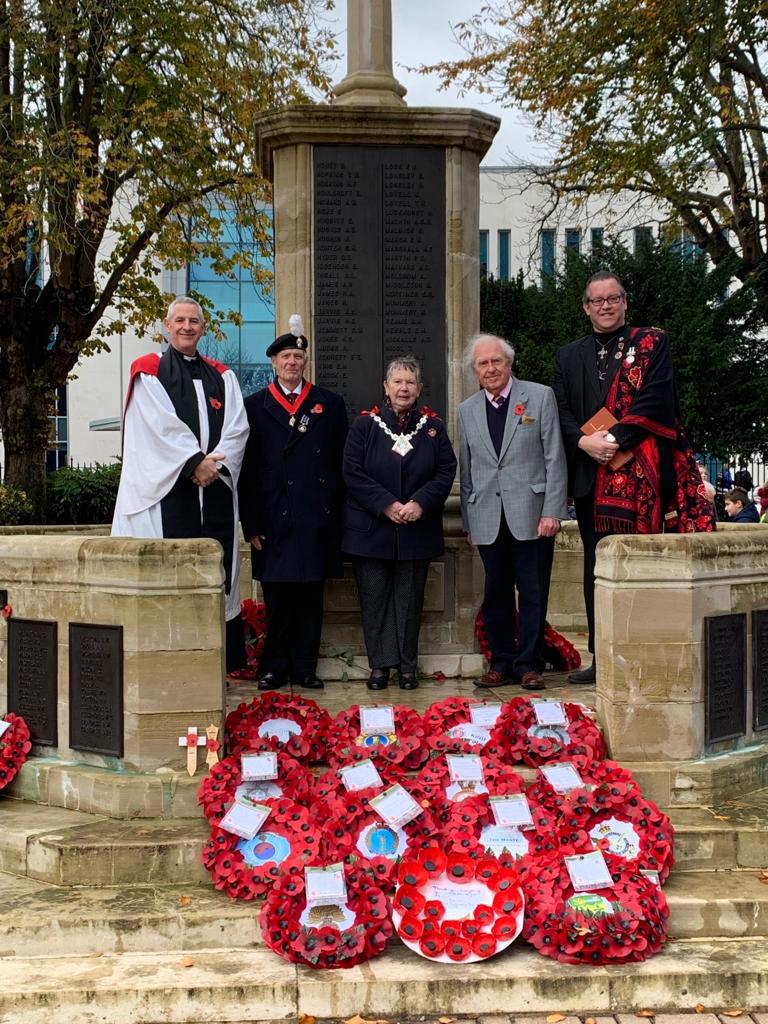 Ashford Cattle Show – November 2019
It is also a pleasure to invite other councillors or friends to join me as my escort at some events and for the Ashford Cattle Show, Parish Councillor, Ian McClintock joined me. I was amazed by the cattle and livestock at the show – a real treat and Ian had a great time too especially when he invited me to stand alongside one of the winning bulls - I have forgiven him!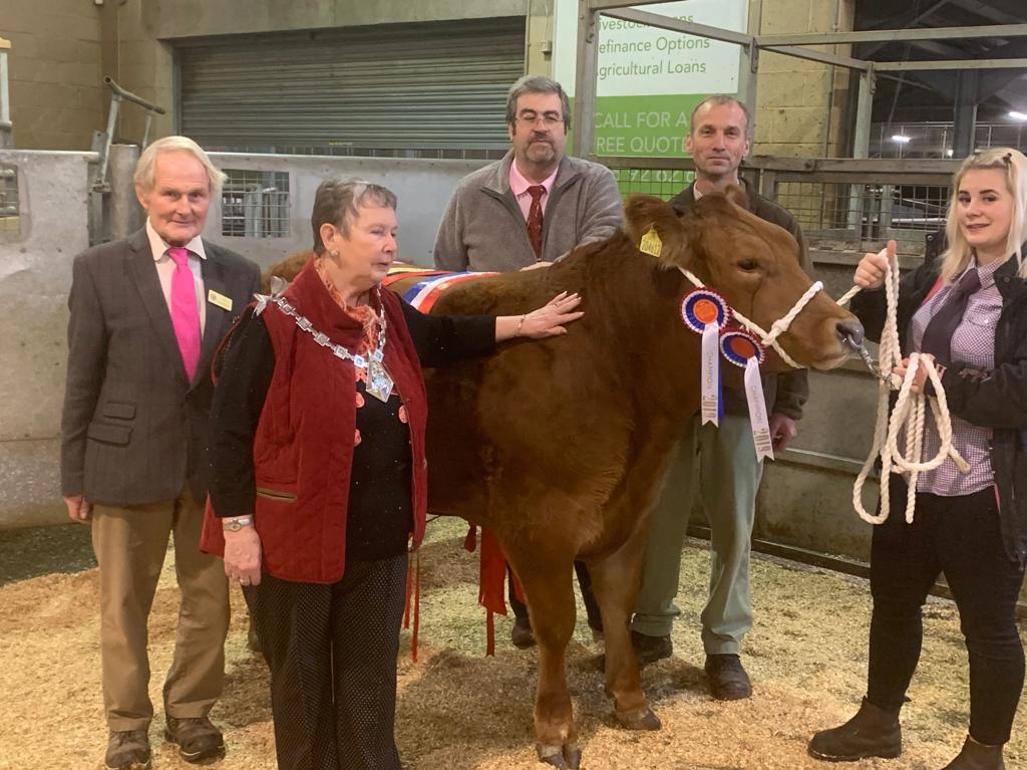 Christmas around Ashford – December 2019
Christmas was filled with a range of invitations from carol services to book signings and festive dinners and from meeting Father Christmas (who was getting to many locations prior to his big day) to giving out Christmas presents to children at various charities.  It was a hectic time!
Here I am at Dobbies Garden Centre as Santa arrives at the store with his reindeers!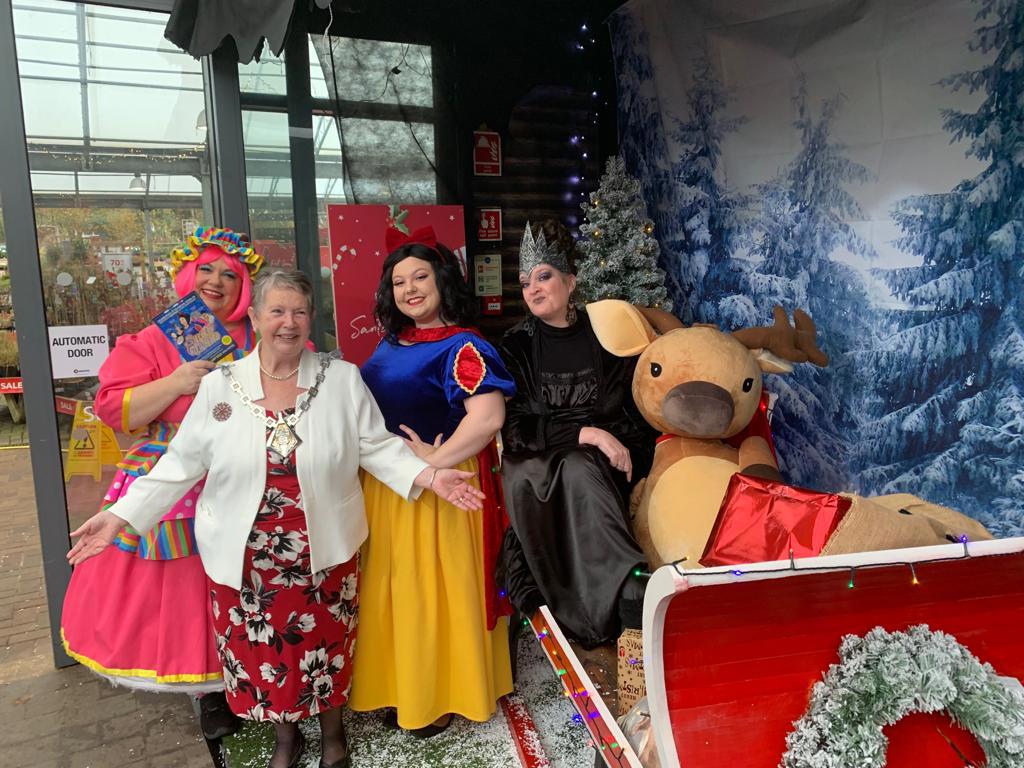 David and I were delighted to have been invited by Steve Salter for his new book signing at Waterstones. Such an impressive man with an abundance of knowledge regarding the history of Ashford.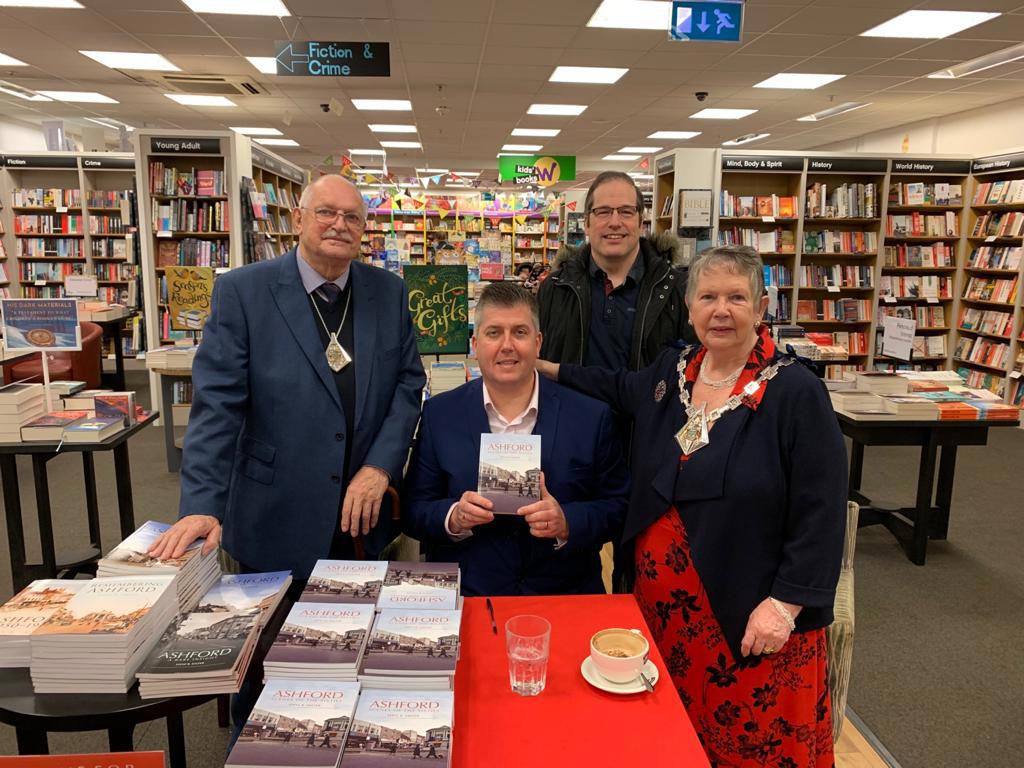 Here at the Ashford Designer Outlet at the quite awesome Garden of Light and also in the centre within the Christmas Bauble.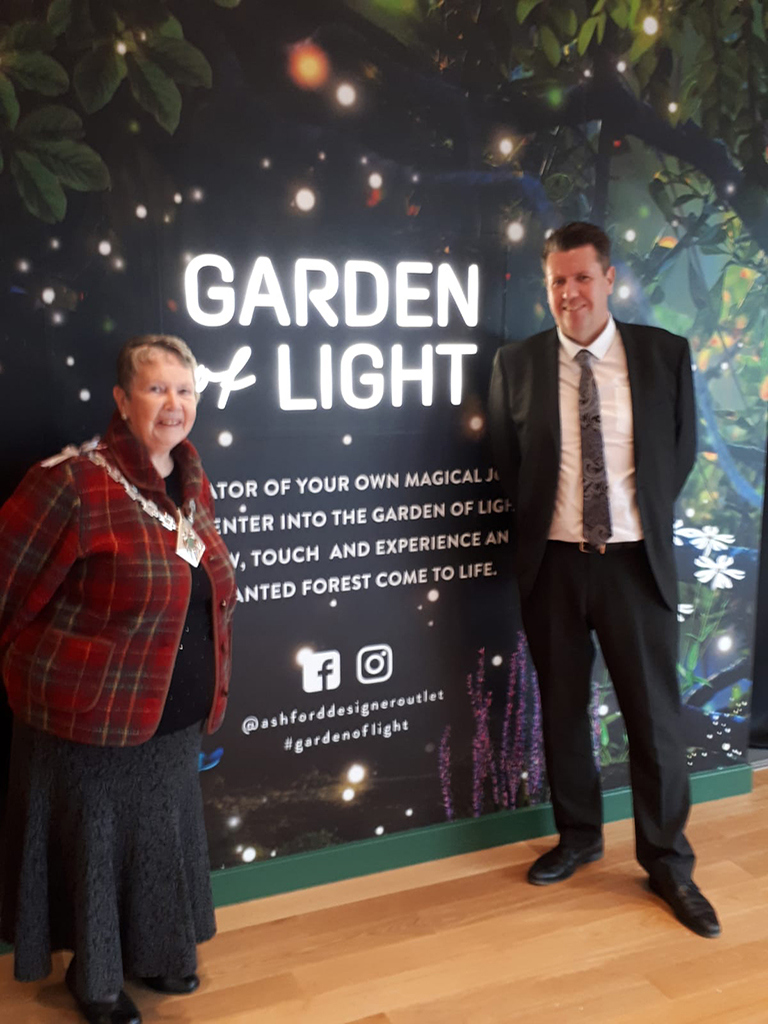 Fundraising Events for my Three Charities – November and January
It's always a pleasure welcoming family, friends, colleagues and other mayors from across the region to enjoy Ashford's warm welcome and hospitality, especially when I am raising funds for my three chosen charities:  Ashford Sea Cadets, Ashford Volunteer Centre and Home-Start Ashford & District.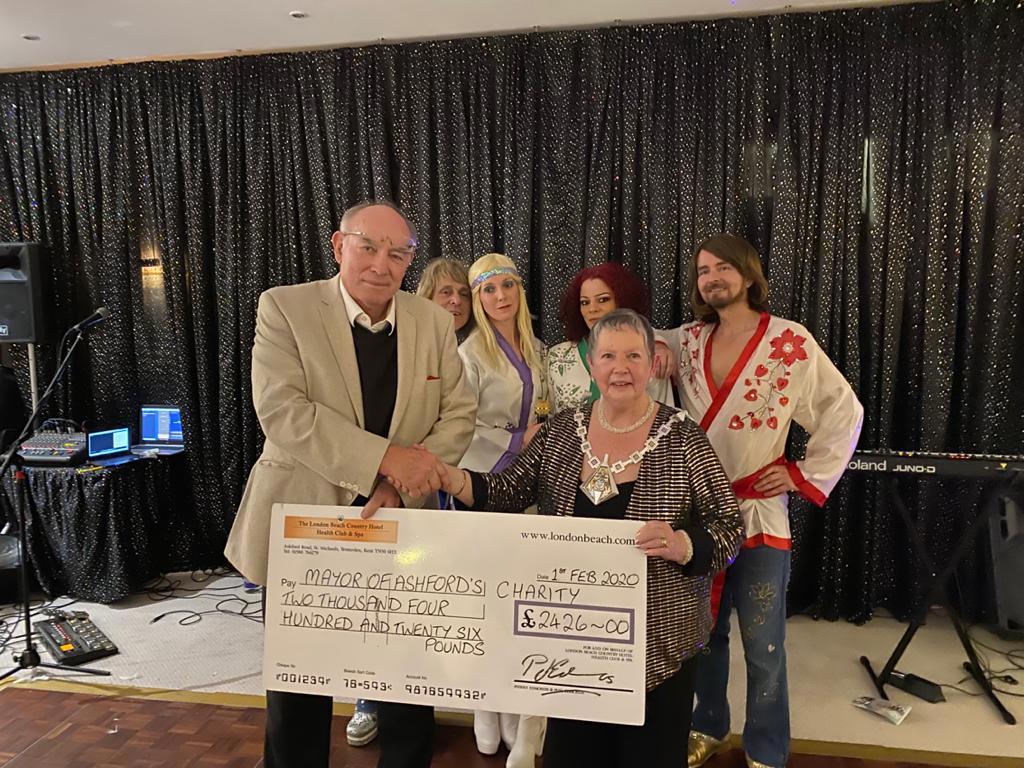 Don't Forget –Stay Safe, Stay Alert:
If you are in need of help and support, you can get the assistance by looking online or by getting in touch with the Council at help@ashford.gov.uk. Or would you like to volunteer to help others? If so, please contact: community@ashford.gov.uk.
Once again, I would like to send my gratitude to everyone who is helping the borough get back on its feet again.  As we slowly emerge from the lockdown and tentatively step out into the big wide world once more, I want to say have courage and be sensible.  It is with the spirit of togetherness that will enable us to move forward and work towards getting the country back on its feet – safely and successfully. 
THANK YOU.
Other News you may be interested in