Out and About in Ashford and Tenterden with the Mayor - Season's Greetings
Published: 23/12/2020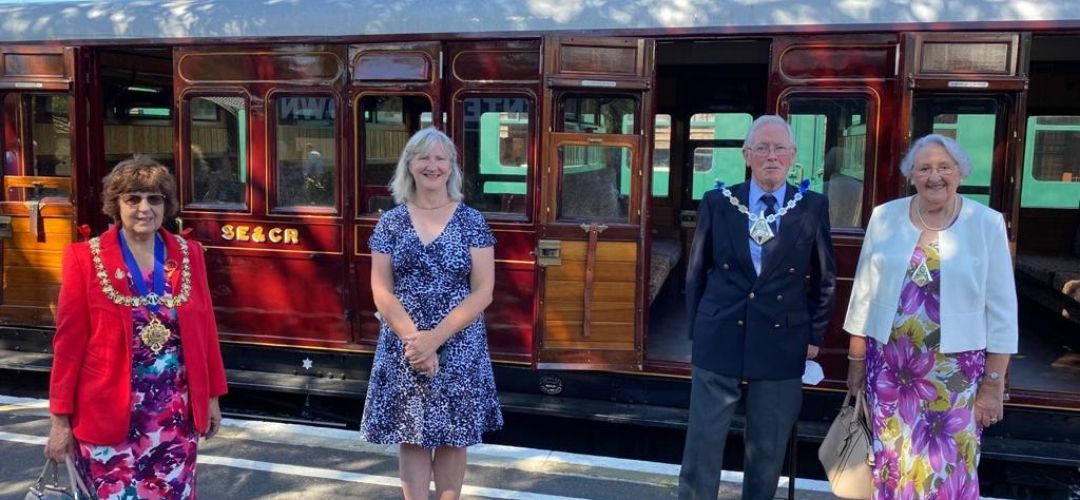 Photo: The Mayor and Mayoress of Ashford, Cllr John and Mrs Jill Link joined by the Mayor of Tenterden, Cllr Jean Curteis and Sarah Barber from Ashford Borough Council at Kent and East Sussex Railway – taken 20 August 2020.
As we turn the page onto another year, we look back and reflect on this very strange year. It has, however, highlighted the dedication, compassion and strength of our communities and businesses – in fact, I see you all as 'Champions'!
My programme of Civic Visits has taken me far and wide across our borough. So, despite the Government restrictions throughout the year, the Mayoress and I have safely enjoyed a wonderful programme of visits to businesses, attractions, accommodation providers and community members and groups. Well in fact, visiting some of the many 'Champions' that have been there for us.
Our NHS staff have done us proud along with all the key workers who continually strive to keep Ashford safe and 'Open For Business' during these most difficult times. Thank you to each one of you and I take this opportunity of wishing you all a Happy Christmas and a hope for a better 2021.
Looking back over the past five months, we have enjoyed some very interesting days out and met some incredible people. Towards the end of the summer, my wife and I were able to head into my home town of Tenterden. Here we were accompanied by the Mayor and Consort of Tenterden, Cllr Jean and David Curteis. A wonderful sunny day as you can see from the photo at the top of the Blog.
An opportunity to join with local tourists on the Kent and East Sussex Railway was a great pleasure, chatting with the team members and volunteers on the impact of the COVID-19 pandemic on the tourism industry. Then finishing our visit with an outdoor beer tasting at the Old Dairy Brewery. Later in the programme we also visited Frasers Hotel at Egerton and enjoyed a delicious afternoon tea. Then an incredible experience to see the future plans and charity work of the Green Farm Spa and Retreats at Shadoxhurst – both doing a wonderful job.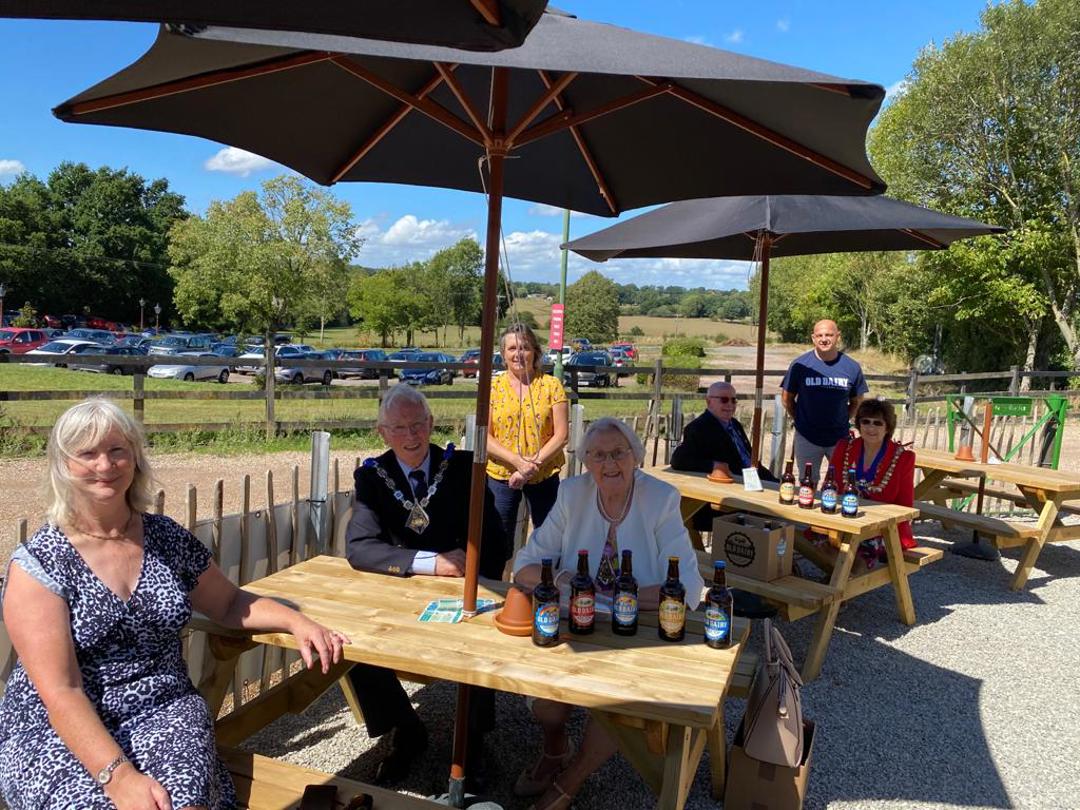 Photo: Old Dairy Brewery, Tenterden – taken 20 August 2020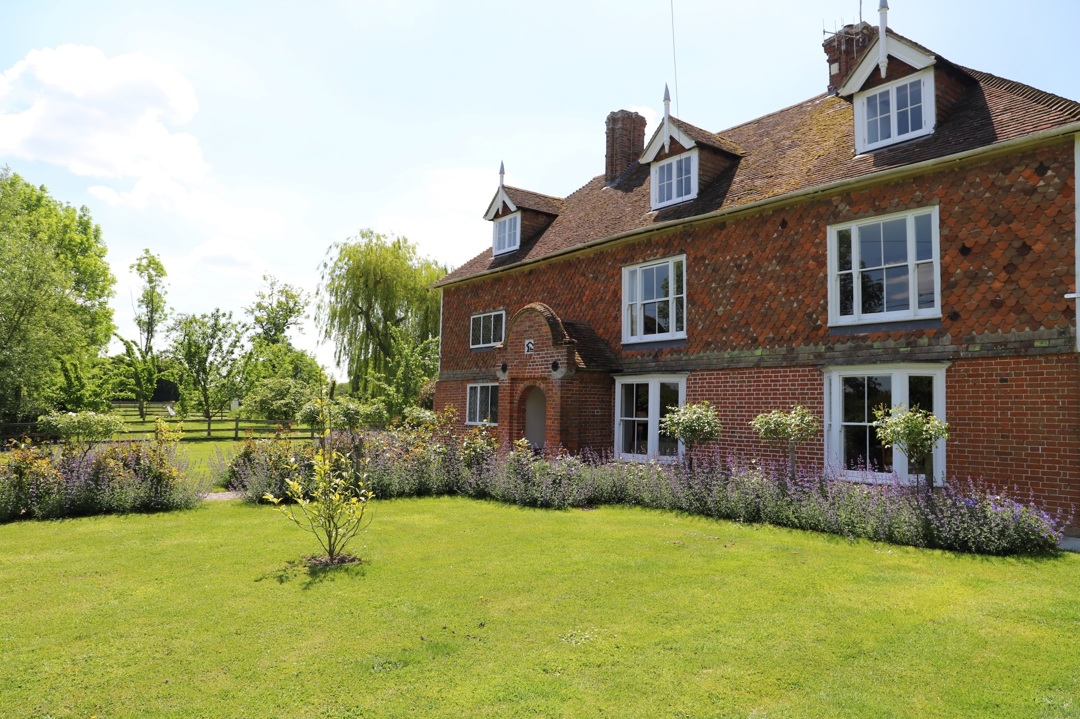 Photo: Visit to Green Farm, Shadoxhurst – Autumn 2020
Many attractions have registered and achieved Visit Britain's 'We're Good to Go'. This is the official UK mark to show that this tourism or hospitality business has worked hard to follow the Government and industry COVID-19 guidelines and has a process in place to maintain cleanliness and aid social distancing. Well done on all the businesses that have received this mark of safety to protect themselves, their staff and us – their customers and clients. We look forward to visiting them once we are able to reopen.
The Ashford Applause awards recognised ten of the 'Champions' of the borough who were voted by you during the first Lockdown.  One of the winners was Ash Miah and I was fortunate enough to visit him at his restaurant in Kennington to present the framed artwork in person. I personally applaud all the amazing volunteers and our essential workers who have given their all during the year and continue to provide vital support now.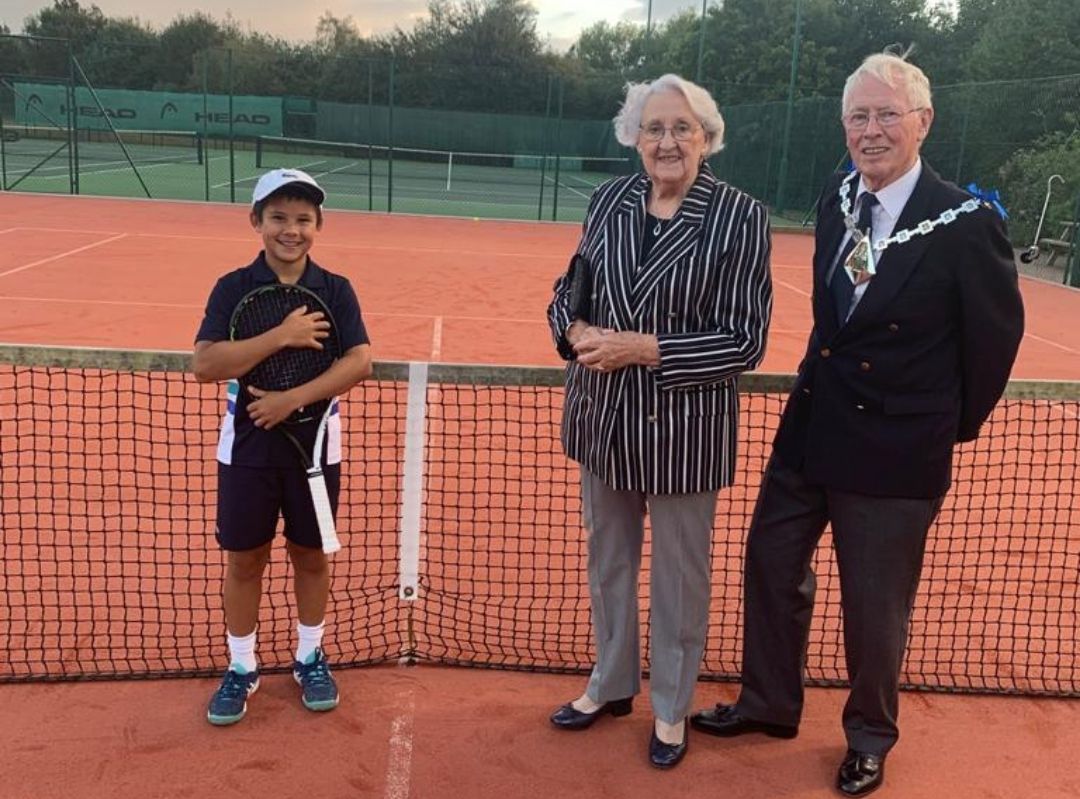 Photo: With Ben Gusic-Wan at Wye Tennis Club – Taken 21 August 2020
Another 'Champion' is young tennis ace - Ben Gusic-Wan – aged only 12 and a member of Wye Tennis Club. Watching this exhibition match in August as the current World Number One for U12 was incredible! He is the first British boy since Andy Murray to win this title. What a great achievement and a name to look out for at Wimbledon. Well done Ben!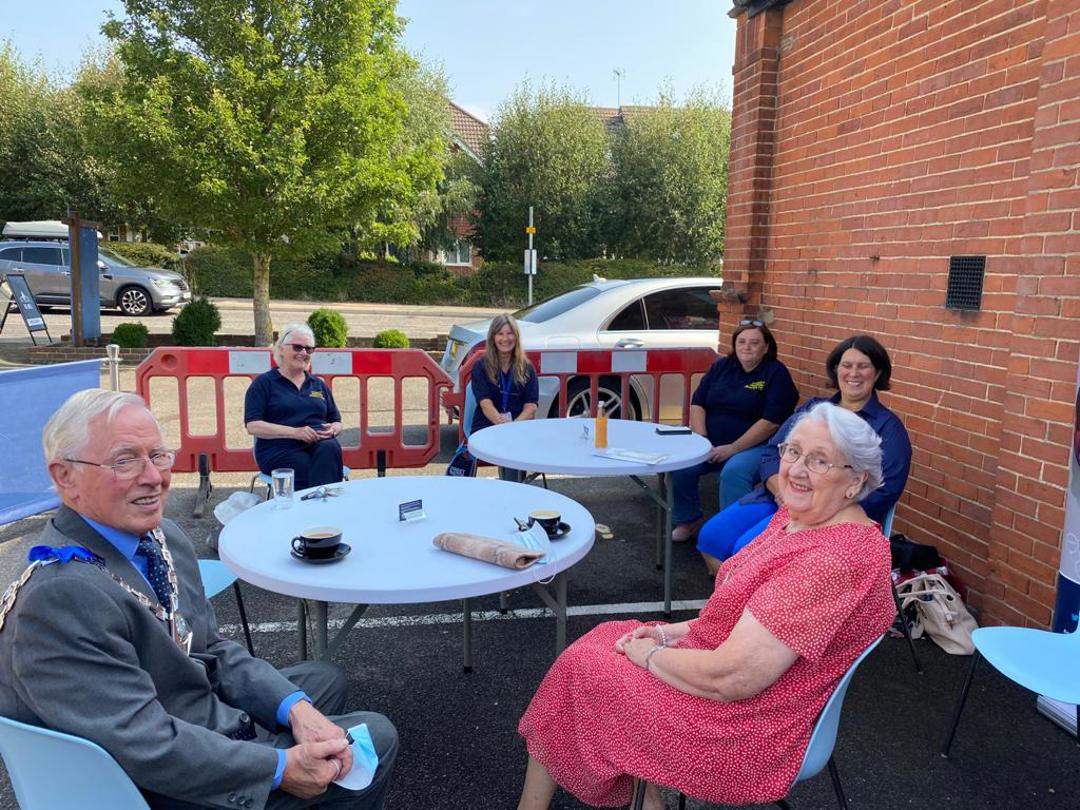 Photo: With the Team of Ashford Street Pastors at Willesborough Baptist Church – taken 13 August 2020
I have also met with all three of my charities, the first was Street Pastors where we had coffee on the terrace at the Willesborough Baptist Church with an opportunity to discuss their plans going forward then joining in with a socially distanced gathering with the Dementia Memory Café in Tenterden Recreation ground on a very hot afternoon! This autumn we managed a meeting with my third charity – Parkinson's Ashford. Such a delight to meet them all safely and know how vital funding is for these worthy charities.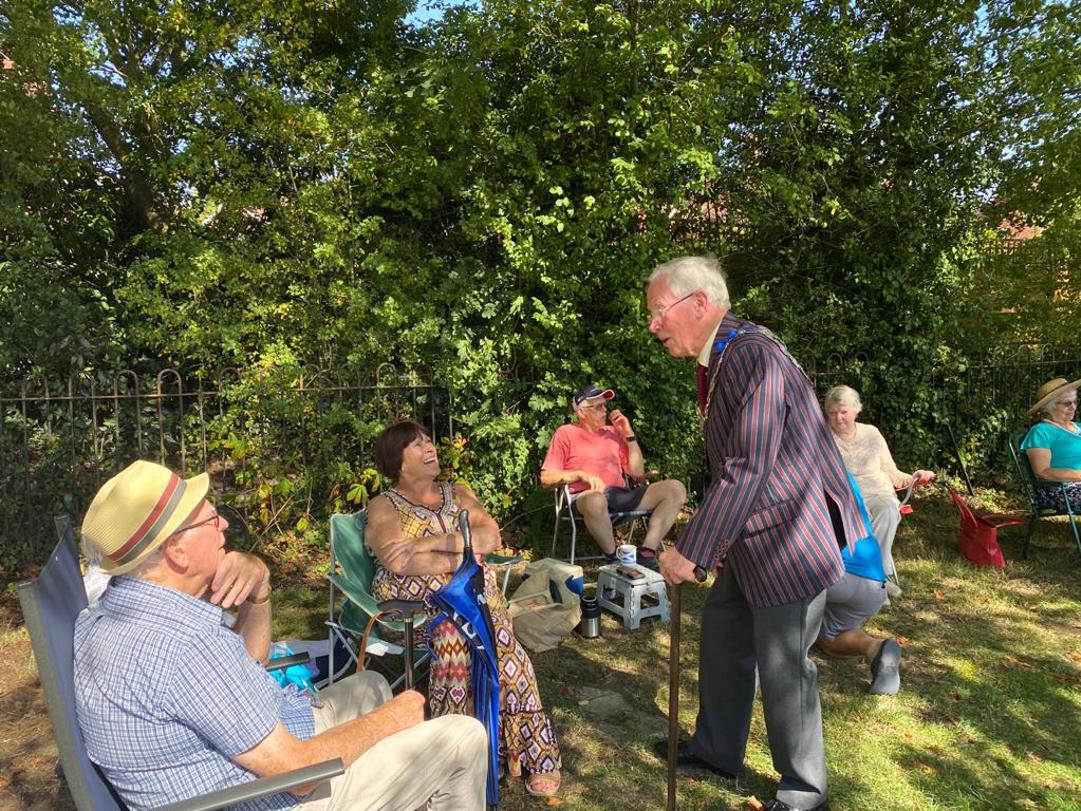 Photo: Dementia Café Social Meeting at the Recreation Ground Tenterden – taken 7 August 2020
Therefore, as we close the year, I wish each and every one of you a safe and happy holiday time with the hope of a brighter new year when we can be with loved ones once more.
Cllr John Link, Mayor of Ashford
Other News you may be interested in