Ashford Celebrates the Queen's Platinum Jubilee
Published: 30/05/2022

What's on in the town centre
Make the most of free parking in all Ashford Borough Council car parks across the Platinum Jubilee weekend, 2 June – 5 June, by heading into Ashford town centre to join in the celebrations.
Come and follow the Ashford Tree Trail from 2 June – 25 June, which is a physical trail of decorated trees throughout the town centre, each celebrating the Queen's 70 year-reign.
Ashford Tree Trail is a community arts project with decorations made from recyclable materials by local schools, community groups, the public and Animate Arts CIC. 
Click on the map below to view a larger version of the Tree Trail Map [pdf] 6962KB.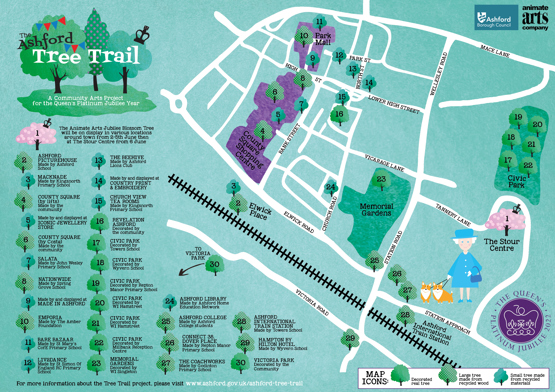 Enjoy live music on the Bandstand on Thursday 2 June including Miss Holiday Swing and Fred Clark and on Saturday 4 June The Dulcettes and Mampama. We've nine different performers over the two day to entertain you.
Elwick Place will be pulling out all the stops for the occasion, on Friday 3 June and Saturday 4 June 10am – 4pm you can head for a free complimentary keep sake photo in front of a classic black taxi. To get a chance to win £100 to spend in an Elwick Place tenant(s) of your choice, all you have to do is share your photo digitally on social media by using the #ElwickPlaceCelebrations to enter.
These activities accompany the following programme of Ashford Celebrates, all are welcome and events are free.
Thursday 2 June from 9pm – Lighting of the Civic Memorial Beacon, at Civic Park, Ashford, whereby one of the 1,500 Platinum Jubilee beacons will be lit to mark this historic occasion. Civic Park will be lit up in celebratory colours, with some special performances. There will be an opportunity to view some of the decorated real trees from the Ashford Tree Trail, and a chance to add your messages of goodwill to the Jubilee Blossom Tree.
Friday 3 June from 1:45pm – The Mayor of Ashford's Thanksgiving Service for Her Majesty the Queen, at St Mary's Church, Ashford, a community celebration, in music and words, featuring all seven decades of the Queen's reign, with performances from local choirs including St Mary's Church of England Choir.
Saturday 4 June from 10:15am – 80th Anniversary of Ashford Sea Cadets and HMS Albacore, at Memorial Gardens, Ashford. A commemorative service led by the Mayor's and the Ashford Sea Cadet's chaplains, including the unveiling of the memorial for HMS Albacore and performances both before and after the service from the Ashford Sea Cadet Band.
For more details on these events head to Ashford celebrates webpage.
Want to see what else is happening across the borough? See what other celebrations are taking place at Jubilee community events map.
Event Posters