Ashford continuing to plant trees for The Queen's Green Canopy
Published: 14/03/2023

Ashford Borough Council have been continuing to take part in The Queen's Green Canopy (QGC) by aiming to plant 135,500 trees by the end of 2023, representing one tree of every resident in the borough.
QGC is a unique tree planting initiative initially introduced to mark Her Majesty Queen Elizabeth's Platinum Jubilee. However following the sad passing of Her Majesty Queen Elizabeth and the now wishes of His Majesty King Charles III, the QGC initiative has been extended to give people the opportunity to plant more trees in honour Her Majesty Queen Elizabeth.
The Ashford tree planting initiative started in autumn 2021, and has continued with over 107,000 trees planted across the borough. Aspire Landscape and Management have been working with parish councils and private landowners, who have been supporting the objective and actively planting trees and hedgerows within their communities and land.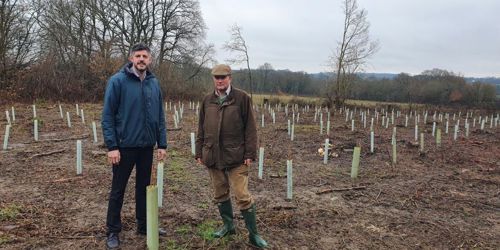 Hole Park Estate, situated in Rolvenden, have helped us in our pledge by planting some 6,000 trees on the estate since 2022. In addition, to minimise the use of new plastic tree guards, second hand guards donated by local vineyards have been used to protect newly planted trees.
Trees benefit people's health and wellbeing, they benefit the environment, they enhance biodiversity, and they strengthen communities.
By planting the right trees in the right places and for the right reasons, we are championing this initiative to create a legacy in honour of Her Majesty Queen Elizabeth leadership of the nation, which will benefit future generations.
Cllr Matthew Forest, Portfolio Holder for Environment, Property and Recreation said "I greatly enjoyed meeting Edward Barham recently to see the fantastic tree and hedgerow planting works and to see where some of the trees, donated to Hole Park Estate by Aspire Landscape and Management as part of our Queen's Green Canopy, have been planted.
"Much work goes into planting and caring for the trees I want to say a special thank you to everyone who has helped us on our mission so far."
Tree planting has now ceased for the 2022- 2023 planting season. However we will be looking to restart planting in the autumn of 2023, in a final push to reach our target of 135,500, when once again we will be asking people to support both the project and planting works.
To find out more information on the initiative on The Queen's Green Canopy website. 
Other News you may be interested in