Civic Park's new sign
Last updated 31 July 2020
In early 2019 Ashford Borough Council made plans to complete the works to the Civic Park, and this included officially changing the name from North Park to Civic Park. We had already installed the liquid amber trees and went on to lay wild flower bulbs on the riverbank to attract bees and other pollinators, and give the park a structured but natural feel.
The council has worked closely with ecologists to guide us in the clearance work to increase biodiversity and develop a well-considered, sustainable management plan for the park and the river (the latter in consultation with the Environment Agency as they manage this waterway).
The final stage was to produce a suitable sign in keeping with the stature and quality of the Civic Memorial Beacon, located nearby. Last summer discussions began on what this sign could look like. Designs were produced by our deputy grounds maintenance manager and our partner production company, which specialises in creating many other village green signs. A great deal of care was taken in making the final decision.
The sign was commissioned in the autumn and took several months to construct. It arrived at our Aspire Landscape Management depot at the turn of the calendar year but it was far too wet to install and it had been too wet right up to just before the council – like the rest of the UK – went into lockdown. Only in recent weeks has it been dry enough to install the post, with Aspire staff adhering to social distance guidelines. The sign installation was completed on Monday 1 June.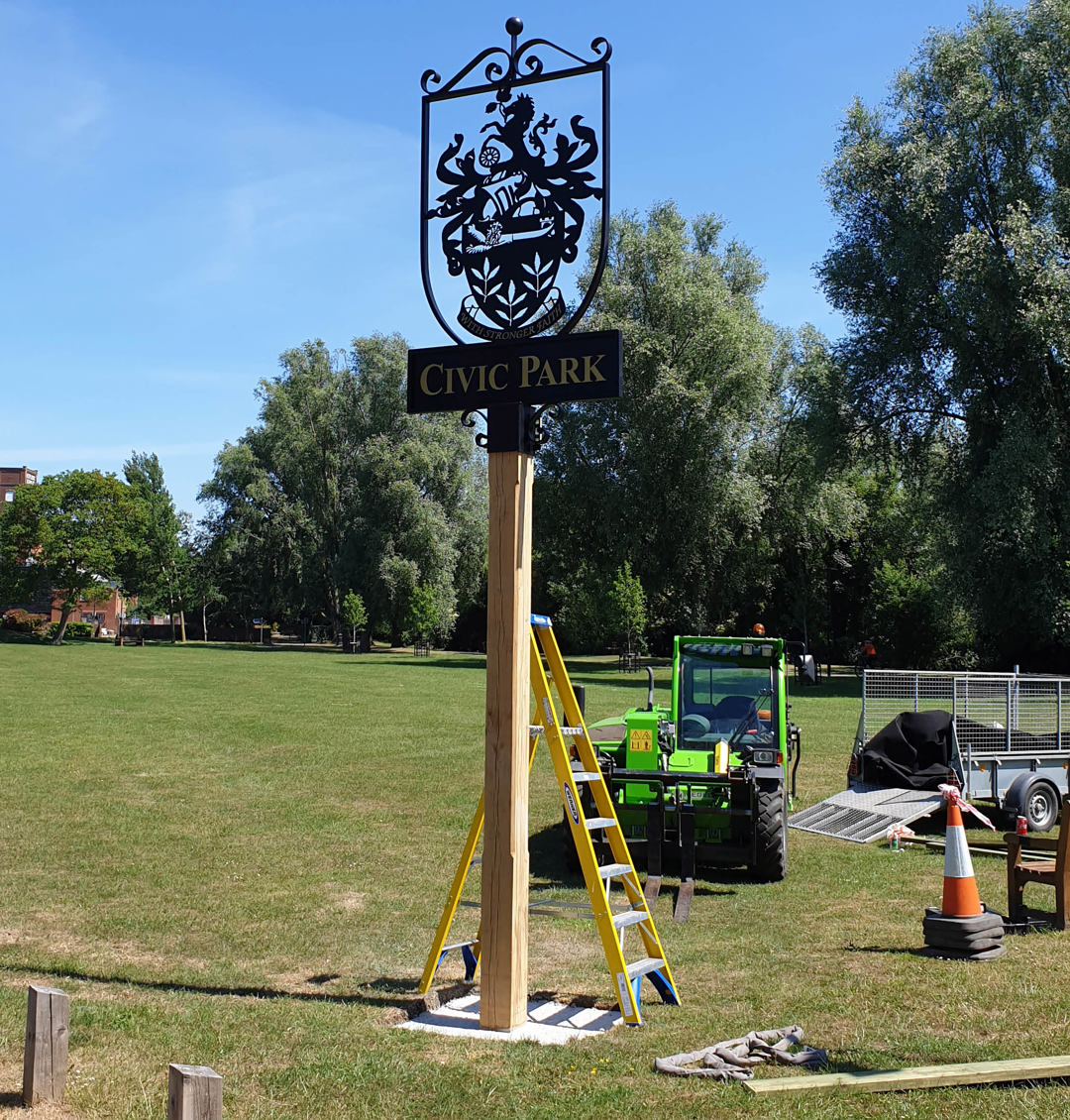 The sign and oak post design, construction and installation cost £6,300, and was paid for out of last year's council budget by reducing spend in other areas. The sign is conservatively anticipated to last at least 50 years, and by investing in such a high quality product, savings are expected to be made in the long term on replacement and maintenance.
The sign features hot zinc coating of the framework, making it effectively rust proof, and powder coating of the whole structure, together with gold colour infill on the Ashford Borough Council motto With Stronger Faith on both sides. The sturdy shaped post is made of treated English oak, set in a concrete base.
The forecasted 50 year-plus life span of the sign means that this impressive structure will have virtually no maintenance costs and represents excellent value for money.
Cllr Gerry Clarkson, Leader of Ashford Borough Council, said: "To raise the sign now, as we start to see lockdown lifted and venture into a period of social and economic recovery 'with stronger faith', is quite symbolic. The installation of the sign is the culmination of a major project to improve and upgrade this park, and to provide an enhanced amenity for our residents."
Other News you may be interested in