The History of Victoria Park and Watercress Fields
The 17-acre Victoria Park was purchased by Ashford Urban District Council from Mr George Elwick Jemmett and Mr William Francis Bond Jemmett for the sum of £2,760.00 in 1898.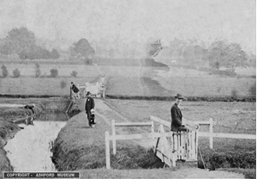 At this time the park included a series of curved and axial tree lined walks, shrubberies, river planting, a bandstand, recreation ground, shelter and changing rooms. It became a key place within the town to play sports matches and host public events.
Watercress Fields derives its name from its history of watercress growing. In the 19th century, watercress was grown commercially in the chalk stream and transported to London markets.
The history of the Hubert Fountain
The Grade II* listed Hubert Fountain in Victoria Park was made in France for the International Exhibition, a successor to The Great Exhibition of 1851, in the Horticultural Society Gardens, Kensington, London in July 1862.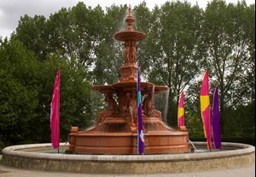 After the exhibition, the fountain was purchased by John Sawbridge-Erle-Drax for the sum of £3,000 to adorn the front gardens of Olantigh House, Wye, until the house was destroyed by a devastating fire in 1903.
Mr Harper's birthday
In 1910, the former chairman of the Urban District Council and local antiques dealer, Mr George Harper bought the fountain and gifted it to Victoria Park on the condition that it be turned on and celebrated every year on his birthday, the 23 July (1841).
On 24 July 1912, the fountain was formally presented to the town, and in respect of Mr Harper's condition, his birthday is still celebrated today during Ashford's Create Festival, which takes place every July in Victoria Park.
Restoration
On 14 August 1912, George Harper tragically died. For many years the fountain stood idle, as the pumps and mechanism had fallen into disrepair.
In 1998 the fountain was completely restored at a cost of £490,000, with much of the money coming from the Heritage Lottery Fund. The fountain was refurbished again in 2007.
Conservation Plan
As part of the development stage of the Heritage Lottery Fund Parks for People project, heritage research has been undertaken of Victoria Park and Watercress Fields. Download the Victoria Park Conservation Plan Full Document [pdf] 28MB.
If you have any comments of further local and historic information about the park and surrounding area then please email the team.