Victoria Park Wildlife
The Great Stour river is 40 miles long and runs through the Weald, via Ashford to Canterbury and Sandwich. The river within the park has a natural profile with many meanders and wide margins of vegetation that support a diverse range of riverside plant species, including cuckoo flower and alder.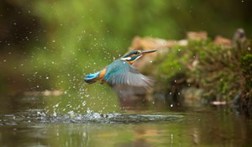 The chalk stream itself, an internationally rare habitat with potential for excellent water quality due to the natural filtering through the chalk beds of the Downs, supports a rich mix of flora and fauna, including water voles, kingfishers and white-clawed crayfish.
The river corridor is designated as a nature reserve and forms part of the Ashford Green Corridor, linking south Ashford with the countryside and town centre.
If you are interested in reading more about the ecology of Victoria Park and Watercress Fields, please download the Victoria Park Ecological Report [pdf] 2586KB. 
We have also compiled a survey of the significant trees in Victoria Park and Watercress Fields. Download the Victoria Park Tree Survey [pdf] 11602KB.