Kent Does - Plastic Recycling
Plastic recycling charity, RECOUP, through their Pledge2Recycle Plastics community education programme will be working in Kent throughout 2021 and into spring 2022 on a plastics recycling education project that will, ultimately, span the whole of Kent covering 673,000 households.
The aim of this project was not just to deliver communications to help cut the confusion of plastics recycling, but look into how individuals can be encouraged to reduce, reuse and recycle plastics.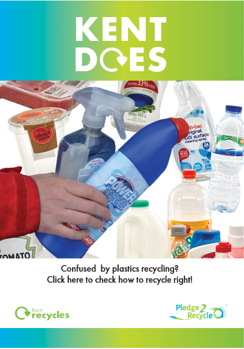 Cut the Confusion 
Don't know how to recycle an item?
Pledge2Recycle Plastics has over 30 years of experience in the plastic resources and recycling industry. Using a wide network of members they are able to ask the experts and find the facts behind the headlines and provide evidence-based responses to many plastic recycling questions.
Want to check your plastics recycling knowledge?!
Take the pledge2recycle quiz and see how well you do!
Why not challenge your friends and family to see how they get on?