Pitchside and Courtside Update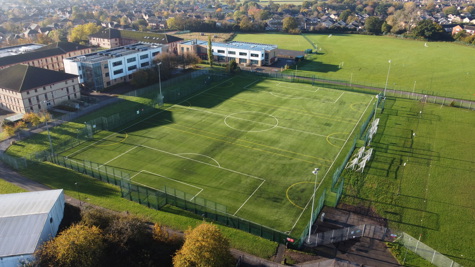 We would like to inform residents and users that Pitchside reopened to the public for use on Monday 20 November 2023.
This year Ashford Borough Council have refurbished the 3G Pitch, which was made possible by using S106 funding costing £500K. The works included a full refurbishment of the pitch base, playing surface and new goal posts that meet the standards set by The Football Association.  As a result of the refurbishment works, the pitch has now been included in the FA 3G pitch register.
However, Ashford Borough Council's lease for Pitchside ended in November 2022. As landowners KCC have now granted the lease of Pitchside to The John Wallis Church of England Academy. All parties involved have worked  together to achieve the best possible outcome for this community facility, and have agreed that The John Wallis Academy will now be managing both Pitchside and Courtside.
The John Wallis Academy have said: "The John Wallis Academy has collaborated closely with the Football Foundation, Kent FA, Sustainable Schools Project, and Edu-Lettings. A robust program of community engagement has taken place in recent months, with outreach efforts targeting around 60 local football clubs, community groups, and charitable organisations.
"As plans for the 3G pitch's usage take shape, a dedicated Steering Group has been established, welcoming partner clubs to join in supporting the Football Foundation's development plan for the site."
 "The rebranded facility will proudly bear the name The John Wallis Academy Community Football Pitch, symbolising the Academy's commitment to positioning these facilities at the heart of and in service to the local community"
We understand and have seen the frustrations caused by this much used community facility being closed whilst refurbishment took place. We look forward to seeing local clubs, groups and members of the public using the newly improved facilities. For more information and for bookings of both Courtside and The John Wallis Academy Community Football Pitch please contact The John Wallis Academy at bookings@edu-lettings.org