Bad Münstereifel Flooding Appeal
Ashford Borough Council expresses our deepest condolences at this most sad time after seeing the shocking news about the devastating flooding in our twin town of Bad Münstereifel and its surrounding areas in Germany.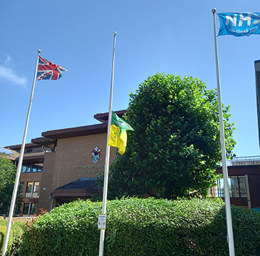 Our Borough flag is currently flying at half mast at the Civic Centre in recognition of our long and most valued friendship with the Mayor and citizens of our Twin Town of Bad Münstereifel.
Cllr Matthew Forest, twinning champion for Ashford Borough Council, said:
"We are saddened to see the terrible flooding in Germany, including our twin town of Bad Münstereifel. Our hearts go out to those affected and on behalf of Ashford Borough Council we send our best wishes to our friends in Bad Münstereifel."
The Ashford Twinning Association have made the following statement:
"We are truly shocked and very upset to see the utter devastation in our Twinning town, Bad Münstereifel. I, and all of our members, hasten to send our heartfelt and deepest sympathy to all our friends there and to each and every person who has been adversely affected by this terrible tragedy. For our part, we simply cannot imagine what you are all feeling and suffering at this time. We do want you to know that you are all, very much, in our thoughts. Our friendship goes back a long way with many happy, special and shared memories. We are here to try to support you in any way that we can through these bad times."
The Mayor of Ashford has written a letter to the people of Bad Münstereifel [pdf] 225KB to express our condolences and offer support to them during their time of need.
The Mayor of Bad Münstereifel has written a response [pdf] 183KB to the letter which has been acknowledged by the Mayor of Ashford with the following reply: "A very warm and wonderful letter from their Mayor and I am glad to see that there are some positive effects coming from such a challenging event."
Donations
A Just Giving page has been set up by the Ashford Twinning Association to support residents in the area as they deal with the aftermath of the flooding and this awful tragedy. If you would like to donate you can access the JustGiving page by clicking the button below.