Ashford For You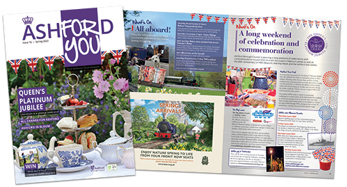 Welcome to Ashford For You – Ashford Borough Council's residents' magazine.
Our spring edition is now out. The bumper edition includes the launch of Ashford Community Lottery, which will support good causes and local charities across the borough.
The premiere of All change for Ashford, a play offering a glance at the history of the town and its railways is previewed, while Revelations St Mary's has a packed set of events throughout March.

There is news on the Council's exciting plans to mark the Queen's Platinum Jubilee and the 80th anniversary of HMS Albacore. The borough's green-fingered winners of our Ashford In Bloom gardening competition are in the spotlight. We also show how we are getting to grips with Climate Action, focusing on food waste and fighting back against litter louts.
We explain how we deliver services for you and how your council tax is spent, how we are ensuring an equal voice in our community and how our big-hearted borough is supporting our Afghan families.
And that's not all – there are some fabulous prizes on offer in our competitions.
You can download our previous editions online.  
This quarterly magazine is distributed to all households in the borough via Royal Mail and covers what's going on in the local area, profiling services, people and places. We want to ensure we are communicating with all our residents and keeping them abreast of what is happening across the borough and the services we provide.
While we know many residents use digital methods of communication, such as our website and social media channels, we do not reach everyone this way so we produce a borough-wide magazine to complement the other ways we communicate with our community.
Advertising in Ashford For You
The editorial and design has been produced in-house and includes external paid for advertising, which will offset some of the print and distribution costs.

As well as being delivered to 56,000 homes, copies of the magazine go on display at various locations across the borough including at the Ashford Gateway, County Square, Ashford Designer Outlet and many local shops.
Anyone interested in advertising in the publication should contact the Communications Team on 01233 330543 or email media@ashford.gov.uk
Ashford For You advertising rate card

| Page | Rate per edition |
| --- | --- |
| Outside back cover | £1,395 |
| Inside front cover | £1,295 |
| Inside back cover | £1,195 |
| Internal page | £1,095 |
| Half page | £795 |
| Quarter page | £595 |

Competition terms and conditions
One entry per person. Please provide your full name, postal address including postcode, email addresses and telephone number.

Employees of Ashford Borough Council and their immediate family are not eligible to enter competitions.

Winning entries will be drawn at random after closing date. Judge's decision is final.

Winners will be notified by email or by phone call, and must respond within one week of receiving their notification or the prize will be redrawn.

By entering competitions winners agree that we may use their details and photo for publicity purposes.

The prizes are as offered, they are non-transferable and there is no cash alternative.