Ashford Borough Virtual Plaque Scheme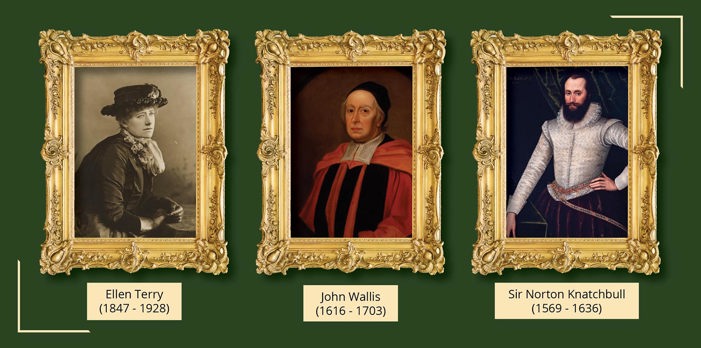 Welcome to Ashford's virtual plaque scheme. Many famous people have lived in the borough of Ashford. Authors, poets, mathematicians and philanthropists make up just some of the town's most famous residents and visitors. Use the map below to discover the links between Ashford's Famous Faces of the past and Ashford's buildings of the present.
---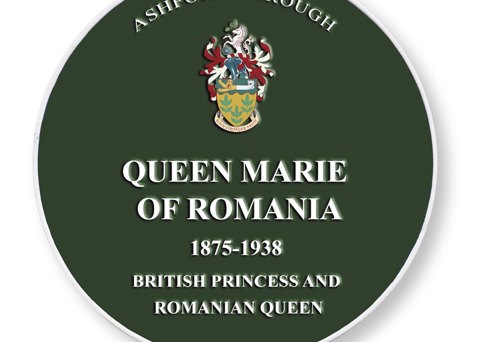 Queen Marie of Romania (1875 – 1938)
British Princess and Romanian Queen
Queen Marie Statue, Elwick Place, Elwick Rd, Ashford TN23 1AX
Princess Marie of Edinburgh was born on 19 October 1875 at Eastwell Manor in Ashford.  Granddaughter of Queen Victoria and the daughter of the Duke of Edinburgh (later the Duke of Saxe-Coburg and Gotha) and Grand Duchess Maria Alexandrovna of Russia.  She was baptised in the Anglican Church at Windsor Castle and spent her childhood at Eastwell Manor in Ashford. After a brief engagement Marie married Ferdinand of Hohenzollern-Sigmaringen, the heir to the Romanian throne, on 10 January 1893, when she was 17.  In 1914, shortly after the start of the First World War and after the death of King Carol I, Ferdinand and Marie became Romania's monarchs.
In the summer of 1916, Romania entered the First World War as part of the Allied Powers.  Romania was initially neutral in the conflict. However, King Ferdinand could not resist the tide of national sentiment and the influence of his English wife, and Romania joined the allied forces in 1916.

From the first day of the war, Queen Marie undertook an active role that would soon transform her into a role model. She tirelessly conducted relief work, visiting camp hospitals, managing medical support, raising money for the wounded, and keeping the British and French allies close. Queen Marie later became a pivotal figure at the Paris Peace Conference, which recognised the unification of all Romanian provinces in one, democratic state.
Queen Marie passed away on 18 July 1938, she died at Pelisor Castle in Sinaia, Central Romania.
A statue in Elwick Place is dedicated in honour of the British princess and Romanian queen, it was unveiled to mark 100 years since the unification of Romania on 1 December 1918.
Pictured below, from left to right: Marie, Queen of Romania by H. Walter Barnett, 1902, NPG x81689 © National Portrait Gallery, London (https://www.npg.org.uk/collections/search/portrait/mw71549/Marie-Queen-of-Romania?) and the statue at Elwick Place in honour of Queen Marie of Romania. It was unveiled on 12 December 2018 by Her Royal Highness Princess Helen of Romania, custodian of the Romanian Crown; Dr Liliana Turoiu, President of the Romanian Cultural Institute and His Excellence, Dan Mihalache, the Ambassador of Romania to the Court of St James's.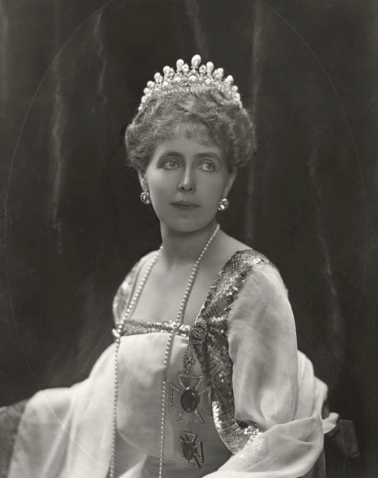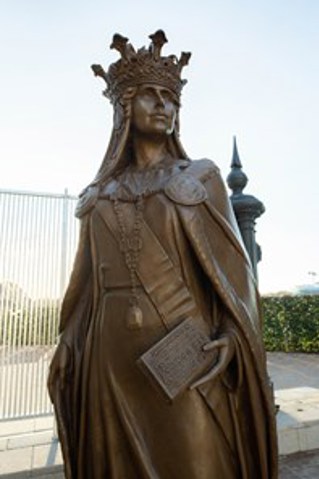 ---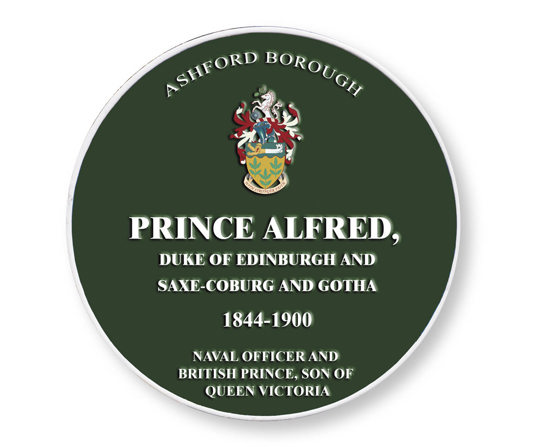 Prince Alfred, Duke of Edinburgh and Saxe-Coburg and Gotha (1844-1900)
Naval Officer and British Prince, son of Queen Victoria
Eastwell Manor, Boughton Lees, Ashford TN25 4HR
Prince Alfred was born Alfred Ernest Albert at Windsor Castle on 6 August 1844, the second son of Queen Victoria and Prince Albert.  He was second in the line of succession to the British throne behind his brother, the Prince of Wales.  He remained the second in line to the British throne until 8 January 1864, when his brother Edward and his wife Alexandra of Denmark had their first son, Prince Albert Victor.
It was decided that Prince Alfred, in accordance with his own wishes, should enter the Royal Navy.  Alfred passed the entrance examination in August 1858, and was appointed as midshipman in HMS Euryalus at the age of 14.
In the winter of 1862-63 Alfred was elected King of Greece but politics dictated his withdrawal and he was given succession to the Duchy of Saxe-Coburg and Gotha.  In 1863 Alfred was promoted to lieutenant and in 1866 he became both a naval captain and Duke of Edinburgh.
Alfred Commanded H.M.S. Galatea in January 1867 and toured places such as the Mediterranean, South America and Australia.  He went to Sydney and despite sectarian strife between Protestants and Catholics, he attended a picnic at Clontarf on 12 March where an Irishman, Henry James O'Farrell, succeeded in seriously wounding him.  The Duke recovered and left for England on 26 June.  He visited Australia again informally in 1869 and again in 1870.
The duke married Grand Duchess Maria of Russia on 23 January 1874.  He continued his naval career and on 3 June 1893 became admiral of the Fleet.  On 22 June 1893 he succeeded to the Duchy of Saxe-Cobury and Gotha and subsequently lived in Germany where he later died of heart disease on 30 July 1900.  He left behind four daughters, one of whom became Queen of Romania, and a son.
Until 1893, Prince Alfred lived at Eastwell with his family.  During that time, Queen Victoria was a visitor while his brother, the future Edward VII was also a visitor.  In 1875, Prince Alfred's daughter Princess Marie – later Queen of Romania – was born at the house.  In 1884 Princess Beatrice, who later married into the Spanish Royal Family was also born at Eastwell.
Pictured below, from left to right:Prince Alfred of Saxe-Coburg and Gotha, Replica by Franz Xaver Winterhalter 1876, based on a work of 1859 NPG 237 © National Portrait Gallery, London https://www.npg.org.uk/collections/search/portrait/mw00070/Prince-Albert-of-Saxe-Coburg-Gotha? and Eastwell Manor, the Kent home of Prince Alfred, Duke of Edinburgh and his family.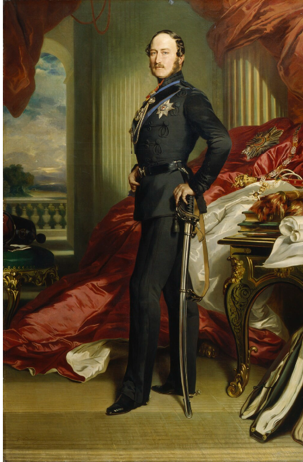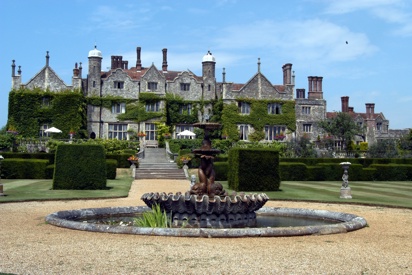 ---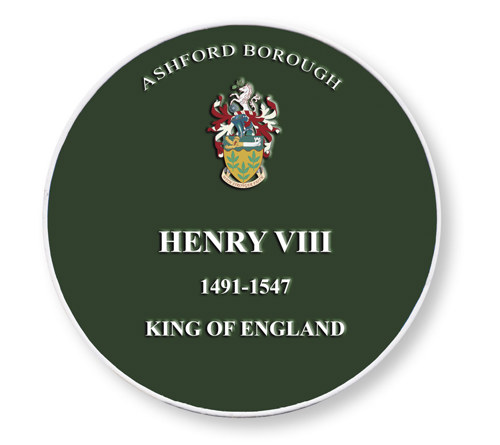 Henry VIII (1491-1547)
King of England
Archbishop's Palace, Charing, Ashford
Henry was born on 28 June 1491, the second son of Henry VII.  His older brother Arthur was being prepared for the throne and Henry was steered towards a career in the church.   Arthur died of a sudden illness only months after he had married Catherine of Aragon, the daughter of the Spanish monarch and so Henry became next in line for the throne.
Henry, aged only 17, ascended to the throne and married Catherine of Aragon, his brother's widow, six weeks later.  Catherine bore him three sons and three daughters, all but one died in infancy.  The only survivor was Mary (later Mary I), born in 1516.
By the 1520s, Henry had become infatuated with Anne Boleyn, a young women in his wife's entourage.  He was also worried that his marriage to Catherine had been cursed because of the Old Testament ban on marrying the widow of ones brother.  Henry petitioned Pope Clement VII to divorce Anne but was rebuffed due to pressure from Catherine's nephew, the Holy Roman Emperor Charles V.  With the backing of the English parliament and clergy, Henry ultimately decided that he did not need the Pope's permission to rule on issues affecting the Church of England.
In 1533 Henry and Anne Boleyn were married and their daughter Elizabeth was born.  Mary was declared illegitimate and Elizabeth named as heir.  Henry's desire to annul his first marriage without papal approval led to the creation of a separate Church of England.  Of Henry's marriages, two ended in annulment, two in natural deaths and two with his wives' beheadings for adultery and treason. His children Edward VI, Mary I and Elizabeth I would each take their turn as England's monarch.
Henry stayed at the Archbishop's Palace, Charing, on his way to 'The Field of Cloth of Gold', the meeting between Henry VIII and Francis I that took place between the 7 to 24 June 1520, near Gusiness in FranceHenry VIII visited in 1520 and  again in the early 1540s. In 1545 the Palace was given to Henry VIII by Archbishop Cranmer.
Henry VIII died at age 55 on January 28, 1547. His 9-year-old son Edward VI succeeded him as king but died six years later. Mary I spent her five-year reign steering England back into the Catholic fold, but Elizabeth I, the longest-reigning of the Tudor monarchs, re-entrenched her father's religious views.
Pictured below, from left to right: King Henry VIII by unknown Anglo-Netherlandish artist 1535-1540 NPG 3638 © National Portrait Gallery, London https://www.npg.org.uk/collections/search/portrait/mw03085/King-Henry-VIII?LinkID=mp02145&search=sas&sText=Henry+VIII&role=sit&rNo=2 and the Archbishop's Palace Charing, where Henry VIII stayed on his way to 'The Field of Cloth of Gold'. Henry VIII visited in 1520 and again  in the early 1540s. In 1545 the Palace was given to Henry VIII by Archbishop Cranmer.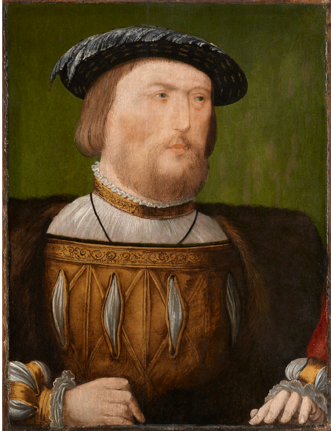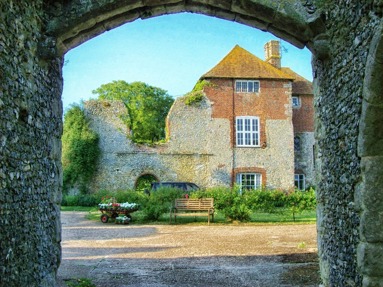 ---

Sir John Furley (1836 – 1919)
Humanitarian who played a crucial role in both the Red Cross movement and the foundation of St John Ambulance
32 North Street, Ashford, TN24 8JR
Furley was born in Ashford on 19 March 1836 in 32 North Street, in what is now the home of the Masonic Lodge.  He was educated at Harrow School, London, and qualified as a solicitor.
With an interest in warfare, Furley participated in the volunteer military movement in Ashford before travelling to Europe to observe the Danish-Prussian War of 1864.   Furley's interest in warfare was soon surpassed by his interest in healthcare as he was made a member of the Order of St John, an organisation that promotes physical, mental and spiritual health.
After travelling to Berlin in 1869 for the Conference of the Red Cross Society, Furley pressed for a British branch to be formed.  Furley believed that the Red Cross should exist in times of peace as well as war.  He believed this would maintain the quality of medical care during wartime as skills would be kept up.
Furley and several other Central Committee members of the Order of St John became frustrated at how slow the Red Cross Society was being established in Britain.  They therefore founded St John Ambulance in 1877 and within six months, there were twelve centres training over one thousand people.
At St John Ambulance, Furley was the first Director of Stores.  As well as being responsible for finding and distributing important materials, Furley also introduced first aid manuals, bandages, stretchers and ambulance equipment.  In fact - Furley developed the original First Aid kit, known as an 'ambulance hamper'.
Furley also drew on his experiences with wounded soldiers to develop new technologies for transporting the injured.  He modified the design for the stretcher and subsequently developed the 'Furley Stretcher'.  He also invented the 'Ashford Litter', which had two wheels to cater for circumstances where it was not possible to carry a stretcher during the recovery of a patient.  This led to the development of a new industry in Ashford, where they were produced.
Furley resigned from Office as Director of Stores in 1891 but remained on the Central Executive Committee of the St John Ambulance Association and continued to develop new first aid technology.  Furley also served as a delegate at almost every International Red Cross Congress held in his lifetime.  He was knighted in 1899 and was later made a Companion of Bath and a Companion of Honour.  He passed away on 27 September 1919, aged 83 in Oxford.
Pictured below from left to right: Sir John Furley, by Walter Stoneman, 1918, NPG X167706, © National Portrait Gallery, London and (https://www.npg.org.uk/collections/search/portrait/mw221174/Sir-John-Furley?LinkID=mp79855&role=sit&rNo=0) and 32 North Street, Ashford, where Sir John Furley was born.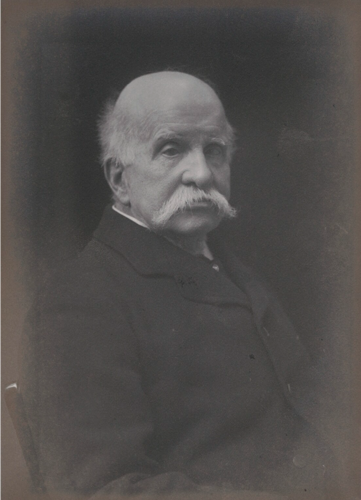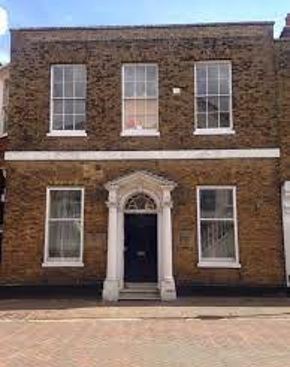 ---
Henry Harrison (1811-1866)
Inventor of the Hand Water Pump
48 High Street, Ashford, Kent
Henry Harrison was born in 1811 and lived at 48 High Street in Ashford.  Harrison was a plumber, grazier and painter who, along with George Mannering from Dover, came up with the idea of a hand water pump – or as it was patented, the invention of "certain improvements in the means of rising water and other fluids".
The patent for the water hand pump was signed in front of Queen Victoria, on the 4 March 1841.  Mr Harrison's patent from 1841 reads "And it remembered that in the fourth day of March in the year of our Lord on thousand eight hundred and forty-two, the aforesaid George Mannering and Henry Harrison came before our Lady the Queen in Her Chancery and acknowledged the specification aforesaid and all and everything therein contained in from above written".
Henry Harrison is also said to have invented a water pump that went on the old 'Hadley, Simpkin and Lott' fire engines of the early nineteenth century.
Tragedy struck in 1854 when a train crash in Crystal Palace left his wife Caroline severely injured and eventually led to her death a week later.  Harrison later died in Ashford in 1866.
Pictured below, from left to right: Portrait of Henry Harrison © Michael Hill and 48 North Street where Henry Harrison, inventor of the hand water pump, lived.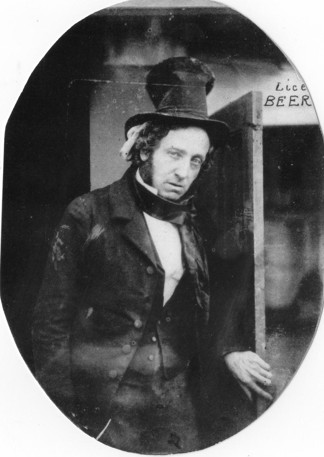 ---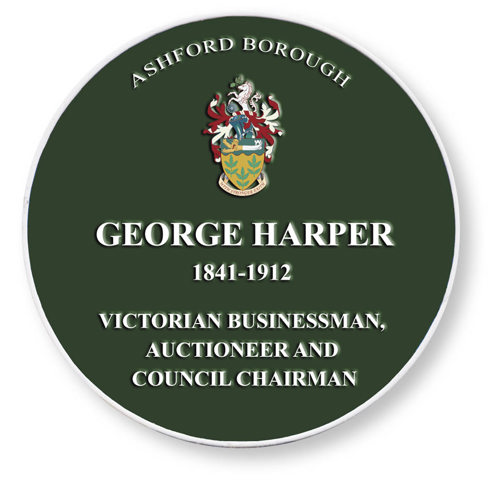 George Harper (1841-1912)
Victoria Businessman, Auctioneer and Council Chairman
Hubert Fountain, Victoria Park, Jemmett Road, Ashford, TN23 4QA
George Harper, born in 1841, was the son of a dairy farmer from Faversham.  For much of George's early life, until the late 1890s, he lived in Castle Street where he would later open a shop.  George started work as a cabinetmaker, and then became an upholsterer and these occupations fuelled his interest in furniture, art and antiquities, of which he had a wide knowledge.
In 1865, George Harper married Miss Day and later became an auctioneer, estate agent and valuer.  He also had his own collection of antiques and one of his most famous pieces was a billiard table that once belonged to Napoleon III.  He opened an antiques business at 8-10 Castle Street that had an impressive list of customers including Lord Kitchener, Ellen Terry and the Duke of Edinburgh.
George Harper was one of the first members of the Elwick Club and spent ten years as Chairperson.  He also became a member of the Local Board in 1882 and continued to serve on the Urban District Council until 1900 when he resigned.  However, he was re-elected and in 1907 he followed Dr Wilks as Chairperson.
In 1911 Mr Harper made an anonymous offer to present the Hubert Fountain and two cast iron stags to the town of Ashford.  The Hubert Fountain was built in Kensington for the Royal Horticultural Society's Great Exhibition of 1862.  It was one of two French made fountains on display and painted to look like bronze.  The other fountain also exhibited at the 1862 Exhibition was the Ross Fountain, now situated in West Princes Street Gardens in Edinburgh.
After the Great Exhibition, Mr. Erle Drax purchased the Hubert Fountain for the front entrance of his Olantigh Towers in Wye.  It remained there until 11 December 1903 when Olantigh Towers caught fire and was destroyed.  The fountain was left in disrepair for several years before George Harper purchased the fountain from Olantigh Towers.
When Mr Harper made the anonymous offer of the Fountain to the town, it was on the condition that the council would dismantle the fountain and re-erect it in a chosen location in Victoria Park at their own expense.  However, they resolved to thank the anonymous donor for their offer but regretfully, because of the removal expenses, they were unable to accept the gift.
Mr. Harper wrote to the Council again in January stating that he would stand the dismantling and re-erection costs himself if the Council would supply suitable foundations and provide a water supply.  There was also a stipulation that there should be a water display of the fountain on 23 July each year – on Mr Harper's birthday.
On 24 July 1912, following his 71st birthday, the fountain was formally presented to the town.  It became custom for Mr. Harper, who lived at 6 Elwick Road, to walk to his shop every morning and then take a stroll around the Warren.  On 13 August, three weeks after the fountain had been formally turned on, Mr Harper took his customary stroll.  The last person who saw Mr Harper was the fireman of the 11am train from Cannon Street.  Mr Harper was on the railway line, and the train could unfortunately not be stopped in time.  In his will, Mr Harper left the sum of £1,000 for establishing a library and for the purchase of new books.  This is presumably how the in Ashford was first established.
Pictured below, from left to right: George Harper © Ashford Borough Museum and the Hubert Fountain in Victoria Park, Ashford that George Harper generously donated to the people of Ashford.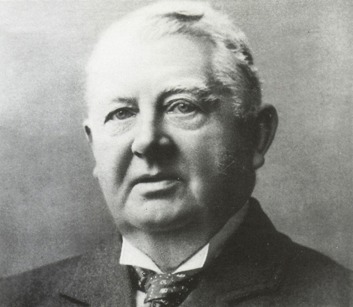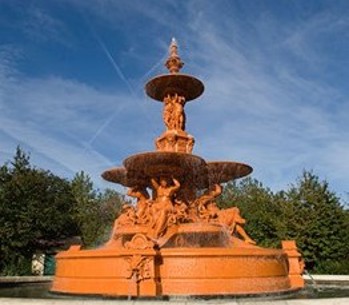 ---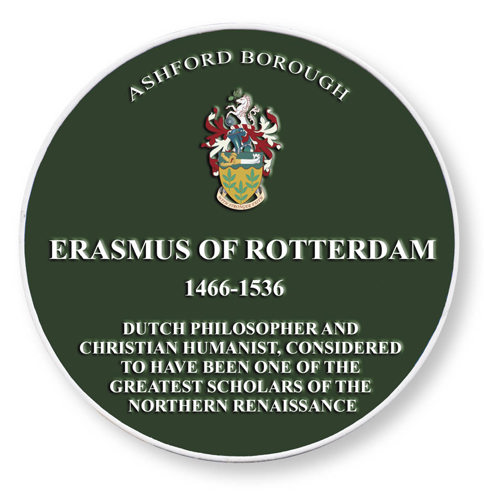 Erasmus of Rotterdam (1466-1536)
Dutch philosopher and Christian humanist, considered to have been one of the greatest scholars of the northern Renaissance
Church of St Martin, Church Lane, Aldington, TN25 7EG
Desiderius Erasmus was born on 27 October 1466 in Rotterdam in the Netherlands.  He was the second son of Roger Gerard, a priest, and Margaret, a physician's daughter.  After his schooling in the Netherlands, Erasmus joined the monasteries and in April 1492, he was ordained a priest before moving to Paris to further study theology.
From 1499 Erasmus became an independent scholar, moving from city to city tutoring, lecturing and corresponding with thinkers all over Europe.  In Italy, in 1506, Erasmus received his doctorate in theology before teaching Greek at Cambridge University.  In 1511, Archbishop William Warham appointed Erasmus as Rector of St Martin's Church in Aldington.  There he lived in the vicarage next to the church, but since he spoke only Latin and Dutch, he could not fulfil his pastoral duties in English.  After only one year, Erasmus resigned his office.
Erasmus commuted for several years between England, Burgundy and Basel.  He worked at the Court of Burgundy in Leuven as a tutor of Prince Charles, who later became the l Holy Roman Emperor Charles V.  In 1517, Erasmus helped found the Collegium Trilingue that taught Latin, Hebrew and Greek – the first institute of its kind in Europe.
Erasmus began writing around 1500, on both theological and secular issues.  Many of his works attacked corruption within the church.  He also translated and edited many classical and early Christian works and published a critical edition of the Greek New Testament, with a new Latin translation and commentary.  His New Testament was the first available complete printed Greek text of the New Testament.  It was used by the translators of the King James Bible as well as Martin Luther as the source for his German Bible translation.
Through his writings, Erasmus entered a great debate with Luther in the 1510s and 1520s.  The Protestant Reformation erupted with the publication of Martin Luther's 'Ninety-five Thesis' in 1517.  Noting Luther's criticism of the Catholic Church, Erasmus described Luther as "a mighty trumpet of gospel truth" while agreeing, "It is clear that many reforms for which Luther calls are urgently needed."  Although Erasmus supported the Protestant ideals, he was against the radicalism of some of its leaders.  Erasmus tried to find a middle ground from the beginning of Martin Luther's challenge to papal authority.  This led to some critiques of Erasmus blaming him for inspiring Luther, and some of Luther's supporters believed that Luther was merely proclaiming what Erasmus had been hinting.  Though Erasmus supported Protestant principles, he ultimately believed in the unity of the church and in 1523 he condemned Luther's methods in his work 'De libero arbitrio'. 
On 12 July 1536, while preparing to move to the Netherlands, Erasmus fell ill and died from dysentery in Basel, Switzerland.  The high regard in which he was held meant that he was buried as a Catholic priest in a cathedral that had since become Protestant.
Throughout Erasmus' life, he was a prolific author having written about 150 books and more than 2,000 letters.  It is estimated he wrote about 1,000 words a day.  In the generations that followed his death, while peacemakers on both sides had an opportunity to pursue meaningful discussions between Catholics and Lutherans, there were few willing to make themselves heirs of Erasmus' struggle for the middle ground.
Pictured below, from left to right: Desiderius Erasmus, by Wallerant Vaillant mezzotint, in circa 1650-1675, NPG D18974, © National Portrait Gallery, London (https://www.npg.org.uk/collections/search/portrait/mw76664/Desiderius-Erasmus) and Church of St Martin, Aldington, where Erasmus of Rotterdam was Rector in 1511.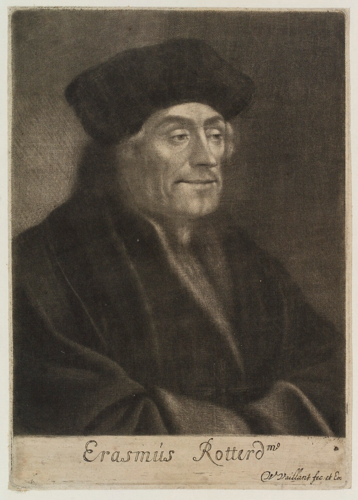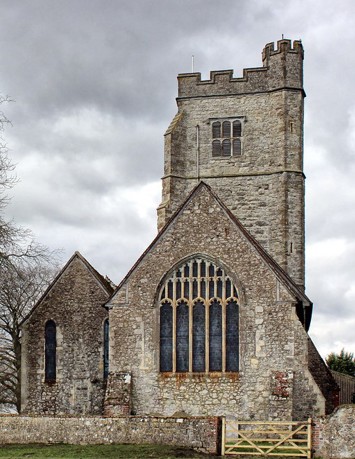 ---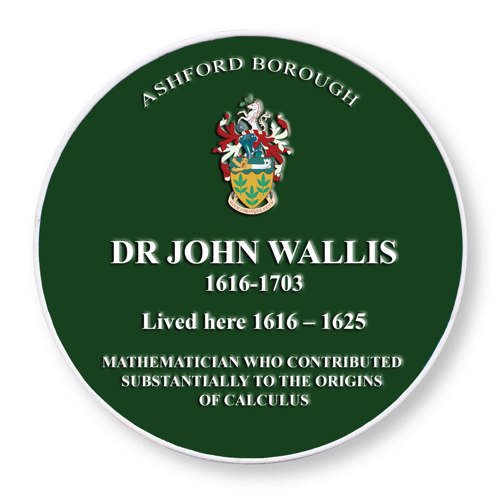 Dr John Wallis (1616-1703)
Mathematician
The College, Churchyard, Ashford, Kent, TN23 1QF
Dr John Wallis was a mathematician that contributed substantially to the origins of calculus (the mathematical study of continuous change) and he is considered the most influential English mathematician before Sir Isaac Newton.
Wallis was born and lived in Ashford at the Vicarage, now known as College Court, 1616-1625. His father was the Reverend John Wallis who became minister of St Mary's Church, Ashford, in 1612. Wallis attended school in Ashford but due to the outbreak of the plague in the area, he moved and attended James Movat's Grammar School in Tenterden before attending Felsted School in Essex.
In 1632 Wallis entered the University of Cambridge, where he received his Bachelor of Arts degree in 1637 and a Master's in 1640, afterwards he entered the priesthood.  Between 1643 and 1689 Wallis served as chief cryptographer for Parliament and later the Royal Court.
In 1649 Wallis was appointed as Savilian Professor of Geometry at the University of Oxford. During his 54 years as Savilian Professor, Wallis made significant contributions to the field of mathematics and he is credited with introducing the symbol ∞ to represent the concept of infinity.
Due to Wallis' contributions to mathematics, he is now considered one of the world's greatest intellectuals.
Pictured below, from left to right: Dr John Wallis by Sir Godfrey Kneller, NPG 578, © National Portrait Gallery, London (https://www.npg.org.uk/collections/search/use-this-image/?agreed=true&email=&form=cc&mkey=mw06559) and The College, The Churchyard, Ashford.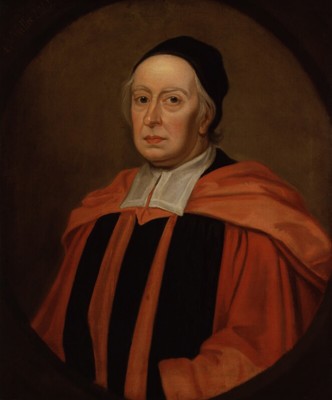 ---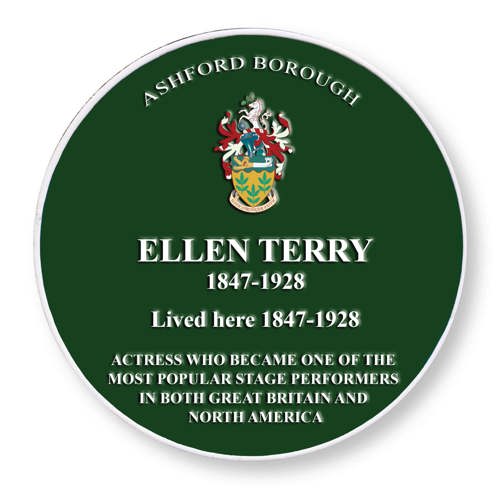 Ellen Terry (1847-1928)
Actress
Smallhythe Place, Smallhythe Road, Tenterden, Kent, TN30 7NG
Ellen Terry was an actress who became one of the most popular stage performers in both Great Britain and North America.  Adored for her beauty and charm by her many fans, who included Oscar Wild, she was also a theatre manager and public speaker.
Terry began performing as a child, acting in Shakespeare plays in London and toured throughout Great Britain in her teens. At 16 she married the 46 year old artist George Frederic Watts, but the two split within a year. Terry returned to the stage and began a relationship with the architect Edward William Godwin and retired from the stage for a further six years.
In 1874 Terry resumed acting and was immediately acclaimed for her portrayal of roles in Shakespeare and other classics. For more than the next two decades Terry was considered the leading Shakespearean and comic actress in Britain. In 1903 she took over management of London's Imperial Theatre before again touring and lecturing. She continued to find success on stage until 1920, while also appearing in films from 1916 to 1922.
Terry's career lasted nearly seven decades and after her death, the Ellen Terry Memorial Museum was founded by her daughter, Edith Craig, at Smallhythe Place - an early 16th-century house that Terry bought in 1899.  Terry lived here until her death in 1928. The property and museum was taken over by the National Trust in 1939. It is possible to visit Smallhythe Place on selected dates and times throughout the year – visit the National Trust website for more information.
Pictured below, from left to right: Ellen Terry (1880) by Alexander Bassano, NPG x85758, © National Portrait Gallery, London (https://www.npg.org.uk/collections/search/use-this-image.php?mkey=mw116484) and Smallhythe Place.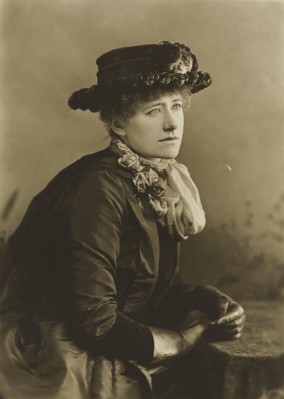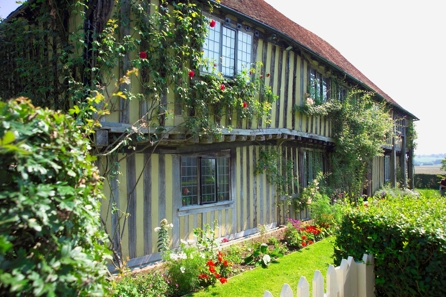 ---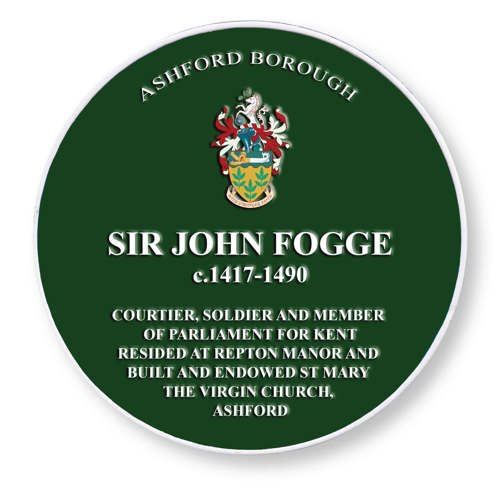 Sir John Fogge (c.1417-1490)
Courtier, soldier and Member of Parliament for Kent
Repton Manor, Repton Avenue, Ashford, Kent, TN23 3GP
Sir John Fogge resided at Repton Manor and also built and endowed Ashford's Parish Church (St Mary the Virgin Church, Ashford).
Fogge, born c.1417, was the grandson of Sir Thomas Fogge, a soldier and Member of Parliament for Kent.  Fogge only came to prominence in 1447 when it is assumed he inherited the lands of the senior line on the death of Sir Thomas' other grandson and heir, William.
By 1450 Fogge was an esquire of the king's household and in 1452 he was made Sheriff of Kent. Despite Fogge's service to Henry VI, Fogge joined the Yorkists during the War of the Roses. After the Yorkist victory, Fogge emerged as a leading royal associate in Kent, heading all commissions named in the county and he was given the custody of Rochester Castle.
Fogge was Treasurer of the Household to Edward IV until 1468, as well as a member of the King's council on various occasions between 1461 and 1483. He resided at Repton and built and endowed the church at Ashford as well as The College (College Court). Fogge is buried beneath an alter tomb in the church at Ashford, where he is also commemorated in a memorial window.
Pictured below, from left to right: Sir John Fogge by Sir Edward Dering, published in Archaeologica Cantiana, Vol 2, 1859 and Repton Manor.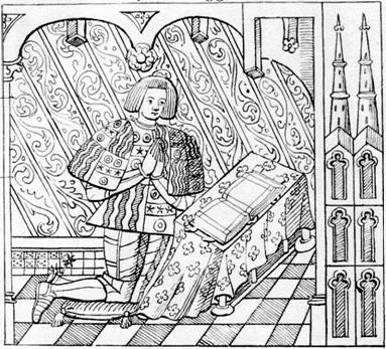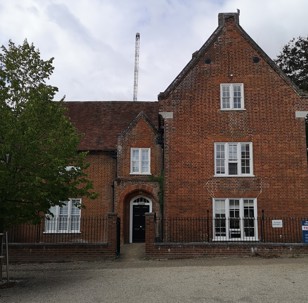 ---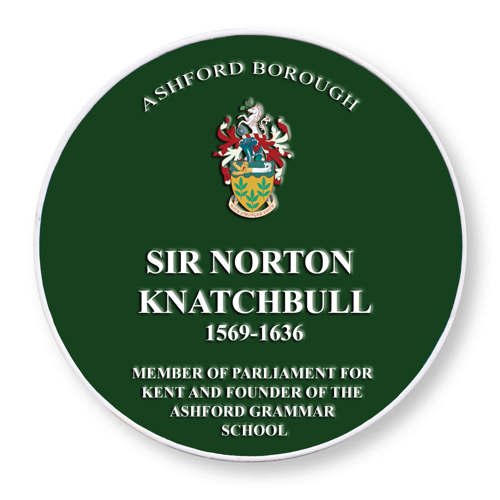 Sir Norton Knatchbull (1569-1636)
Founder of the Ashford Grammar School
Dr Wilks' Hall, The Churchyard, Ashford, Kent, TN23 1QC
A Member of Parliament during the reign of Charles I, Sir Norton Knatchbull founded the borough's first grammar school at the Dr Wilk's Memorial Hall, so that local boys could get an education.
During the reign of Henry VII, Knatchbull's ancestor, Richard Knatchbull of Lympne, bought Mersham Hatch, four miles south-east of Ashford. In February 1593, Norton Knatchbull unexpectedly inherited his family's estate, after the death of his half-brother and nephew, Thomas.
In 1600 Knatchbull was appointed to the bench and was knighted in April 1604. Between 1606 and 1607 he served as sheriff of Kent and in 1610 he became the first member of his family to sit in Parliament, after being returned for Hythe at a by-election in October 1609.
Wealthy but childless, Knatchbull founded Ashford Grammar School, which he endowed in his will of 15 June 1636. The school has since moved to a new site, whilst Ashford Borough Museum is now located in the old school building, Dr. Wilks Memorial Hall - named after a prominent doctor in the town. The original seats for the school master and his assistant are still in place and the 16th century wood panelled walls contain carvings of the original pupils' names and other graffiti.  For more information and opening times, please visit the Ashford Museum website.
Pictured below, from left to right: Portrait of Sir Norton Knatchbull, 1639 by Robert Peake, and Dr Wilks' Hall, images courtesy of Ashford Borough Museum.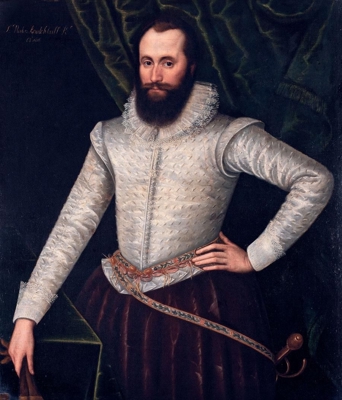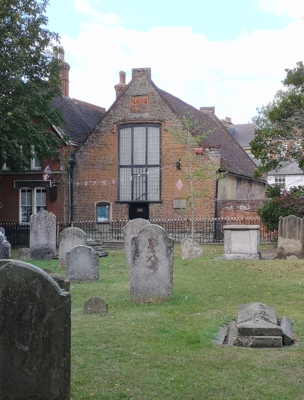 ---
The Newtown Plinth
The Newtown Wheel Plinth is a set of locomotive wheels built in 1904 by Harry Smith Wainwright, the Superintendent of the South Eastern and Chatham Railway from 1899 to 1913. The plinth was built and donated by Henry Headly who built the modern houses in the renewal of Newtown. A virtual plaque has been awarded to three significant members of the South Eastern & Chatham Railway: James Stirling 1835-1917; Robert Riddell Surtees 1855-1919; and Richard Edward Lloyd Maunsell 1868-1944.
Newtown Green, Alfred Road, Willesborough, Ashford, Kent, TN24 0PH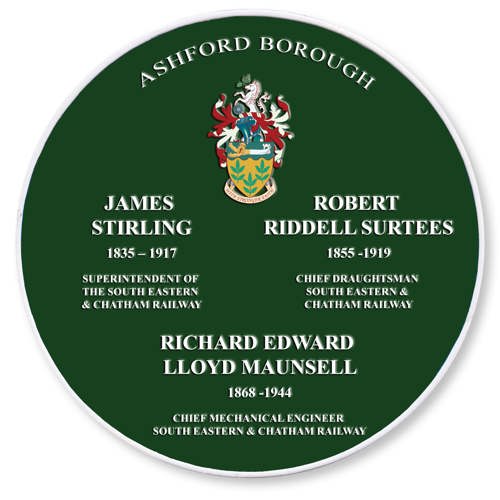 James Stirling (1835-1917)
Superintendent of the South Eastern & Chatham Railway
James Stirling, the son of Robert Stirling (inventor of the Stirling engine, 1816), was born in Galston, Ayrshire in 1835. James was educated privately and at the age of 18, he was sent to work with the village millwright. Two years later, in 1855, James commenced an apprenticeship at the Glasgow and South Western Railway Company (GSWR).  At the GSWR James held various positions. From draughtsman he became works manager, and in 1866 succeeded his brother as locomotive superintendent.
In 1878, he accepted an offer to become locomotive superintendent of the South Eastern Railway (SER), and held this position until his retirement in 1898. During that period, Stirling designed six classes of locomotive. At his retirement at the end of 1898, the SER had 459 engines, of which 384 were to Stirling's design, and seven others had been purchased to outside design; ten more to Stirling's design would be built in 1899. Stirling is also remembered as the introducer of cushioned seats in third class compartments.
In 1880 Stirling became a Member of the Institution of Civil Engineers, and a Justice of the Peace for Kent. On the formation of the Association of Locomotive Engineers of Great Britain and Ireland, James was appointed Hon. Secretary. James retired in 1898 and died in Ashford on 12 January 1917, at the age of eighty-one.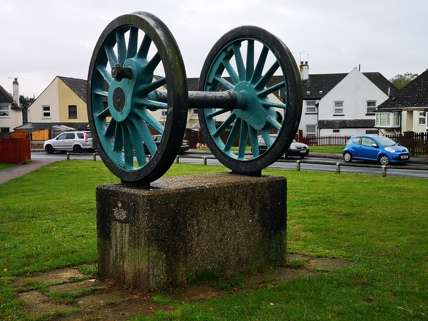 Robert Riddell Surtees (1855-1919)
Chief Draughtsman South Eastern & Chatham Railway
Born in Newcastle upon Tyne, Northumberland in April 1855 to John Surtees and Mary Robinson.
Robert joined his father at the Newcastle Railway Works as a draughtsman before moving on to the London, Chatham & Dover Railway in 1878. As Chief Draftsman, Surtees contributed greatly to the company's locomotive designs.
In 1899 The SER and the London, Chatham & Dover Railway (LCDR) formed a joint management committee and became the South Eastern & Chatham Railway. Harry Smith Wainwright (1864-1925), the number two of the South Eastern Railway, became the Locomotive Superintendent of the South Eastern & Chatham, and Robert Surtees, the former LCDR Chief Draughtsman, became Chief Draughtsman of the SECR. Now with the linking of the railway companies Surtees' talents were at the disposal of Wainwright. Apart from boiler design, in which he took a particular interest, Wainwright delegated most of the locomotive design to Surtees.
Despite Surtees being extremely anti-social and shy he was greatly admired for his engineering skills and many believed he deserved shared praise for the excellence of the Wainwright locomotives.
Due to very poor health, Robert Surtees retired in 1914 and died in Ashford on 5 September 1919 at the age of 64. Surtees left behind a wife, Annie Watmore and 11 children.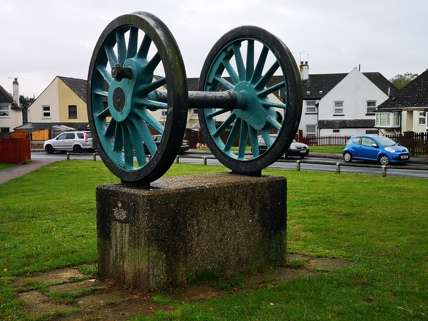 Richard Edward Lloyd Maunsell (1868-1944)
Chief Mechanical Engineer South Eastern & Chatham Railway
Maunsell was born on 26 May 1868 in Raheny, County Dublin, Ireland and was educated at the Royal School in Armagh and at Trinity College. After graduating from Trinity College, Maunsell completed a three year course with the Great Southern and Western of Ireland before completing his training at the Horwich Works of the Lancashire and Yorkshire Railway. He was latterly locomotive foreman at Blackpool before going to India in 1894, having reached the post of district locomotive superintendent at Asansol (East Indian Railway). Maunsell returned home to become the Locomotive Superintendent of the Great Southern & Western Railway in 1911.
In December 1913 Munsell became the Chief Mechanical Engineer of the South Eastern & Chatham Railway. When that railway line was incorporated in the new Southern Railway, Maunsell became Chief Mechanical Engineer of the latter.
Maunsell is credited with the design of no less than eight locomotives, which were generally thought of as quite successful. However, Munsell's key skill was engineering management rather than locomotive design.  Maunsell surrounded himself with talented subordinates, the sort of men who could have easily run a department of their own. Maunsell made use of design teams to create easy to maintain locomotives that could operate the required services with effective performance.
Maunsell was appointed a Commander of the Order of the British Empire in 1918 New Year Honours for his efforts during the First World War and he later retired in 1937.