Community Support for Ukraine
We have received various requests and offers of support for Ukrainians affected by the atrocities taking place. There are local volunteers who are collecting clothes and other items. Please find below the details of some of them here. We will continue to add other appeals, so please continue to visit this page.
Bethersden Community Group
Community members in Bethersden are collecting donations and arranging items to be sent to Ukraine. If you are local to the area, please visit the Facebook group for more information.
UK fire service convoy heads to Ukraine with lifesaving equipment
The biggest UK fire service convoy – made up of 22 vehicles and more than 5,000 items of kit and equipment donated by UK fire and rescue services - has been deployed to support firefighters in Ukraine.
Having departed from Ashford on Saturday 19 March, more than 60 volunteers from FIRE AID and fire and rescue services are taking the convoy into Poland. It will then make its way into Ukraine, providing vitally needed equipment to support firefighters, emergency services and volunteers, battling together on the frontline.
Vehicles underwent final checks and the convoy departed Kent early on Saturday morning. The convoy will take approximately three days to arrive in Poland where it will be transferred to Ukraine. When it reaches Ukraine, the equipment will be used to support emergency services which are dealing daily with fires and other emergencies to protect lives, people and property as the invasion devastates the country, often using old or worn equipment.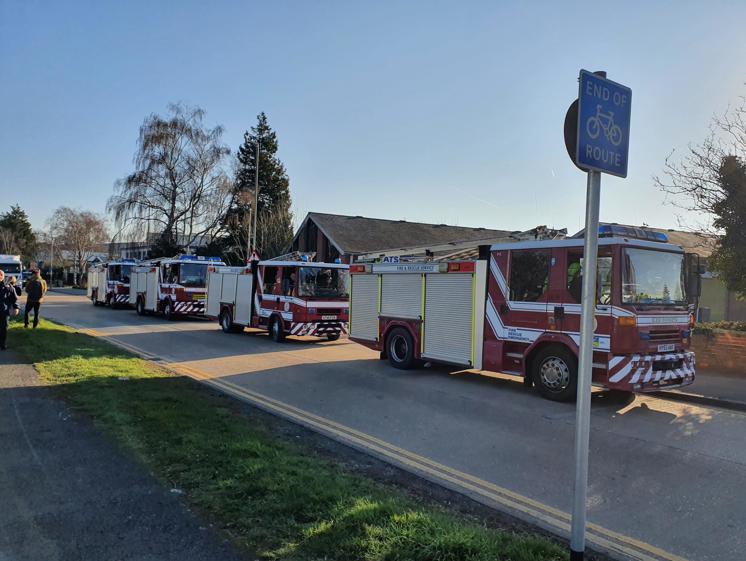 Coordinated by UK charity, FIRE AID and International Development (FIRE AID), the National Fire Chiefs Council (NFCC), and the fire industry through the Fire Industry Association, the 22-strong vehicle convoy includes 15 fire engines, an incident response unit, a hydraulic rescue platform, mechanical support for the journey, and two lorries containing equipment such as thermal imaging cameras, generators, lighting, hoses, and thousands of sets of PPE.
The deployment of these donations is being supported by funding from the UK Home Office, Foreign, Commonwealth & Development Office, and the FIA Foundation, as well as through a public appeal via JustGiving.