Armed Forces Covenant
What is the Armed Forces Covenant?
The Armed Forces Covenant is a promise from the nation to those who serve. It says we will do all we can to ensure that they are treated fairly and not disadvantaged in their day-to-day lives. This includes offering injured servicemen and women and bereaved families extra support where appropriate.
Ashford Borough Council has pledged to work with the Armed Forces to help and support regular and reservist servicemen and women, veterans and service families. Our Armed Forces Covenant exists to encourage support for the Armed Forces Community in Ashford and to recognise and remember the sacrifices made by members of the Armed Forces Community.
The borough of Ashford marked its commitment to supporting servicemen and women, their families, reservists and veterans with a special signing of the Armed Forces Community Covenant on Saturday 10 May 2014. We are encouraging Ashford businesses, community groups and individuals to sign up to the Covenant and pledge their support to the Armed Forces community.
The council's Armed Forces Champion is Councillor Peter Feacey.
In February 2020 ABC received the bronze award from the Defence Employer Recognition Scheme (ERS). The ERS recognises commitment and support from UK employers for defence personnel. The scheme comprises bronze, silver and gold awards for employers who support those who serve or have served in the Armed Forces, and their families.
Key principles of the Covenant
The key principles of the Covenant are that:
No member of the Armed Forces Community should face disadvantage compared to other citizens when accessing local services.
Special consideration is appropriate in some cases for those who have given the most, such as the injured and bereaved.
Defence Employer Recognition Scheme
The Defence Employer Recognition Scheme (ERS) encourages employers to support defence and inspire others to do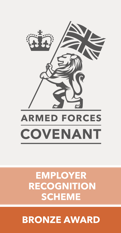 the  same. The scheme encompasses bronze, silver and gold awards for employer organisations that pledge, demonstrate or advocate support to defence and the armed forces community, and align their values with the Armed Forces Covenant.
Ashford Borough Council is committed to this scheme and currently holds the Bronze award.
As well as signing the Armed Forces Covenant this means that we have pledged to support the armed forces, including existing or prospective employees who are members of the community. We also promote being armed forces-friendly and are open to employing reservists, armed forces veterans (including the wounded, injured and sick), cadet instructors and military spouses/partners.
The council is currently working towards achieving a Silver award.