South of Ashford Garden Community
Introducing the South of Ashford Garden Community
The South of Ashford Garden Community (SAGC) includes Chilmington Green, Court Lodge and Kingsnorth Green developments, and was named as one of 19 Garden Communities by the Government in 2019
Both Court Lodge and Kingsnorth Green are allocated in the adopted Ashford Local Plan 2030, and are now joined with Chilmington Green to become designated as a Garden Community.
Garden Communities must have local leadership, accessible transport links, climate resilient designs, community owned assets and long-term stewardship – to name a few.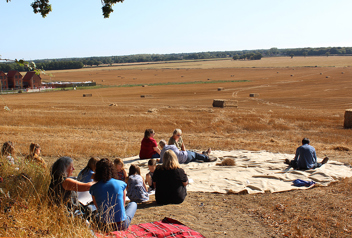 By joining-up of these developments to ensure they work together – we can ensure they offer the right mix of services and amenities for existing and new residents.
The designation comes with the financial and professional support of Homes England to ensure key infrastructures are delivered at pace with development, and it comes with a commitment to achieving a sustainable, green conscious future for the wider area.

For more information, visit the new SAGC website.
Pictured right: residents on a hill overlooking the SAGC site © photo by Janetka Platun. Photo taken during workshop led by artist-in-residence Janetka Platun who continues to work locally with the support of Community Development funds. 
What is the South of Ashford Garden Community?
The South of Ashford Garden Community (SAGC) is made up of three developments, Chilmington Green (5,750 homes) and two proposed sites: Court Lodge (950 homes) and Kingsnorth Green (550 homes).
View a map of the proposed South of Ashford Garden Community [pdf] 1.55MB.
Together they represent 7,250 homes (2,175 affordable), a 142 hectare public park along with new schools, a primary healthcare space, play spaces and ecological areas to be protected. Homes England defines a Garden Community as:     
a purpose built new settlement, or large extension to an existing town
a community with a clear identity and attractive environment
it provides a mix of homes, including affordable and self-build
planned by local authorities or private sector in consultation with the local community
As well as building new homes, the communities develop:
job opportunities
attractive green space and public realm areas
transport infrastructure, including roads, buses and cycle routes
community infrastructure, schools, community and health centres
a plan for long-term stewardship of community assets