Solar Together Kent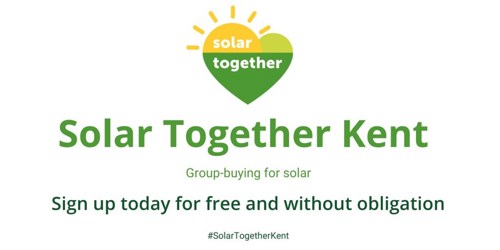 Solar Together is back open for registrations
Solar Together Kent is a solar panel and battery storage group-purchase scheme. It enables homeowners and small businesses to install solar panels on their homes and businesses at a competitive price.
Any homeowner and small business can register to the group-buying scheme, which offers solar panels with optional battery storage and electric vehicle charge points, as well as retrofit battery storage for residents who have already invested in solar panels and are looking to get more from the renewable energy they generate, as well as increase their independence from the grid. Applications are limited to 50 solar panels per property.
Ashford Borough Council is working in partnership with KCC and all 11 other district and borough councils and Medway Council. They do not deliver the scheme but work with a company called iChoors who are experts in group-buying. This is the third group-buying scheme for solar since 2020. Over 1900 homes across Kent have been installed through Solar Together and this renewable energy will lead to reductions in carbon emissions across Kent and reduce electricity bills. 
It is free to register and there is no obligation to go ahead with an installation. For more information, visit the Solar Together website or call 0800 014 8721.
1. Registration: you can register for free and without obligation at the Solar Together website. To register, you simply provide details about your roof, such as its size and orientation. 
2. Auction: a reverse auction will be held where our pre-vetted solar installers will submit bids for the work. The more people that register, the better the deal should be for each household. The installer with the most competitive package will win the auction. 
3. Personal recommendation: after the auction you will be emailed your personal recommendation based on your registration details. This includes your costs and specifications of your system. 
4. You decide: the decision is then yours whether you want to accept your recommendation. There is no obligation to continue. You will be informed how long you have to accept your recommendation and will be updated before the scheme closes. 
5. Savings on electricity: if you accept, the winning installer will contact you to survey your roof and set an installation date. After installation you will start saving money by generating your own renewable electricity. 
Helpdesk support
Telephone and email support are on-hand throughout the whole process, which, together with information sessions, will allow households to make an informed decision in a safe and hassle-free environment. 
About iChoosr
iChoosr was founded in 2008 and is privately owned by two co-founders, Before it entered the UK energy market in 2012, it focused on group-buying schemes in the Netherlands and Belgium. It now works with community leaders helping households select energy and solar power suppliers. As in the UK, its operations continue to grow across Europe, North America and Japan.