Ashford Celebrates: the Coronation of King Charles III
Coronation of His Majesty The King & Her Majesty The Queen Consort
The Coronation Ceremony for His Majesty King Charles III will take place on Saturday 6 May 2023 at Westminster Abbey. The Coronation will see people across the UK and the Commonwealth coming together to celebrate this historic day.
Here in Ashford the day will be celebrated with a community event in Victoria Park, as well as a Civic Service at St Mary the Virgin Church, Ashford on Sunday 7 May.
Community Coronation Celebration, Victoria Park
Local residents are encouraged to walk or cycle to Victoria park and bring a picnic where they can meet other families and enjoy a live screening of the Coronation Ceremony at 10am-2pm, followed by a Coronation Community Showcase from local groups and individuals from 2-4pm.
There will be performances from Ashford Concert Band, who this year are celebrating their 20th anniversary, Ashford Folk, who've recently performed in Bad Münstereifel, our German twin town and local composers Jenny Bailey and Chris Symonds who entertained us so splendidly at our Platinum Jubilee Beacon Lighting last year. We are also excited to have the Sagarmatha Nepalese Community Dancers and Fountain Worship Choir. The Community Showcase headliner is Deon, an immensely talented local performer who amazed everyone – including the judges on BBC's Christmas Eve show - I Hear Your Voice.
Children and their parents can also enjoy an array of free craft activities at the event.
Civic Service at St Mary the Virgin Church, Ashford
A church service in honour of the newly crowned King Charles III will take place at St Mary the Virgin Church, Ashford, on the morning of Sunday 7 May.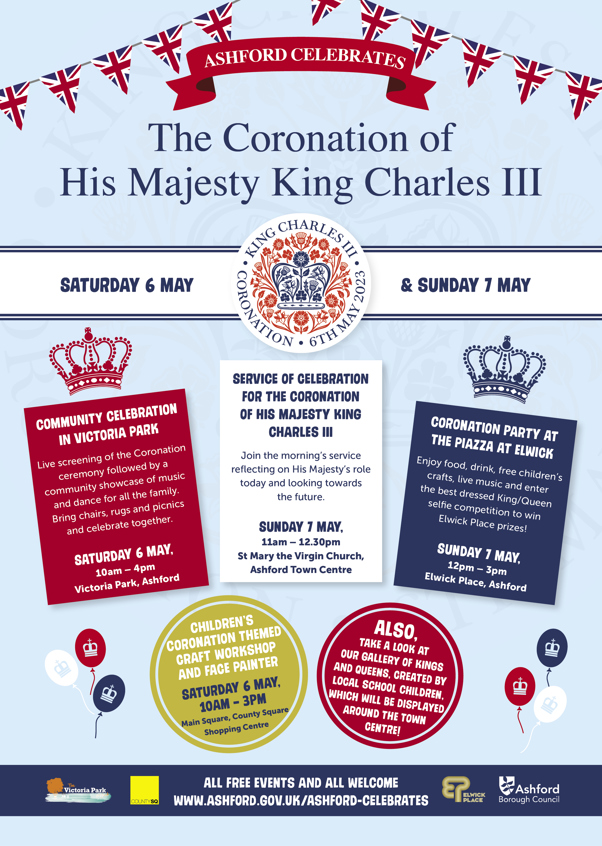 Party at the Piazza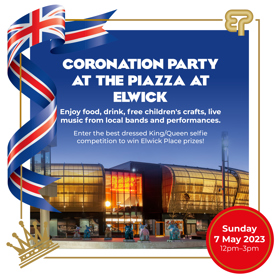 On Sunday 7 May, Elwick Place invites friends and families to celebrate the King's Coronation at The Piazza, Elwick Place's very own outdoor events space. Guests on the day can expect musical performances from local aspiring musicians, The Rec and Into the Rose Garden and a production of Six! The Musical by Towers School. There's fun for the whole family; the event will include FREE children's craft activities, such as make your own crown, and a fantastic selfie competition for the chance to win Elwick Place prizes, including Picturehouse tickets, free hire of the Match Box at Matches, Leo and Sage Gelato and Snap Fitness goodies.
As well as competitions and crafts, Elwick Place outlets will offer delicious treats on the day, including quintessentially British Bakes at Leo and Sage, Haymaker Beer at Matches, foodie samples from Picturehouse, and people are invited to participate in the Snap fitness gym challenge. The celebrations start at 12-3, everyone is welcome and entry is completely FREE. Keep updated on more Coronation activities and events via the Elwick Place website.

The national programme will include:
Saturday 6 May
Coronation Day: The King's Procession then the Coronation Ceremony followed by 'The Coronation Procession' then the balcony appearance at the Palace.
Sunday 7 May
The Coronation Concert: This will take place at Windsor Park and will include performances by the multi-cultural and diverse Coronation Choir. A new addition will be the 'Lighting Up of the Nation' with lighting and drones.
The Coronation Big Lunch (also 6-8 May): The community is encouraged to embrace the invitation to join in 'The Coronation Big Lunch' by sharing food and fun together with gatherings and street parties within their communities. More detail on getting involved is available on the Coronation Big Lunch website.
If you would like to hold a street party then please view the guide to holding your own street party. If you are holding a party on a public road then you will require a Road Closure Notice. To apply for a Road Closure Notice please complete Kent County Council's Coronation Street Party road closure application form. Please note the deadline for applications is 3 March 2023.
If you are holding your party on private land or off the road you will not need a Road Closure Notice.
Monday 8 May (national Bank Holiday)
The Big Help Out: The Big Help Out will provide an opportunity to reflect on the legacy of His Majesty's service and showcase the impact of volunteering within communities. People across the UK will be able to get involved and more detail is available on The Big Help Out website.
If your organisation or group is seeking volunteers for the Big Help Out then contact Ashford Volunteer Centre via contact@ashfordvc.org.uk to advertise your volunteering opportunities.
For more information about the Big Help Out visit the Kent Volunteers website.
For more information about the Coronation of King Charles III and how you can get involved visit the Coronation website.
Grant Funding Opportunities
National Lottery funding: Funding is available of up to £10,000 for Coronation events and activities through the National Lottery Awards for All programme. Please be aware that while there is no deadline, it can take up to 12 weeks from the point of application submission to receiving funding, which means applications for the Coronation weekend should be made before the middle of February. All funding criteria and terms and conditions are available on the Heritage Lottery website.

Children's Coronation Activity Pack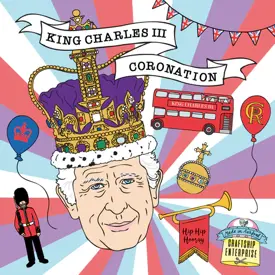 To celebrate the coronation of King Charles III Made in Ashford have created a brand new children's activity pack. The activity packs are available to print at home for free, buy online and in the Made in Ashford shop.
It is filled with activities, puzzles, crafts & colouring on the theme of the coronation. This pack includes a cut out & stick crown, a cut & fold 3D London bus, a cut & fold Kings Guard mini playset, a design your own commemorative tea set page, draw your own royal portrait, colour bunting, King Charles colouring sheet, royal pooches colouring & a puzzle page.
The purchasable activity pack is made from quality card with vibrant printed colours and each page is backed with a fun royal themed pattern you can use to make mini bunting & other craft projects. Nearly all of the activity pack is useable to create from so keep that waste and make more decorations! We chose mini bunting and you could create paper chains, collage & more with the parts that you cut out!
The free download is available on the Made in Ashford website, which you can simply print out. In the intro section it explains which pages to select to print if you would just like the crown, just the black & white pages to save ink or the complete set without the instruction pages.
Made in Ashford is dedicated to supporting creative businesses & artists in the local area as well as trying to make creativity as accessible as possible in our community and beyond. The profits from the sales of these packs goes back into free crafts sessions for families in Ashford and more free activity packs to be circulated online for anyone with a device & printer to use & enjoy.

Toast to the Coronation
Leading English wine producer, Chapel Down, has announced the release of a limited edition English sparkling wine to commemorate the Coronation of His Majesty King Charles III, with all profits being donated to the Royal British Legion. 
Just 2,000 bottles of 'Chapel Down Coronation Edition 2016' have been released and is available to purchase for £65.00 directly from the Chapel Down website. The wine will be on sale from Friday 31 March until the end of the Coronation bank holiday weekend on Monday 8 May 2023.