Ashford Borough Council Support for Ukraine
We have made a donation of £5,000 to the DEC appeal as part of the authority's support for the people of Ukraine.
The Government has pledged to match all donations to the DEC appeal up to £20m. The Ashford donation coincided with the announcement that the Queen had made "a generous donation" to the DEC Ukraine appeal. 
We have also vowed to stand ready to do whatever we can to assist the Government in supporting Ukrainian refugees arriving in the UK. The Government is working on a sponsorship scheme will match people, charities, businesses and community groups to Ukrainians who do not have established families in the country, so they are able to come to safety the UK.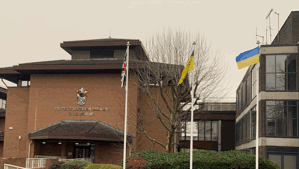 We await further details of this. This is a humanitarian catastrophe that is almost beyond belief in the 21st Century. Ashford Borough Council has an exemplary track record in responding quickly and positively in assisting first Syrian and then later Afghan refugees to find a safe and welcoming haven in our borough. Those people had been fleeing war torn areas and this tragedy in Ukraine is arguably even more serious.
We have also purchased a Ukrainian flag that is flying at the Civic Centre, a highly visible show of support for the beleaguered citizens of Ukraine.