Do I Need Planning Permission?
Residential
Not all residential development requires planning permission from the council. Some things have already been granted permission by national legislation. These are called "permitted development". Please note that irrespective of whether planning permission is required, approval under building regulations may be required.
Other permissions may also be needed before you start work if your building is listed. You can check if the building is listed on our interactive maps (please note that some of our maps won't work in Google Chrome).
A planning application will usually be required if:
The works involve a flat/maisonette, mobile home or residential caravan;
Permitted Development rights have been removed on your property by a condition imposed on a planning permission or by an "Article 4 Direction". Commonly permitted development rights are also removed to convert garages from parking spaces or to allow the provision of garage doors on car barns;
The property is not exclusively a single family dwelling house, e.g. it is a mixed commercial/residential premises;
The works to be carried out are not within the residential curtilage, usually the garden area of the property.
Common Householder Projects
The most common queries we receive are about alterations and extensions to peoples' houses or about buildings in their garden.
The interactive house guide and interactive terrace guide on the planning portal will help you decide if an application to us is needed.  
Advice on many common building work projects are available on the planning portal including: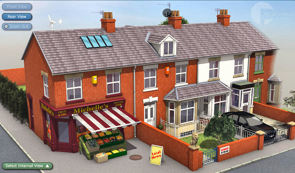 Extensions/conservatories
Alterations to roofs including rooflights
Replacement windows and doors
Porches
Walls, gates and fences
New garages and garage conversions
Sheds and other outbuildings
Many of these include information about the building regulation aspects too.
The planning portal have also produced some mini-guides that provide more detailed visual clarification of the permitted development rules for specific householder development projects.
If you want to be certain that the existing use of a building is lawful for planning purposes or that your proposal does not require planning permission you can apply for a Lawful Development Certificate.
If you would like formal advice from the council on your proposals, you can request Pre-Application Advice which is a free service for the types of householder development listed above.
Business
Planning permission from the council will usually be required to change the use of a property from residential to business or make any material changes in the way a business premises is used. Read more information on use classes for further guidance.
You can also refer to general guides published by the Department for Communities and Local Government. If you are not sure if you need permission please contact us and seek free pre-application advice.