Another success for Ashford's fly-tipping enforcers
Published: 26/11/2021

Ashford Borough Council's new Environmental Enforcement Team has scored another success – a local resident has been issued with a £400 Fixed Penalty Notice (FPN) following the discovery of flytipped waste at two separate locations in the town.
The householder was approached by men in a van offering to remove his waste for a charge. The resident was told that they would take the rubbish to the local tip. But the waste ended up being flytipped in two separate locations, in Hamstreet Road and Capel Road in Ashford.

The Environmental Enforcement Team was alerted and on inspecting the rubbish they found evidence that led them to the householder who paid for the waste to be taken away. The person was interviewed under caution and as a result a £400 FPN was issued for failing in their Duty of Care to ensure that whoever collects their waste is authorised to do so.
Households and also businesses have a legal Duty of Care when it comes to what happens to their waste. In this case, the resident failed in carrying out checks to enquire if the waste collectors were registered with the Environmental Agency. The resident failed to inspect their authorised licence or obtain a written receipt.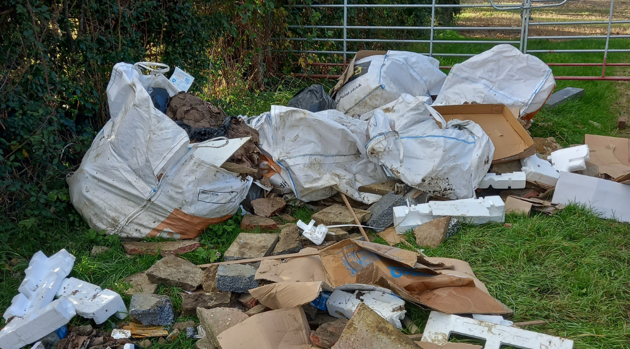 This case is the latest in a series of successful operations by the council's new Environmental Enforcement Team. It has clamped down on illegal flytipping right across the borough, handing out fines totalling nearly £5,000 to a dozen offenders within months of starting work.

Many of the leads that end with offenders being caught come from residents alerting the team to flytipping incidents by using the Report It page on our website. 
Beware rogue waste carriers
The team advise that flytippers often target households via social media or local advertising, luring customers in with cheap rates to dispose of unwanted furniture, building rubble or garden waste. But these unlicensed waste carriers often simply dump the waste wherever they can get away with it, including in Ashford's country lanes.

Householders or small businesses found to be using these rogues to dispose of their waste can be prosecuted by Ashford Borough Council, with FPNs of up to £400 per offence. Failure to pay a FPN may result in court action where fines can be much larger.

If using a commercial service, you should check whether someone is licensed to carry waste by calling the Environment Agency on 03708 506506 or by visiting the Environment Agency website.
It also helps if householders receive a written receipt or transfer note, including contact details, description of waste removed and details of where the waste is being taken to.