Help For Kent Residents
Published: 13/07/2021

New apps are now available in Kent, offering digital help to residents who want to quit smoking, and also those who would like to reduce how much alcohol they are drinking.
Latest Office of National Statistics figures show the number of people in Kent who smoke has fallen from 15% in 2018 to 13.7% last year and is at a record low but with COVID-19 still prevalent, and causing more severe symptoms for smokers, there has been no better time to quit.
Meanwhile, estimates show the majority of people (75%) drink sensibly and in safe limits but in Kent, approximately 288,433 people are drinking above the recommended safe limits - with 23 per cent at increasing or higher risk and two per cent are dependent on alcohol – and health experts are concerned that the lockdown restrictions mean more people are drinking at home and not aware of their alcohol intake levels.
Two new apps provided by Breaking Free Online – 'Lower My Drinking' and 'My Quit Route' are available now on the Google and Apple stores, plus also at www.oneyoukent.org.uk
The 'Lower My Drinking' website allows Kent residents to self-assess their drinking using a simple questionnaire which then directs to people to the app which can track their alcohol consumption and provides tips to help them cut down.
The smoking app provides Kent residents with personalised support to help them quit smoking. It gives them motivational tools, and evidence-based behaviour change techniques to help them prepare to quit, and then stay smoke free in the long-term.
With a money saving calculator in 'My Quit Route' and an alcohol consumption tracker in 'Lower My Drinking', both apps signpost those who require professional help to their local support services.
Kent County Council Director of Public Health, Andrew Scott-Clark said: "The COVID-19 pandemic has shown that smoking increases the severity of the symptoms and by quitting, you can reduce the chance of needing to go to hospital.
"As part of the #QuitforCovid campaign, this app will be part of the support offered through the One You Kent services and may benefit those who prefer to use online self-help measures. Similarly for alcohol consumption, the 'Lower My Drinking' app will support people who may be concerned that they are drinking more - this will help them to keep track and reduce levels if they feel it is having an effect on the short term health (both physically and mentally), work and relationships."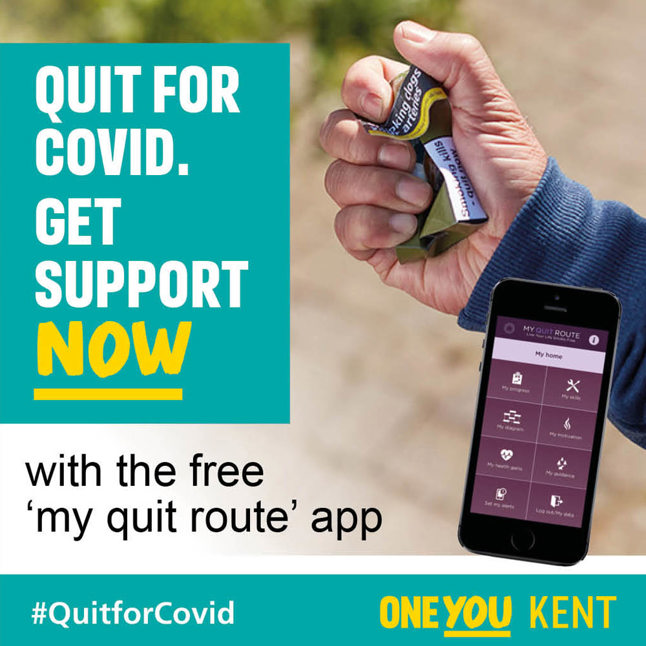 Sarah Martin, One You Service Manager said: "We know many people are worried about COVID-19 and the effect it could have on themselves or others in their lives who smoke and/or who are drinking more. These apps will be promoted by our advisors as part of the One You Kent support to help people to help themselves during these very challenging times."
Smoking tobacco damages the lungs, weakens the immune system and causes a range of severe respiratory problems. Evidence so far suggests people who smoke may be at increased risk of contracting more severe symptoms if they get COVID-19.
As well as reducing the risks from complications from coronavirus, quitting smoking quickly improves your circulation and your breathing. It also reduces the risks of other health problems such as heart attacks and strokes at a time when the NHS is coming under strain.
Excessive alcohol consumption can lead to high blood pressure and also trigger an irregular heartbeat, both of which increase the risk of having a stroke. It is also a risk factor for some cancers, particularly head and neck cancers and breast cancer. Heavy drinking increases the risk of having a stroke by more than three times. By drinking sensibly and to the recommended limits you will reduce your risk of having a stroke.
Find out more about the Breaking Free apps plus a range of tools, tips and local support services that can help you at www.oneyoukent.org.uk
Other News you may be interested in