Local Resident 'Eddie' Celebrates his Centenary
Published: 19/02/2021

On 17th February 2021, Edmund 'Eddie' Joynson celebrated his 100th birthday at his home in Smeeth. The COVID restrictions did not dampen the spirit of this special day with surprises and good wishes from Her Majesty The Queen, the Mayor of Ashford, family and friends, local and national Royal British Legion, local school children and community members too.
Eddie, as he is known to many, has lived in the village of Smeeth for over 30 years with his wife, Rose until she sadly passed away a few years ago – they were married for over 60 years. 
Originally from Leeds, Eddie saw active service with the RAF in World War II. He was a ground crew engineer working mainly on Hurricanes, Spitfires and Blenheims and spent some of his service in the Middle East.
During his RAF days he met and married his wife Rose, who was a local Great Chart girl. Eddie and Rose have four children - three sons and one daughter; twelve grandchildren, twenty two great grandchildren and five great, great grandchildren!  Once the pandemic is over there will be a very big family gathering and celebration!
After leaving the RAF and in peacetime Eddie worked as a civilian at the Old REME Workshops at Ashford. Besides his normal duties one of his great achievements was with a team that he led in designing and building a remote controlled vehicle which appeared one year at the Royal Tournament. Working his way up in the REME, he left Ashford and went to various units before retiring from the Woolwich Barracks.
He was a member at Sellindge Bowls Club for a number of years and in latter times his keenness and enthusiasm for the game has been shown at the Ashford Indoor Bowls Centre at Victoria Park / Jemmett Road. He was playing right up to the time that the game was stopped due to the Covid virus – in fact he is the first member of the club to reach 100 years old! To celebrate this momentous achievement, the Bowls Centre will be erecting a plaque in his name to mark his 100th birthday.
Being a strong willed Yorkshireman with a very independent spirit, Eddie is keen to embrace modern technology and enjoys staying in touch with family and friends by way of his invaluable iPad.
His daughter, Rosemarie, added, "He richly deserves to reach 100 years old and receive his telegram from the Queen and all the joy and love that his birthday will bring".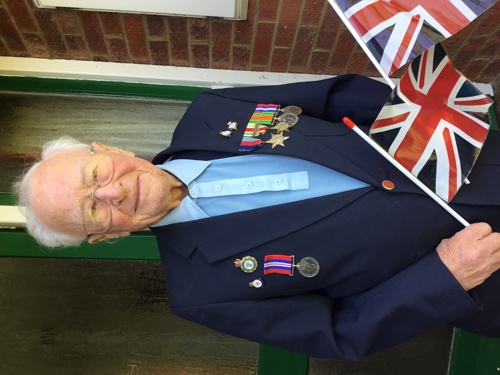 Other News you may be interested in