Celebrate Carnival of the Baubles at home
Published: 23/11/2020
See Ashford in a new light this Christmas as Loveashford brings the magical Carnival of the Baubles straight to people's homes.

Now families across Ashford can reimagine and recreate last year's Carnival of the Baubles event by crafting their very own colourful Christmas bauble to hang in their windows; beautifully lighting up neighbourhoods across the borough in time for Christmas.

Cllr Gerry Clarkson, Leader of Ashford Borough Council, said: "Our community has gone through a lot this year, and what better way to raise community spirit and bring the Christmas spirit to the borough than bringing the magic of Carnival of the Baubles straight to our residents' homes?"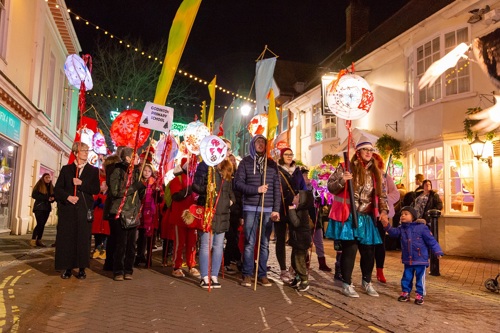 Art packs containing all the materials needed to make a bauble will be available to Ashford residents for free and can be collected from selected essential businesses in Ashford Town Centre, making it an easy addition to shopping baskets.

Alternatively, order an art pack online and have it delivered direct to your home by filling out the order form.
Loveashford is encouraging residents to hang their homemade baubles in windows at home and upload a photo to social media, using the hashtag #ashfordbaubletrail to showcase their fabulous creations to the online community! You can also join the Carnival of the Baubles Facebook Group to find other lanterns in your area.

"We very much look forward to seeing the community come together during this challenging time, by hanging homemade baubles in their windows, showcasing our borough's strong community spirit and bringing civic pride to Ashford this Christmas," Cllr Clarkson added.

If you're visiting Macknade to pick up some food shopping, just ask a member of staff for a Carnival of the Baubles at Home art pack. You can also collect the packs from Made in Ashford. Simply contact Made in Ashford direct to arrange a Click and Collect slot from their shop located in Park Mall Shopping Centre.


A step by step tutorial demonstrating how to create your bauble is available to watch online.

There are a limited number of art packs which are being offered on a first come first serve basis, so make sure you pick up a pack or order online while stocks last.

In addition our local town centre businesses will be showcasing giant, illuminated lanterns in their shop windows, designed and created by local artists. From December, visitors and residents are invited to safely wander through Ashford Town Centre and follow the trail of beautifully designed baubles, following Government guidelines and social distancing measures.
 
Keep your eyes peeled for uniquely designed lanterns popping up across the town in the following businesses:
• Emporia Fabric and Craft
• Liv2dance Studios
• Ashford College
• Valerie's Wine Bar
• Made in Ashford
• Revelation Ashford Headquarters
• Greggs
• Macknade Elwick Place
• Wilkos
• The Beehive
• Salata
• Dyson Brown
• Boots
• Blossom Hair and Beauty

The baubles will beautifully compliment the Christmas lights which sweep across Ashford Town Centre and Park Mall. Keep an eye out in Elwick Place for the giant illuminated present installation too. 

The campaign aims to not only build a greater sense of community, positivity, and optimism amongst local people, but also illuminate the town centre and its residential areas in the lead up to Christmas.   

The Carnival of the Baubles at Home has been organised by Ashford Borough Council and Loveashford, in partnership with Emergency Exit Arts and supported by local Ashford businesses and resident artists.

Loveashford is Ashford's digital town centre platform working to support the business community, promoting content, local offers and upcoming events in Ashford's town centre.  
   
For more information about Carnival of the Baubles at Home visit the Loveashford website. Follow Loveashford on Facebook, Instagram, and Twitter for the latest updates and news.  
Other News you may be interested in