Community groups come together to create Ashford Banners
Published: 04/05/2021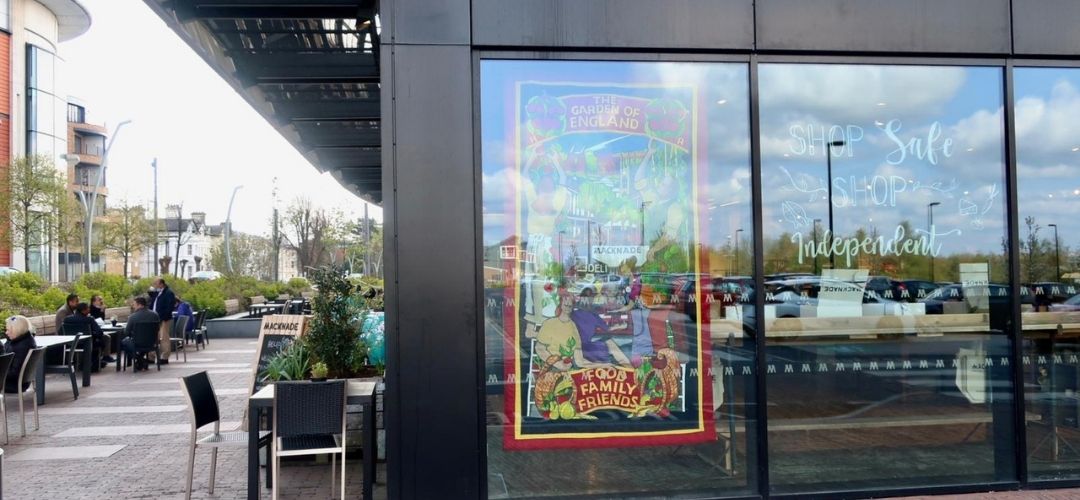 Local community groups have been harnessing their creative skills throughout lockdown to make a series of unique and colourful banners as part of Loveashford's first campaign for 2021 - Ashford Banners; A Story of Community Strength. 
Last October, local artists collaborated with community groups across the borough to lead a series of banner making workshops*, the results of which will finally form a woven wonderland of beautiful artwork across the town centre this May.  
The banners will create an artistic walking trail across the town centre; the collection of never-seen-before, hand-made artwork, proudly showcases the borough's community spirit and will create a positive and uplifting atmosphere throughout the town, as we start to embrace life after lockdown.  
"Bringing the community together to create a piece of art for our community about our community is such a special process we are all feeling privileged to be involved in" says Melissa Dawkins, Manager of Made in Ashford and founder of the CraftShip Enterprise CIC.
Members of the community from organisations including Branch and Brush, Sk8side Youth Centre, Ashford BME Association, Repton Trust, Made in Ashford and students from Ashford College and Liv2dance Studios, have been supported and mentored by established resident Ashford artists in a series of banner making workshops.  
"I liked working together with everybody and it's been fun to do this nice activity." says Jessica Doe, aged 9, who has been working with the TheatreTrain Ashford group with Liv2dance Studios. "I am happy to see my friends again and we are doing a positive project together."
"Doing the banners made me remember the positive bits of lockdown and this is a fun creative way to show them," added ten-year-old Ellie Taylor from TheatreTrain Ashford.  
The textile banners feature important Ashford themes, including depicting the town's rich history and illustrating stories from the community in response to the pandemic.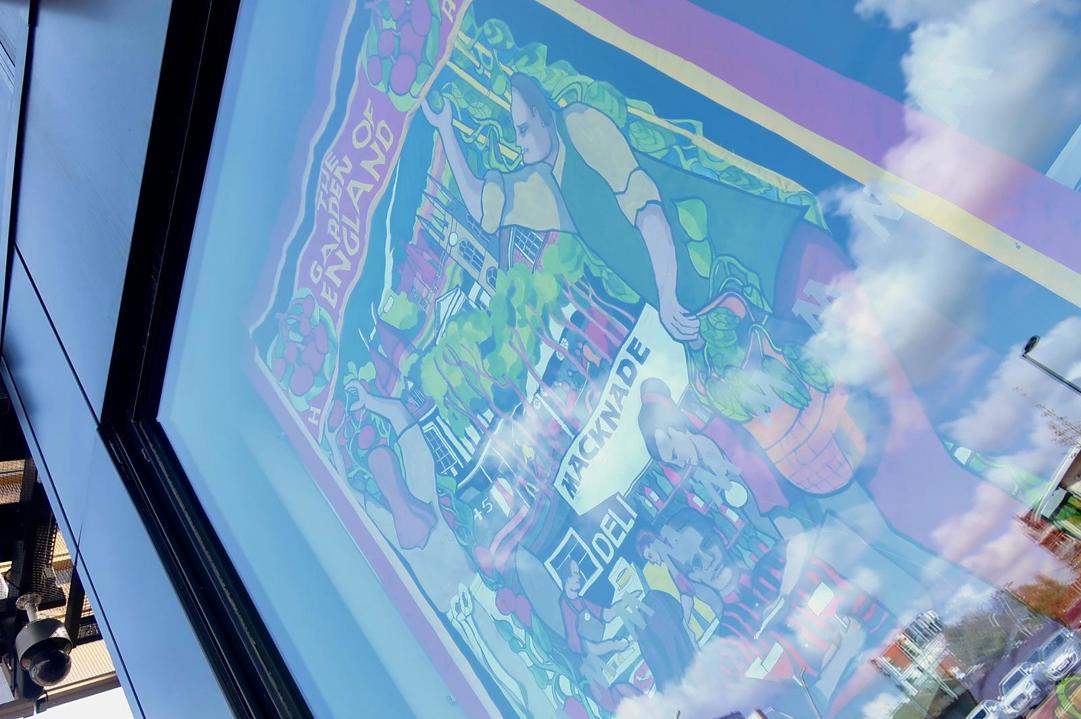 "Our piece has really made us dig deep about how we really felt throughout this year," Miss Dawkins says. "It created many emotional discussions with our group focusing on the positive outcomes of our experience. It has been a therapeutic process and being together has been so needed and we hope our local community enjoys our piece." 
The workshops were kick-started with help from leading UK banner artist, Ed Hall.  
Hall is renowned for banner making, his eclectic and colourful banners have inspired the work of Turner prize-winning artist Jeremy Deller and were integral to Alan Kane's Folk Archive in 2007, with work exhibited in Paris, Belgrade and Shanghai.   
Talking about the inspiration behind the banner, Mr Hall said: "I wanted to make a banner celebrating food and drink from the Garden of England. As Dicken's said, 'Everyone knows Kent' so it will feature cider, wine, hops, apples and farming and people enjoying life. The banner will be aptly displayed in Macknade Fine Foods shop window (in Elwick Place). 
"It also includes other Ashford sights including the Mark IV Tank, symbol of man's folly, and the Eurostar symbol."
The banners will be installed in the shop windows of local businesses from Saturday 1st May. Keep your eyes peeled for the beautiful banners popping up across the town in the following businesses:  
Ashford College
Bare Bazaar
Daisy Elephant Craft Den
Emporia Fabric & Craft
Liv 2 Dance
Made in Ashford
Macknade Fine Food
The Little Teapot
Ashford Banners has been organised by Emergency Exit Arts in collaboration with LoveAshford and Ashford Borough Council and is supported by local Ashford businesses and community groups.
Loveashford is Ashford's digital town centre platform working to support the business community, promoting content, local offers and upcoming events in Ashford's town centre. 
For more information visit Loveashford online or follow on Facebook at /LoveAshford or Twitter @LoveAshford.  
Other News you may be interested in