Introducing the Super Six - A new dawn in the AshfordFOR campaign
Published: 24/11/2022

Every place making campaign needs a compelling narrative. Something explaining the journey and clearly sets out the aims and ambitions of those running it. One which tells a meaningful story that engages stakeholders and allows everyone; residents, businesses, public sector partners and funders; to buy into it.
"This is what we had with The Big 8, a set of strategically important infrastructure projects, which could not be delivered by the Council alone. We needed other public sector partners to come together to help us deliver them, we needed funding support from Government, and, most importantly, we needed to convince the private sector that Ashford was the place where they needed to invest in." explains Ashford Borough Council Executive Leader Cllr Gerry Clarkson.
"This was why when I became Leader I set up the Ashford Strategic Delivery Board and appointed an external marketing agency Pillory Barn to help us promote ourselves on a wider scale. The Big 8 became the cornerstone of the important AshfordFOR inward investment campaign, which has successfully resulted in attracting investment, creating jobs and something which is hard to measure, but vitally important – it created a buzz about Ashford, put us on the map and allowed us to punch above our weight."
While the impact of any branding or place making campaign is notoriously difficult to measure, several companies and developers have invested in Ashford as a direct result of the campaign. It has also been well received, with partners and companies using it as part of their own promotion of the offer here.
The aspiration for delivering the Big 8 projects was very high, yet all projects have been taken forward and delivered, these are: M20 Jct10a, Designer Outlet Expansion, Ashford College – Phase 1, Commercial Quarter, Chilmington Green, Jasmin Vardimon Creative Hub, Ashford Spurs and Elwick Place.
Developments over and above the Big 8 projects in Ashford Town Centre alone include Curious Brewery, Aldi, Hampton by Hilton, Victoria Point, Riverside Park, The Triangle, The Coachworks, and two additional residential buildings at Panorama. Our success soon caused Ashford to be independently recognised as the 'No 1 Business Location in Kent'.
Now, with significant projects such as Newtown Works and Project Green, reaching major milestones and a clear, compelling set of corporate priorities set out in our new corporate plan we now need to grasp the opportunity and launch a new campaign utilising the well-established AshfordFOR brand - A new campaign with a new narrative.
Introducing the Super 6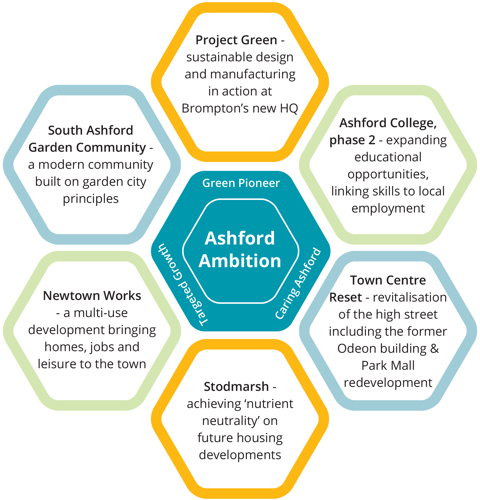 The above projects all sit within Ashford Borough Council's Corporate Plan, fitting neatly across the themes of Green Pioneer, Caring Ashford and Targeted Growth.
Cllr Clarkson added: "There are other important projects which will be considered for inclusion over time and we need to take a flexible approach to allow ourselves to grasp opportunities when they present themselves, so there a real scope to expand on these projects.
"The creation of the Super 6 will give a strong vehicle to publicise other projects outside of the list to a more captive audience, as was successfully achieved with the Big 8. It provides a new focus and impetus for a new inward investment campaign to help deliver these ambitious projects, but also to put Ashford on the map nationally, ensuring the maximum opportunity to attract future investment and government funding."
Other News you may be interested in