Keyworkers prioritised for Somerset Heights and Stour Heights launch in Ashford
Published: 13/07/2021
Ashford Borough Council has officially opened Somerset Heights and Stour Heights comprising 109 quality apartments in the heart of Ashford town centre. A large proportion of the lettings have been allocated to keyworkers, honouring a pledge made when the authority acquired the homes from developer Dukelease last autumn.
When the council announced the deal to buy the New Quarter, as it was then called, the £18.5m investment represented the largest ever handover of general needs accommodation to be managed on one site by the council.
The mix of one and two-bedroom open-plan apartments are contained in two blocks built either side of the Panorama building. Stour Heights has 65 homes over five floors and Somerset Heights is split over three floors with 44 homes. Work on Somerset Heights was completed at the end of last year, while Stour Heights was completed this summer and the first tenants have moved in.
Ground-breaking initiative
In a notable first for the authority, a priority lettings scheme was devised to provide affordable rented accommodation to key workers that have an identified housing need.

The addition of the new homes is also freeing up existing homes through transfers of keyworkers and, where possible, provides vacant units in which to house those in temporary accommodation, or from the housing waiting list.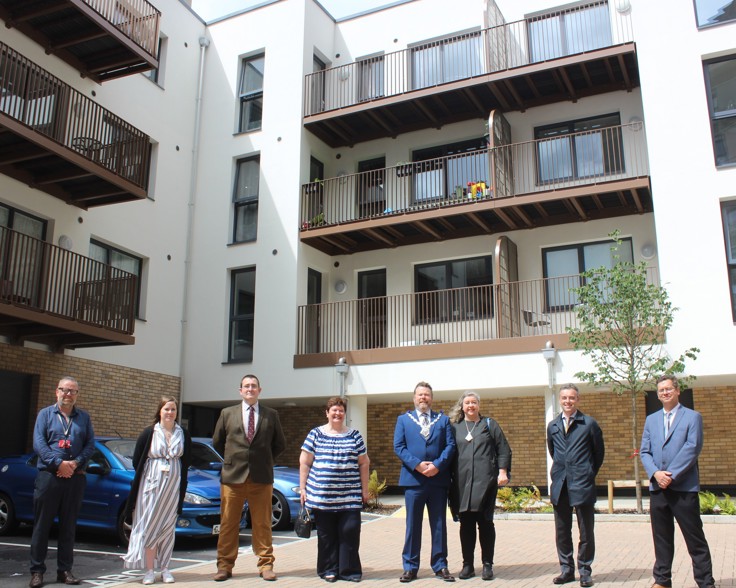 The acquisition has been a tremendous opportunity for the council to deliver on its programme of growing its Housing Revenue Account (HRA) stock amid high pressure for more affordable housing. It also creates real social benefit and sends out a positive message about cohesive communities in the heart of Ashford town.
Leading the way in Kent
Cutting a ribbon to officially the scheme, Mayor of Ashford, Cllr Callum Knowles, said: "Nowhere is the council's commitment to investing in the futures of our local communities more apparent than in our Housing department. They are leading the way in Kent when it comes to providing more quality social housing for residents.
"I am especially pleased to see that a core aim has been to provide affordable rented accommodation to key workers that have an identified housing need. Prioritising lettings to men and women who have been on the front line during the pandemic is the right thing to do and it's wonderful to learn that a large percentage of the tenants who have moved in are key workers.
                                                                                                         
"I believe that Ashford leads the way in housing development in Kent and that's why I'm especially proud to be here today to officially open this development."
Cllr Bill Barrett said the opening of Somerset Heights and Stour Heights was the proudest moment of his two years as portfolio holder for housing.

He added: "Ashford is committed to delivering quality, affordable homes and today's official opening is a clear message to those on our waiting list that we're doing everything we can to deliver affordable housing.

"The fact that Stour Heights and Somerset Heights occupies such a prominent site in our town centre shows that the council has a real stake in our town centre and a vested interest in making it a vibrant place. One in which we create opportunities for those who work here to feel part of something special.
"I pay tribute to the council's head of housing Sharon Williams and her dedicated team who have worked tirelessly to get this deal completed, including drawing up a comprehensive keyworker lettings policy from scratch."

If you have a housing need and want more information, visit our New Quarter web page.
Other News you may be interested in