Mutual Exchanges
Mutual exchanges allow social housing tenants to swap their home to a different sized property, or area. Each landlord must agree before an exchange can take place.
Homeswapper
Homeswapper aims to help public tenants swap homes and is supported by many local authorities and housing authorities in Kent. You can use its website to find another home to exchange yours for. This means your home will be advertised here for other tenants to see.
When you register you can say what sort of property you are looking for. You can log in any time and search for possible matches.
Found a swap?
Once you have found a home that you would like to exchange to, all households involved must complete the online application form on the Homeswapper website. This is found by clicking the "Found a Swap" button which will be showing on your dashboard as it does on the image below. From here, you simply complete the application form and click submit.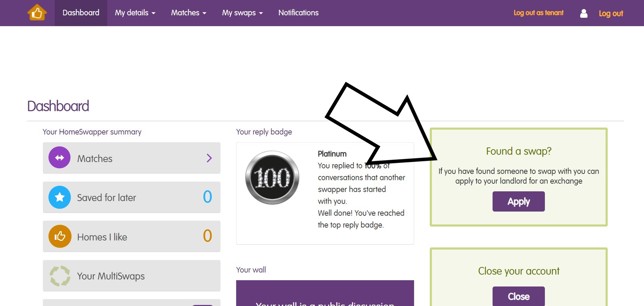 This new system will allow you to see the progress of your exchange as well as any requests that have been made by the Housing Management Team for further information, such as photos of your home.
If you are not registered on Homeswapper but have found an exchange, please contact the housing team who will send you an invitation via email to complete the online application form without the need for you to register.
If you have any questions please email the housing team or phone them on 01233 330688.
When you find a property you are interested in you will need to arrange a viewing. It's worthwhile making a note beforehand of things you want to know about. The following questions may help:
The Area
Schools – where are they? Some schools are full and may not accept new children.
Doctors surgery – where is it? Will they accept you onto their list?
Transport – are there buses or trains available?
Post office – is there a local post office or shop?
Parking – what is it like at weekends and evenings when everyone is home? Is there enough space? Do they rent a garage? Would you be able to take it over?
The Property
Are all the door locks working properly? How many sets of keys do they have?
If there is a door entry system do they have the security tags for the entry system? We charge for these if they are missing.
Is there a TV aerial or satellite dish? Are they leaving it?
Is the cooker point gas or electric? If it is electric, is gas available? And how much would it cost to have installed? We will not provide this.
Are all the fittings, i.e. kitchen units, toilet, bath and basins as supplied or have they changed any? We may not be responsible for tenant's alterations and, if a repair is required, we would only supply standard items.
Have they suffered from flooding or water damage?
What are they leaving behind? e.g. carpets, curtains, blinds, sheds, greenhouse, etc.
What is the condition of the property? The council are not responsible for decoration. If you have to redecorate, how much will this cost?
Are there any outstanding repairs, i.e. cracked windows, broken window catches, missing doors, cracked wash basin or bath, or any unauthorised alterations?
The next stage
If you wish to go ahead after you have seen each others' homes, the next stage is to complete a mutual exchange form for each family. When completing the form, tell us about any problems in the property that concern you, we can check these when we inspect the property. The council is not responsible for the decoration within our properties. The council may not be responsible for repairs or reinstatement work caused by tenant's alterations or through the removal of tenant's alterations.
If there have been alterations to the property that you consider undesirable or which may represent a health and safety risk you must get it resolved before you agree to the exchange.
Be clear about any items you are intending to take with you or intend to leave behind. For example, tenant improvements, sheds, garden features, planting. Where you decide to take items with you, you must ensure that all reinstatement work is undertaken and that you have not created a health and safety risk.
Rent Payments
When all the checks and viewings have been completed and it has been agreed by all parties that your mutual exchange will go ahead, two weeks rent must be paid before you move in to your new property. This is the case for ALL households, even if you are on Universal Credit and even if you are moving between Ashford Borough Council properties or as an incoming tenant from another landlord.