Adley's Yard car park now open
Published: 07/03/2023

A former builder's yard in South Ashford that had been used as an informal parking area has been revamped to create a car park. Often used by visitors to nearby shops and GP surgery the land at Adley's yard had deteriorated, becoming unsightly, cratered and muddy.
Ashford Borough Council has invested in resurfacing the yard and created a car park that will provide 19 spaces; including 12 standard bays, 2 electric vehicle (EV) charging bays (due to go live 16 March) and 1 disabled bay. There is also additional space for motorcycles.
One of the EV bays is actually a dual disabled bay, one of very few such bays in the country. This means that it is for the exclusive use of blue badge holders who wish to charge their vehicle. There are plans to roll out more of these dedicated dual disabled EV bays across the council's car parks in the future.
Visitors to the car park will need to pay for their time by phone or using the RingGo app. However two of the bays have been allocated as free parking for up to 15 minutes to support local businesses with customer parking. Charges will apply from 8am to 6pm every day including Sundays and bank holidays with a maximum stay of 4 hours.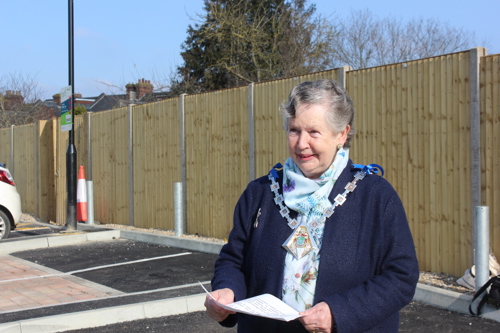 The car park was officially opened on Thursday 2 March with a ribbon cutting ceremony by the Mayor of Ashford, Cllr Jenny Webb who said:
"Over many years I have seen this privately owned plot of land deteriorate and become a neglected and unsightly stain on the area but with my determination and the invaluable help of officers of Ashford Borough Council we witness today what can be achieved in regenerating neglected areas and making them useful and safe places and in this instance safe parking.
"My personal gratitude goes to the officers who have made this project a reality and tirelessly helped it come to fruition and be a part of my ambition to highlight and regenerate areas of neglect within the ward. I would also like to add my thanks to contractor Gallagher for their excellent work in the creation of this car park."
Other News you may be interested in