Step 7 – Find Space for your Business
Choosing the right premises is a major decision for many businesses. The right location can be critical for attracting customers and employees, while the premises themselves can significantly influence productivity. You also need to take into account how the decision to license, lease or buy your premises affects your costs and the flexibility you'll have if your premises requirements change in the future. Startupdonut has some handy advice for looking into commercial premises.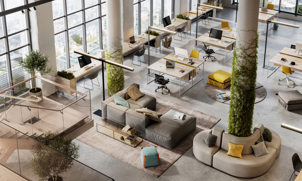 Find out more about commercial property in Ashford, with a range of flexible working spaces, industrial and retail properties available through our Property Search Tool.
If you're moving into Kent from outside the county, Locate in Kent can help you find the best new premises for your company.
In light of Covid-19 many people will likely want to work from home, where possible. This is not a problem and can actually mean you don't have to pay rent on another property. If you do decide that's what you want to do, then you will need to consider the implications for planning and business rates. Check to see if this applies to your proposal.
Tip: when considering your commercial property options, remember that you will likely be liable to pay business rates and services. You may also need licences and planning permission depending on what you are thinking of doing so check with the estate agent or the council before you take on the property.