Honorary Ambassador of Ashford Awards for Mr doodle and Jasmin Vardimon MBE
Published: 08/09/2023

Photo credit: Jasmin Vardimon Company
Ashford Borough Council established an Honorary Ambassador of Ashford Award Scheme to recognise and honour individuals who have made or are making a significant contribution to the development, wellbeing, strength and/or civic dignity of the borough of Ashford.
This month the Mayor of Ashford, Cllr Larry Krause, had the pleasure of presenting two new recipients with this prestigious honour.
The first award was presented to Ashford-born and globally recognised artist Sam Cox, better known as Mr Doodle. Mr Doodle has inspired a new generation of creative Ashfordians (and many others around the world) with not only his incredible talent, but also his kindness, compassion and generosity. The number of people who follow his work is unprecedented and unrivalled, which has helped to put Ashford positively on the global arts and culture map.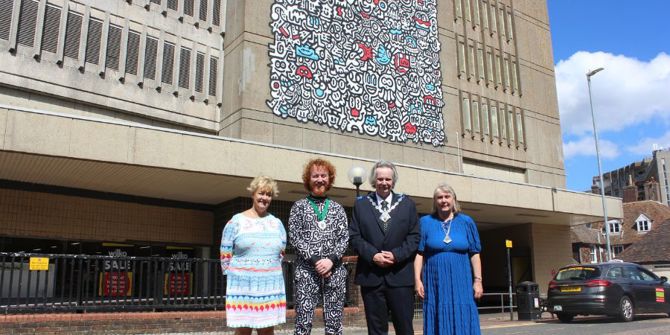 The Mayor of Ashford, Cllr Larry Krause, said of Sam Cox: "With great success can come challenges and Mr Doodle has used this platform to not only share his talents and highlight our borough, but has also been very open about the challenges that come with having a creative mind and ambition. He has dealt with those challenges in an honest and heart-warming way that I am sure has brought and continues to bring comfort and inspiration to many."
The second award was presented to internationally known Jasmin Vardimon MBE who has a truly inspiring career covering world tours, multiple educational programmes, expert staff (on and off stage) and an MBE for services to the arts. This award acknowledges and celebrates how Jasmin Vardimon uses her talent and profile to locally, nationally and internationally attract world class artists to the borough. The award presentation took place in the new Jasmin Vardimon creative studio, which is already establishing itself as a flagship centre of dance in the UK.
Photo credit: Jasmin Vardimon Company
The Mayor of Ashford, Cllr Larry Krause, said of Jasmin Vardimon: "Presenting this award to Jasmin Vardimon was a great honour, to celebrate her incredible talent, creative mind and ambition. Over the past 13 years Jasmin Vardimon has called Ashford home, she has been ensuring others get to explore and harness their own unique skills and to change the world in which they live, culturally, whether that be in a small or large way."
Jasmin Vardimon was honoured in receiving this award and hopes to continue her involvement in developing the opportunities in Ashford. Jasmin said "Now that our home is built in Ashford, our commitment and dedication to our local community has grown deeper with an expanding range of opportunities to take part in, and I look forward to developing these further more in years to come".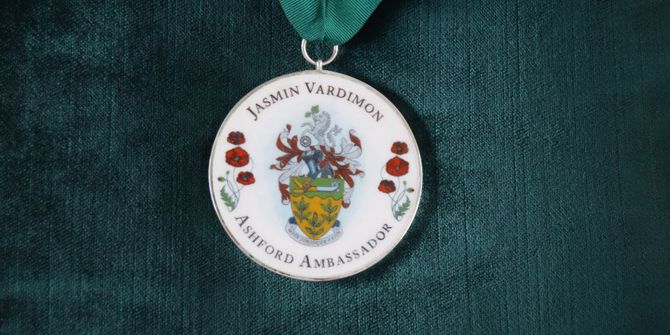 Photo credit: Jasmin Vardimon Company
These Awards were commissioned in 2018 when the first recipient, Dr Liliana Turoiu, President of the Romanian Cultural Institute, was awarded in recognition of her work in commissioning the Memorial Statue of Queen Marie of Romania at Elwick Place, Ashford.
The Awards have been designed in the form of a silver medallion to embody the civic dignity that the Award endows and bears the Armorial Bearings of the Ashford Borough Council, granted by Garter King of Arms in 1975. To each side of the Armorial Bearings are poppies to signify the centenary of the end of World War I.
Information on Sam Cox, Mr Doodle
Sam Cox, known by his pseudonym Mr Doodle, began consuming the Earth's surface with doodles when he was born in 1994. He started out by covering his parents' furniture with doodles and eventually his whole bedroom until he realised his home wasn't a big enough canvas and he began doodling on the walls of local shops, restaurants and schools. During his career, Mr Doodle has constructed a whole new visual phenomenon: his DoodleLand, where he manifests his vision of the world, producing dense clusters of characters, objects and patterns that grow and multiply relentlessly.
Mr Doodle's works transcend beyond the canvas, invading furniture, clothing, rooms, buildings and more. Like other artists of his generation, he also explored a number of collaborations with iconic brands, including Fendi, Puma, Samsung, MTV and Red Bull. But where Mr Doodle separates himself is in his sense of purpose: a deep and obsessive compulsion to expand and share his vision of his Doodle World.
Recent solo exhibitions include Disney Doodles (2023), Artelli, Macau, China; Mr Doodle in Love (2023), chi K11 Art Space, Wuhan, China; Abstract Doodles (2022), V&A, Shenzhen, China; Mr Doodle in Love (2022), chi K11 Art Museum, Shanghai, China; Mr Doodle Invades Sotheby's (2019), Sotheby's, Hong Kong, China; Doodle Kyoto (2019), Shimadai Gallery, Kyoto, Japan; Doodle Tokyo (2019), Daikanyama Hillside Forum, Tokyo, Japan; Doodle World (2018), ARA Art Center, Seoul, South Korea; and Attention Seeker (2016), Hoxton Gallery, London, UK.
Information on Jasmin Vardimon MBE
A leading force in British dance theatre for nearly 25 years, Jasmin Vardimon has built a reputation for challenging, exciting and visually stunning dance and continues to add to the body of critically acclaimed, artistically respected yet accessible work both for the company she formed in 1998 and for some of the leading arts institutions she works with across the world.
Jasmin Vardimon has been an Associate Artist of Sadler's Wells since 2006, and her company tours nationally and internationally, performing at high profile theatres throughout the World.
Born and raised on a Kibbutz in central Israel, she was a member of the Kibbutz Dance Company for five years and in 1995 was awarded the prestigious British Council 'On the Way to London' Choreography Award. This was to take her on a journey that saw her move to the UK permanently in the late nineties. At the same time she founded Jasmin Vardimon Company (previously Zbang) for which she has created some of her most memorable work. An Associate Artist at Sadler's Wells since 2006, Jasmin has received numerous awards and recognition including an honorary doctorate from The Royal Holloway University (2014), an honorary fellowship from the Institute of the Arts Barcelona (2019) and an MBE in the Queen's Birthday Honours of June 2022.