Ashford joins In The Loop to boost recycling on-the-go
Published: 08/09/2023
Nine bright, colourful and eye-catching dual recycling and general waste bins have appeared in Ashford Town Centre, as a new on-the-go recycling initiative - #InTheLoop, is launching Saturday 9 September 2023.
#InTheLoop is a three-month trail which will make it as easy as possible for visitors to recycle empty glass, plastic bottles and cans. The initiative is a partnership between Ashford Borough Council, Kent Resource Partnership, Kent County Council, Litter Lotto, metroSTOR, N+P (dry and mixed recycling processors in Kent), and environmental charity Hubbub, made possible with funding from McDonald's.
The new bins have bold graphics showing clearly what goes in each section of the bin. The recycling section collects empty glass and plastic bottles as well as cans, so these valuable materials can be made into something new instead of going to waste. To keep contamination to a minimum, people are being urged to put items like coffee cups, dog waste and crisp packets in the general waste section of the new bins and to think "if in doubt leave it out".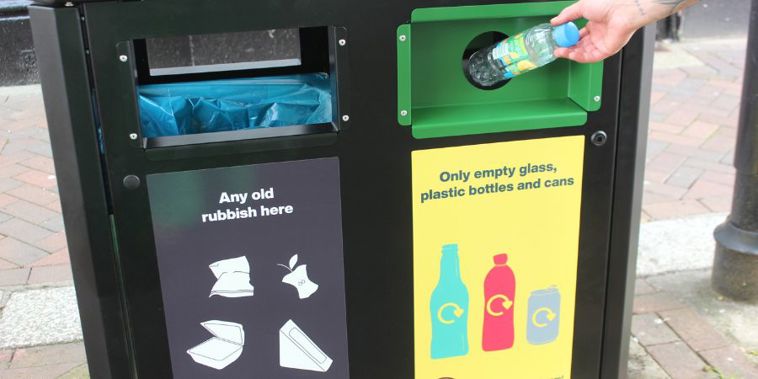 Litter Lotto are offering a monthly jackpot prize of £200 in addition to their usual prize offerings. Visitors to the town centre simply need to take a picture on the Litter Lotto app putting their recycling or general waste into one of the town centre bins to be entered for the chance to win!
There are also hidden virtual coins to find around Ashford Town Centre and Victoria Park to win extra prizes. Find out more by downloading the Litter Lotto app and get binning and hunting! The monthly £200 jackpot prize and coins will be available from September to November 2023.
Made in Ashford's Craftship Enterprise are running three workshops to show how we can re-use materials and put them back #InTheLoop.
The first workshop is taking place this Saturday 9 September, where visitors will have the chance to add to the living wall art installation made of plastic bottles, which will be displayed in a shop window. Find out more about these workshops on Made In Ashford's website.
Steve Campkin, Portfolio Holder for Climate and Environment, said: "It is great to be part of this pilot to explore how we can better support our residents to recycle and share the learning with other authorities. Whilst our ultimate aim is to reduce waste in the first place, recycling what we do need to use out and about is essential. These bins, kindly funded by the #InTheLoop project, we hope will significantly improve our recycling rates in the town centre."
Beau Zilesnick, Project Lead at Hubbub, said: "We're really excited to bring #InTheLoop to Ashford Town Centre. Through our eye-catching bins, we want to give residents, workers and visitors a better and easier opportunity to recycle while out and about. We're urging everyone to use the new bins and help us ensure that as much valuable packaging is recycled as possible."
For more information about the campaign visit Love Ashford website or contact the Kent Resource Partnership by email.