Court Wurtin renovation work takes shape
Published: 17/03/2023

Ashford Borough Council is seeking to refurbish two empty flats at Court Wurtin in South Ashford, to bring them back into use and at the same time secure the stairwells, create a bin store for unsightly trolleys and rubbish and improve the surrounding area to uplift the feel of the site.

The focus is on getting the flats back in use, countering any perception of antisocial behaviour and aesthetically improving the area with work to improve the vegetation, pavements and appearance of the superstructure.

Work was delayed due to the complicated ownership structure of the block and pandemic lockdowns. However, work is now progressing.

Revised drawings show how the area could look and have been shared with Kent Police's Secure by Design team (who assist in designing out crime from new buildings) and with planning officers.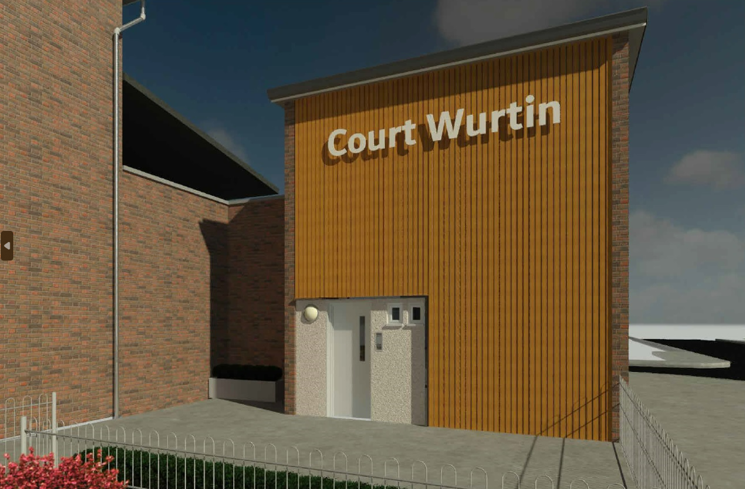 Although the paved area and potholes were recently improved, delivery vehicles have cracked the paving and again the visual appearance is suffering. Bollards will be erected to prevent this reoccurring.

Responding to comments from the public about the untidiness of the area, our Aspire team is undertaking landscape improvements. Some of the work requested is not on our property so we have to be careful in undertaking work, even though we are only enhancing the area.
The Council's repairs contractor Equans is lined up to undertake the work to bring the empty properties back into use and work is expected to start soon. A planning application has been submitted to undertake works to the exterior of the building, replace the canopy, provide a better bin store and secure the stairwells. It is anticipated the flats will be available to let this summer.

Residents have been kept informed by a newsletter and via the local media. Regarding future drainage works, all owners are reminded that if they don't wish to be recharged for essential upkeep then they could negotiate a competitive price with us to transfer ownership. As mentioned, external works depend on legal constraints and cooperation with the freeholders and leaseholders.

Cllr Bill Barrett, Portfolio Holder for Housing, said: "These new improvements to Court Wurtin have always been a priority for me after working last year to get the car parks re-surfaced alongside Cllr Lyn Suddards. I really want to see the site refurbished and brought up to a decent standard for local residents which will not just make it more aesthetically pleasing, but will hopefully reduce anti-social behaviour and graffiti which have been a problem in the past. This project will also bring two more flats online and so I am very excited that it begins as soon as possible."
The councillors also paid tribute to the hard work and dedication of officers who have been involved in bringing this project forward.