Help for Ukraine
Published: 28/03/2022
Visit our Ukraine section of the website for the latest updates.
We have received various requests and offers of support for Ukrainians affected by the atrocities taking place. There are local volunteers who are collecting clothes and other items. Please find below the details of some of them here.
Bethersden Community Group
Community members in Bethersden are collecting donations and arranging items to be sent to Ukraine. If you are local to the area, please visit the Facebook group for more information.
Local Sponsorship Scheme for Ukraine
Find out more information about the Sponsorship Scheme from GOV.UK, which includes a link to receive email updates direct from DLUHC as the Ukraine Scheme develops.
A national appeal has also been launched by the UK's Disasters Emergency Committee (DEC) to help the hundreds of thousands of Ukrainians fleeing the conflict. Fifteen UK aid agencies - including the British Red Cross, Oxfam and Save the Children - are joining together to ask the public to donate.
Homes in Ukraine have been destroyed and water supplies, hospitals and schools have been hit, the DEC says. The charities say people urgently need food, water, shelter and medical care.
The appeal will help people who have fled Ukraine, but also those who have been displaced to other parts of the country. All public donations will be doubled by the UK government, up to a total of £20m.
Visit the DEC website for more details.
Ashford Borough Council's support for Ukraine
We have made a donation of £5,000 to the DEC appeal as part of the authority's support for the people of Ukraine.
The Government has pledged to match all donations to the DEC appeal up to £20m. The Ashford donation coincided with the announcement that the Queen had made "a generous donation" to the DEC Ukraine appeal. 
We have also vowed to stand ready to do whatever we can to assist the Government in supporting Ukrainian refugees arriving in the UK. The Government is working on a sponsorship scheme will match people, charities, businesses and community groups to Ukrainians who do not have established families in the country, so they are able to come to safety the UK.
We await further details of this. This is a humanitarian catastrophe that is almost beyond belief in the 21st Century. Ashford Borough Council has an exemplary track record in responding quickly and positively in assisting first Syrian and then later Afghan refugees to find a safe and welcoming haven in our borough. Those people had been fleeing war torn areas and this tragedy in Ukraine is arguably even more serious.
We have also purchased a Ukrainian flag to be flown at the Civic Centre, a highly visible show of support for the beleaguered citizens of Ukraine.
Homes for Ukraine
The government has set up a new scheme which will allow individuals, charities, community groups and businesses in the UK to bring Ukrainians, forced to escape their homeland to safety – including those with no family ties to the UK.
Full details on the scheme and how to register your interest can be found on the government's Homes for Ukraine web page.
Kent County Council's support for Ukraine
Advice for Ukrainian nationals is available from Kent County Council online.
Kent County Council has also set up a generic email inbox for charities, volunteers or people needing advice regarding refugees, or for Ukrainian refugees themselves. The email address is Ukraine@kent.gov.uk.
UK fire service convoy heads to Ukraine with lifesaving equipment
The biggest UK fire service convoy – made up of 22 vehicles and more than 5,000 items of kit and equipment donated by UK fire and rescue services - has been deployed to support firefighters in Ukraine.
Having departed from Ashford on Saturday 19 March, more than 60 volunteers from FIRE AID and fire and rescue services are taking the convoy into Poland. It will then make its way into Ukraine, providing vitally needed equipment to support firefighters, emergency services and volunteers, battling together on the frontline.
Vehicles underwent final checks and the convoy departed Kent early on Saturday morning. The convoy will take approximately three days to arrive in Poland where it will be transferred to Ukraine. When it reaches Ukraine, the equipment will be used to support emergency services which are dealing daily with fires and other emergencies to protect lives, people and property as the invasion devastates the country, often using old or worn equipment.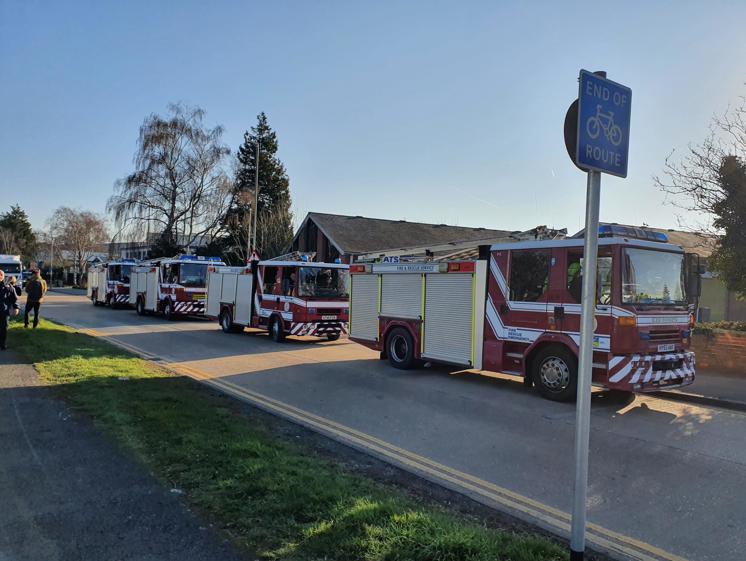 Coordinated by UK charity, FIRE AID and International Development (FIRE AID), the National Fire Chiefs Council (NFCC), and the fire industry through the Fire Industry Association, the 22-strong vehicle convoy includes 15 fire engines, an incident response unit, a hydraulic rescue platform, mechanical support for the journey, and two lorries containing equipment such as thermal imaging cameras, generators, lighting, hoses, and thousands of sets of PPE.
The deployment of these donations is being supported by funding from the UK Home Office, Foreign, Commonwealth & Development Office, and the FIA Foundation, as well as through a public appeal via JustGiving.