Victoria Park
Victoria Park and Watercress Fields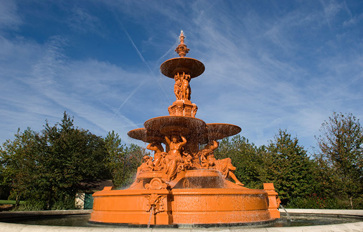 Have you discovered Ashford's largest and most central park yet?
There's something for everyone at Victoria Park and Watercress Fields, including a wealth of history, exciting play spaces, interesting ecology, and quiet spaces to relax.
The Victoria Park and Watercress Fields Project is a £4.5m project being delivered by Ashford Borough Council and the National Lottery Heritage Fund to improve and protect Victoria Park for the local community. The project focuses on the natural, built and social heritage of Ashford's largest public park, and particularly aims to improve it for residents by updating the community facilities and play spaces.
Find out more on the Victoria Park Project website.
Victoria Park on BBC Radio Kent
Dominic King from BBC Radio Kent interviewed sound artist and composer Emily Peasgood about her musical composition Fantasy Fountain - which formed part of the celebrations for Mr Harpers Birthday and the start of Kids Take Over week 2022! 
The composition was created with young people from Ashford Oaks School, The Milbank Centre and local community members to commemorate the heritage of the park and the beloved Hubert Fountain. 
Find out more about the Fantasy Fountain research project and musical composition at Emily Peasgood website.
How you can get involved
Did you know the Victoria Park project has dedicated Facebook, Instagram, Twitter, TikTok and YouTube accounts? Follow them to find out all the latest news and information on future events and plans for the park. 
If you would like to get in touch, or to find out more about the project, please email the team.
Friends of Victoria Park
Members of the community who are interested in getting more practically involved are invited to join the Friends of Victoria Park. You can visit their website or Facebook page for more details and to sign up as a member.