A little bit of civic history is back in the hands of Tenterden
Published: 11/01/2023

When Prime Minister Edward Heath introduced sweeping changes to local government in 1974 it had far reaching consequences for this corner of Kent.
Tenterden ceased to be a Borough after 525 years at midnight on 31 March 1974, and both the Tenterden Borough and Tenterden Rural District Councils had their last meetings before the new Ashford Borough Council took over administration for both areas.
The ceremonial Badge of Office of Tenterden Rural District Council was handed over to the newly-formed Ashford Borough Council for safe keeping and it has remained on display, along with other historical artefacts, in the Parlour of the Mayor of Ashford in the Civic Centre in Tannery Lane.

Until now.
Civic leaders and dignitaries from both Ashford and Tenterden gathered in the Chamber in Ashford to witness a ceremony where the Tenterden Rural District Council Badge and Ribbon was loaned back to Tenterden Town Council.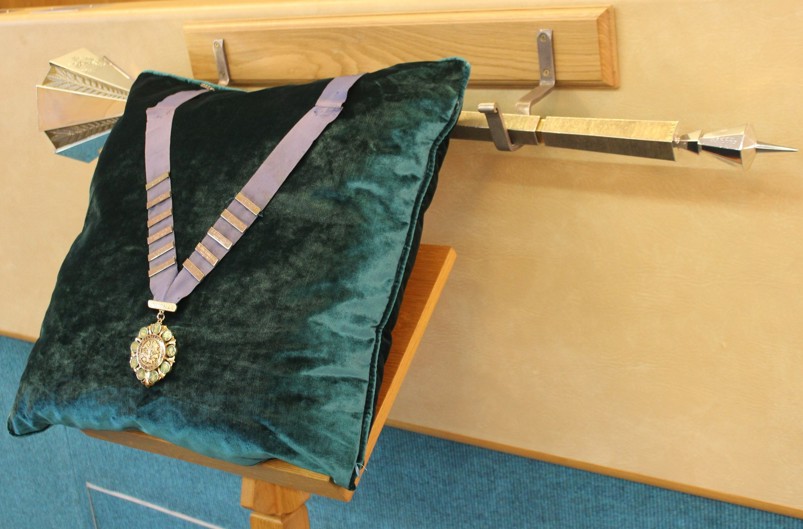 Opening the service, the Mayor of Ashford, Cllr Jenny Webb, welcomed the Town Mayor of Tenterden, Cllr John Crawford, the town councillors of Tenterden, and Debbie Baines the Town Clerk.
"I speak on behalf of the Executive Leader of the Borough Council, Cllr Gerry Clarkson, the Chief Executive Tracey Kerly and Deputy Ben Lockwood and members of the council when I say how delighted we are to witness the presentation of this superb Tenterden Rural District Council Badge of Office to Tenterden Town Council."
Cllr Clarkson said: "This Badge has been proudly displayed in our Mayor's Parlour but I felt it was time to present it on a long term loan to Tenterden Town Council as this is an important part of the history of Tenterden.
"Tenterden Rural District Council had been in existence since 1895 and was responsible for the running of nine parishes – Appledore, Biddenden, Kenardington, High Halden, Newenden, Rolvenden, Stone with Ebony (or Oxney), Wittersham and Woodchurch.
"This incredibly intricate Badge is made in 9ct gold, hallmarked Birmingham 1959. On the front in the centre, carved in relief, are a collection of farming products, fruit, vegetables, poultry and cattle.
Each parish is represented on the Badge and the Ribbon bears 9ct. gold ribbon bars all engraved with the names of past chairmen. 
"The strong links between Tenterden Town Council and Ashford Borough Council continue and so it is an enormous pleasure to be handing over the guardianship of the Badge and Ribbon to the Mayor of Tenterden and the town councillors," added Cllr Clarkson.
Accepting the Badge and Ribbon, the Mayor of Tenterden Cllr John Crawford, thanked Cllr Clarkson and Ashford Mayor, Cllr Jenny Webb, for orchestrating the presentation of Tenterden Rural District Chairman's Badge of Office to Tenterden Town Council.
"The Badge of Office historic insignia is a marvellous piece of workmanship which will be treasured by Tenterden Town Council and its community.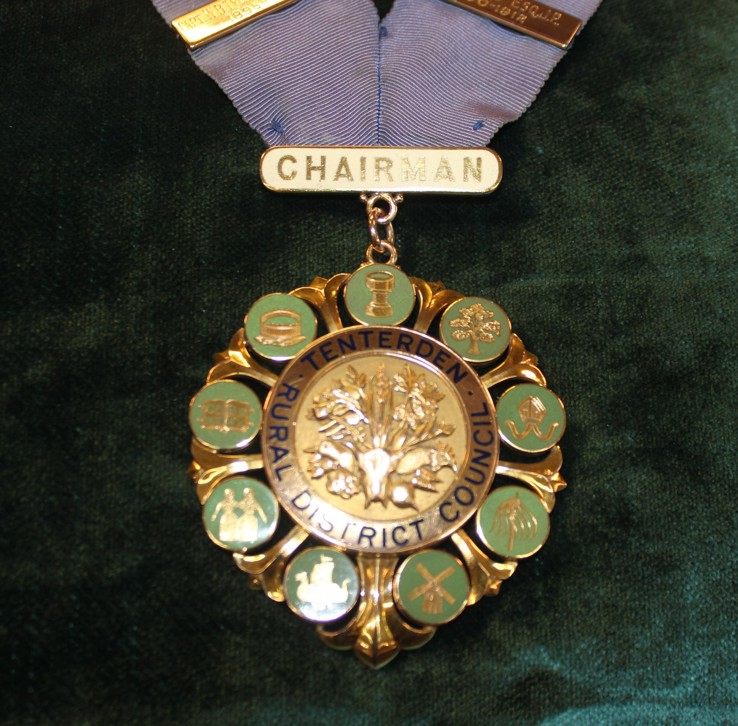 "On 1 April 1974, Prime Minister Ted Heath's Local Government Act of 1972 resulted in Tenterden District merging with the various Ashford districts to become the largest borough by area in Kent. Sadly that was the end of 525 years of Tenterden's local powers to help shape the town's destiny.
"As a parish moving into the future, Tenterden's sustainability is partially reliant on Ashford. In the coming years, we need to build closer working relationships for the benefit of our collective communities.
"Today we are making history. It is incredible after 48 years this magnificent piece of regalia is coming home to reunite with the original Tenterden District Regalia of the Mayor's office.
"So on behalf of Tenterden Town Council, a very big thank you," added Cllr Crawford.
Other News you may be interested in