Work begins on Phase 2 of Ashford College
Published: 24/11/2022

It's an exciting time for Ashford College, with construction work underway on a brand new extension! 
Called Phase 2, the new wing will house classrooms and laboratories for Business, Information Technology, and Engineering. The new facilities will create a renewed focus on these up-and-coming fields, and allow 250 more students each year to access the high quality education offered at Ashford College. 
Featured will be an 'Engineering Hub', which will highlight the role engineering can play in creating solutions to climate change and promoting decarbonisation. 
The extension will also be key in delivering the new T Level qualifications, which are equivalent to three A Levels and provide learners with work experience as part of their training. Requiring the latest equipment and technology, the courses will benefit from the brand new facilities offered by Phase 2's construction. 
The extension plan was given a big boost in November 2021 when EKC Group's bid for funding from the Government's Post-16 Capacity Fund was successful. With surveying having taken place earlier this year, groundwork has now begun.
Chief Executive Officer for EKC Group, Graham Razey OBE, said: "It's really exciting to see these plans coming to fruition. It's been an ambition of ours to deliver this second phase since we took on Ashford College, and now that we've broken ground we've taken one step closer to delivering a new inspirational learning environment for the community of Ashford, which we proudly serve.
"This exciting new phase for Ashford College will see specialist engineering equipment that will help students learn the skills of the future, as well as assisting local engineering businesses in decarbonising their processes. It will also contain new IT and business spaces, ensuring we're giving Ashford College students the highest quality spaces to learn and grow."
Cllr Gerry Clarkson, Leader of Ashford Borough Council, said: "I believe this is excellent news for the college, current and future students, and the wider borough as it will enable the next phase of the development of Ashford College to become a reality, which is one of the council's priorities in our Corporate Plan.
"The importance of this for Ashford's prosperity cannot be overstated, which is why the Council has invested our own funding into this development, and supported EKC Group's ambitious plans. This ground-breaking means the delivery of the multi-million extension on the Elwick Road site to support Engineering, Business and IT curriculum provision and expand the capacity of the college to meet increased demand for educational provision in Ashford."
The effort to construct Phase 2 is the first building work to take place on the site since 2017, when Ashford College opened its Elwick Road campus after moving from Jemmett Road.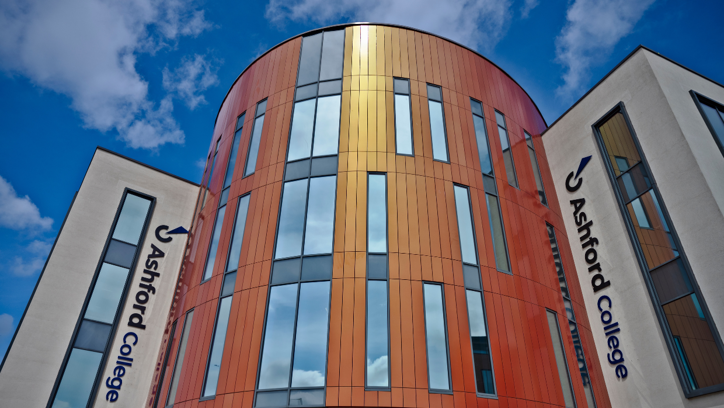 Three years later, the College was acquired by EKC Group which runs six Colleges across East Kent. Using the experience acquired by its managing of Broadstairs, Canterbury, Folkestone, Sheppey and Dover Technical College, EKC Group has been praised by OFSTED for the way it has integrated Ashford College into its family of campuses. 
Following a monitoring visit post-acquisition, the Group was awarded the education watchdog's highest possible rating for its work in merging the College with its existing provision. 
Find out about the courses on offer at Ashford College online.
Other News you may be interested in