Ashford Borough Jubilee 2022: a thank you to the Queen on Film
'Ashford Borough Jubilee 2022: a thank you to the Queen on Film' is a participatory film project about the Queen's Platinum Jubilee celebrations in the borough of Ashford. This community film project was delivered by Funder Films and funded by the Arts Council's Let's Create fund and the Kent Community Foundation. It involved commissioning seven young aspiring film-makers to document the preparations for, and celebrations of, the Queen's Platinum Jubilee celebrations in Ashford.
Each young film-maker was commissioned by Funder Films to take appropriate footage on their mobile phones or digital cameras and to edit their footage into a short film. The film-makers had to engage with community groups and event organisers in the planning process, and then capture footage from the various Platinum Jubilee events and activities.
This project gave young aspiring film-makers practical experience in an industry where opportunities can be few and far between. The film-making skills and personal development will stand these young people in good stead for the future.
In total, seven short films were created by the young film-makers and one overarching edit was created by Funder Films. All eight films were shown at a special screening at the Picturehouse cinema in Ashford.  The films will be lodged with Ashford Museum as well as put on various social media platforms.
Street Parties in Ashford: Hamstreet and Wye
By George Larman
George filmed the Queen's Platinum Jubilee celebrations in Appledore and Hamstreet. The film features interviews with Gary Kinsley, coordinator of events in Appledore, and Steve Newton, organiser of the celebrations in Hamstreet. At the time of production, George was studying film at the University of the Creative Arts, Maidstone Studios. While completing this project George graduated with a first in TV production.
The Big Lunch in Victoria Park 2022
By Sam Roberts
This film features an interview with Victoria Fannon, Volunteer and Community Engagement Officer for the Victoria Park National Lottery Heritage Fund Project. Unfortunately due to the weather this event had to be cancelled. Credit to film-maker Sam Roberts for providing an overview of the planning and preparation that goes into organising an event of this nature.
Tenterden Town Train Station
By Bradley Donnelly
With assistance from Elle Cronin, Bradley's film features the inaugural trip of the 150 year old Poplar on the Kent and East Sussex Railway (KESR). Bradley and Elle interviewed Heather Packham of KESR in the build-up to the Jubilee celebrations.
Woodchurch Jubilee Carnival
By Megan Head
This film features the Woodchurch Jubilee Carnival on 4 June 2022 with interviews of Pat Byrne, organiser of the Woodchurch Carnival, the Woodchurch Morris Men and the organiser of Woodchurch in Bloom.
Sk8side Jubilee Party
By Nathan Hill
Nathan filmed the preparations for the Jubilee party at Sk8side and interviewed organisers Sam Roberts and Deirdre O'Neill.
The Queen's Jubilee – Stevenson Brothers
By Elle Cronin
Elle's film is about the Stevenson Brothers Rocking Horse exhibition, All the Queen's Horses, in Tenterden Town Hall.  Her film features an interview with Stevenson Brothers partner Sue Russell.
The Ashford Tree Trail: A Celebratory Film Commemorating the Queen's Platinum Jubilee
By Kaden White
Kaden has finished his second year studying film at Canterbury College. Kaden filmed the Ashford Tree Trail Workshop in Victoria Park on 28 May 2022 where he interviewed Casey Brett, artist from Animate Arts. Kaden's film also features the lighting of Ashford's Civic Memorial Beacon in Civic Park on 2 July 2022.
Ashford Borough Jubilee 2022: a thank you to the Queen on Film
By Jasper Bouverie
This film features footage from all the previous films, showcasing the various events and activities across the borough that celebrated the Queen's Platinum Jubilee.
Funder Films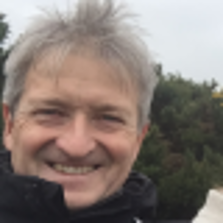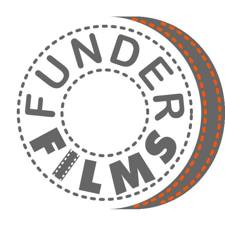 (Above) Jasper Bouverie of Funder Films and Funder Films logo.
Funder Films is a community interest company set up in 2014 by former BBC radio producer Jasper Bouverie. The aim of Funder Films is to promote social and environmental awareness through film. The Company has worked on a variety of grant-funded historical and social/environmental projects, and has ambition to produce more.
Jasper is also on the management group for another community interest company, Our Place Wye. The aim of Our Place Wye is to help the village of Wye in Kent to nurture a more inclusive and integrated community.