Completed Developments
Sheltered Schemes
Farrow Court, South Ashford
Farrow Court consists of 104 one and two bedroom apartments spread over three floors. There are seven recuperative care flats, one guest room and 12 purpose built flats for adults with learning disabilities.
Danemore, Tenterden
Danemore is a dementia friendly scheme. There are 34 one and two bedroom apartments and one guest room, with a further four chalet bungalows on the site for sale on the open market.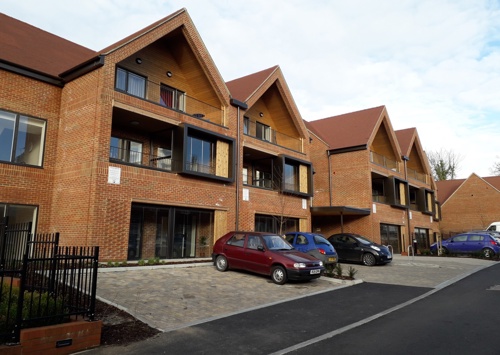 Short Stay Accommodation
Christchurch House, South Ashford
Christchurch House was renovated from an office building into short stay accommodation for homeless families. This provides an alternative to placing them in nightly paid accommodation. It provides eight units, including a wheelchair accessible unit, a communal kitchen and a courtyard/outside space.
Christchurch Lodge, South Ashford
This is another renovation and will provide short stay accommodation for homeless families. This will also reduce the use of nightly paid accommodation. It is made up of eight units, with a communal kitchen area and outside space. Technically the renovation uses an innovative multi foil insulation system which has helped to achieve CO2 reductions over Building Regulation requirements in the region of 20%. This development is now open.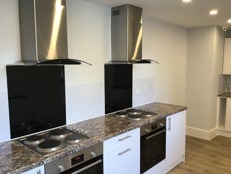 Wheelchair-accessible Bungalows
Noakes Meadow, South Ashford
The two bungalows at Noakes Meadow are the first of their kind built in the borough of Ashford. These bespoke affordable homes are the first that are known to fully meet the optional "wheelchair user accessible dwelling" Category 3 standard of Part M4 of the Building Regulations.
Close liaison with Kent County Council's occupational therapists helped determine the individual needs as written technical guidance alone cannot determine such bespoke requirements.
All sockets, thermostatic controls, door and window handles throughout the dwellings are at accessible heights. Collection baskets have been installed to the front doors to ease the collection of mail.
The kitchen worktops can be adjusted to comfortable workable heights to allow residents to cook and wash-up if they so wish. The kitchen cupboards have also been designed to be fully accessible.
The custom-built dwellings have square rooms with wide hallways so that turning circles are possible in powered wheelchairs. In each dwelling, the large square wet room can be accessed from both the hallway and the main bedroom via two very wide doorways.
A strengthened roof structure and removable wall sections allow residents to have hoists installed between the main bedroom and bathroom, should they be required.
Firm and level non-slip access has been provided from wheelchair accessible parking bays to all external doors. The gardens to the rear have been designed fully wheelchair accessible.
The long-term affordability and thermal efficiency has been an important consideration in the design. An easy to use and maintain Intergas Combi Compact ECO RF 24 gas boiler has been installed to ensure continued heating provision. Enhanced thermal bridging details and low air leakage rates have ensured that the bungalows achieve five star ratings for all areas of construction on their EPCs (energy performance certificates).
The additional costs of creating a life-time home to the M4(3) "wheelchair user accessible dwelling" standards at Noakes Meadow have been less than half that quoted in the DCLG Housing Standards Review 2014 for comparable two bedroom dwellings. Noakes Meadow is leading the way by demonstrating the viability of undertaking similar future projects.
Ragstone Hollow, Aldington
Ashford Borough Council and building contractor DCB Ltd have recently delivered a scheme of four affordable dwellings at Ragstone Hollow in Aldington. Consisting of two one-bed bungalows and two three-bed chalet bungalows. All the dwellings in this development have been designed and built to fully meet the optional "wheelchair user accessible dwelling" Category 3 standard of Part M4 of the Building Regulations.
These dwellings have been designed to maximise circulation spaces in the living areas. This makes the properties very adaptable for wheelchair users. The three-bed chalet bungalows have an impressive central hallway and landing that allows for a lift to be easily installed without any structural alteration.
Strengthened joists and removable wall sections will allow residents to have hoists installed between the ground floor bedroom and adjacent fully accessible shower-room, should this be required at a later date.
The dwellings are heated by air-source heat pumps. Combined with enhanced thermal construction details this has resulted in reductions in excess of 40% over the target CO2 emissions rates required by current Building Regulations. This should benefit residents with significantly reduced heating bills.
Ragstone Hollow is part of an important initiative, which not only provides affordable homes for local people to rent, but is also regenerating and revitalizing key areas of council owned land. The innovative use of council land such as this is helping to redevelop local communities, resolve anti-social behaviour problems, create employment opportunities and make a difference to the lives of local people who perhaps face the greatest of life's challenges.
Delivery
Since 2011 we have delivered 322 homes, which are set out in the table below.
Ashford Borough Council-delivered homes

| Site | Properties (affordable housing unless specified otherwise) | Building | Status | Handover |
| --- | --- | --- | --- | --- |
| Hunter Close, Ashford | 3 x 2-bed houses | 2-bed House | Completed | 23-Mar-11 |
| Towers View, Ashford | 5 x 1-bed bungalows | 1-bed Bungalow | Completed | 31-Mar-11 |
| Towers View, Ashford | 3 x 2-bed houses | 2-bed House | Completed | 31-Mar-11 |
| Towers View, Ashford | 2 x 2-bed bungalows | 2-bed Bungalow | Completed | 31-Mar-11 |
| Breadlands Road, Quarry Close, Willesborough | 7 x 2-bed houses | 2-bed House | Completed | 27-Apr-11 |
| Blake Court, Willesborough | 3 x 3-bed houses | 3-bed House | Completed | 31-May-11 |
| Gerlach House, Ashford | 2 x 1-bed flats | 1-bed Flat | Completed | 31-May-11 |
| Orchard View, Bethersden | 3 x 2-bed bungalows | 2-bed Bungalow | Completed | 11-Oct-11 |
| The Chennells, High Halden | 4 x 1-bed flats | 1-bed Flat | Completed | 04-Nov-11 |
| Nine Acres, Kennington | 2 x 2-bed bungalows | 2-bed Bungalow | Completed | 11-Nov-11 |
| Sotherton, Willesborough | 4 x 1-bed flats (for people with learning difficulties) | 1-bed Flat | Completed | 17-Nov-11 |
| Sotherton, Willesborough | 1 x 1-bed bungalow (for a person with learning difficulties) | 1-bed Bungalow | Completed | 17-Nov-11 |
| Arlington, Ashford | 3 x 3-bed houses | 3-bed House | Completed | 01-Dec-11 |
| Singleton Road, Ashford | 4 x 2-bed houses | 2-bed House | Completed | 01-Dec-11 |
| Bybrook Road, Ashford | 2 x 3-bed houses | 3-bed House | Completed | 07-Dec-11 |
| Bybrook Road, Ashford | 1 x 3-bed house | 3-bed House | Completed | 20-Jan-12 |
| Mardol Road, Ashford | 3 x 3-bed houses | 3-bed House | Completed | 07-Dec-11 |
| Mardol Road, Ashford | 1 x 3-bed house | 3-bed House | Completed | 03-Feb-12 |
| Cheeselands, Biddenden | 5 x 2-bed bungalows | 2-bed Bungalow | Completed | 10-Feb-12 |
| Beaver Lane, Ashford | 2 x 2-bed houses | 2-bed House | Completed | 12-Mar-12 |
| Luckley House, Wye | 9 x 1-bed flats | 1-bed Flat | Completed | 26-Mar-12 |
| Orion Way, Ashford | 2 x 4-bed houses | 4-bed House | Completed | 26-Mar-12 |
| Orion Way, Ashford | 7 x 3-bed houses | 3-bed House | Completed | 26-Mar-12 |
| Birling Road, Ashford | 1 x 3-bed house | 3-bed House | Completed | 27-Sep-13 |
| Christchurch Road, Ashford | 8 x 1-bed bedsits (for use as temporary accommodation) – note these properties sit in the General Fund | 1-bed Bedsit | Completed | 29-Aug-14 |
| Hawthorn, Appledore | 4 x 2-bed flats | 2-bed Flat | Completed | 21-Nov-14 |
| Hawthorn, Appledore | 4 x 2-bed bungalows | 2-bed Bungalow | Completed | 18-Dec-14 |
| Wind Hill, Charing | 2 x 2-bed bungalows | 2-bed Bungalow | Completed | 18-Dec-14 |
| Wind Hill, Charing | 1 x 3-bed bungalow | 3-bed Bungalow | Completed | 18-Dec-14 |
| Manse Field, Brabourne | 2 x 3-bed houses | 3-bed House | Completed | 19-Dec-14 |
| Randolph Gardens, Kennington | 8 x 3-bed houses | 3-bed House | Completed | 19-Dec-14 |
| Riverview, Ashford | 3 x 2-bed houses | 2-bed House | Completed | 19-Dec-14 |
| Riverview, Ashford | 1 x 3-bed houses | 3-bed House | Completed | 19-Dec-14 |
| Arcon Road, Ashford | 3 x 3-bed houses | 3-bed House | Completed | 30-Jan-15 |
| Simons Ave, Ashford | 3 x 3-bed houses | 3-bed House | Completed | 30-Jan-15 |
| Cryol Road, Ashford | 4 x 3-bed houses | 3-bed House | Completed | 27-Feb-15 |
| Cryol Road, Ashford | 2 x 4-bed houses | 4-bed House | Completed | 27-Feb-15 |
| Cryol Road, Ashford | 1 x 6-bed house | 6-bed House | Completed | 27-Feb-15 |
| Poppy Fields, Charing | 7 x 2-bed houses (shared ownership) | 2-bed House | Completed | 16-Nov-15 |
| Poppy Fields, Charing | 1 x 3-bed house (shared ownership) | 3-bed House | Completed | 16-Nov-15 |
| Poppy Fields, Charing | 13 x 3-bed | 3-bed House | Completed | 16-Nov-15 |
| Farrow Court | 81 x 1-bed flats (14 for those with learning difficulties) | 1-bed Flat | Completed | 20-Nov-15 |
| Farrow Court | 23 x 2-bed flats | 2-bed Flat | Completed | 20-Nov-15 |
| Boxley, Ashford | 2 x 3-bed houses | 3-bed House | Completed | 14-Dec-17 |
| Noakes Meadow, Ashford | 2 x 2-bed bungalows | 3-bed Bungalow | Completed | 19-Feb-18 |
| Beecholme Drive, Kennington | 2 x 3-bed houses | 3-bed House | Completed | 20-Mar-18 |
| Priory Way, Tenterden | 2 x 3-bed houses | 3-bed House | Completed | 20-Mar-18 |
| Belmont Place, Ashford | 3 x 2-bed flats | 2-bed Flat | Completed | 28-Mar-18 |
| Jubilee Fields, Wittersham | 4 x 3-bed houses (local needs) | 3-bed House | Completed | 05-Dec-18 |
| Brattle, Woodchurch | 4 x 2-bed houses | 2-bed House | Completed | 13-Dec-18 |
| Calland HRA 15-18 | 2 x 2-bed houses (local needs) | 2-bed House | Completed | 19-Dec-18 |
| Calland HRA 15-18 | 2 x 3-bed houses (local needs) | 3-bed House | Completed | 19-Dec-18 |
| Danemore, Tenterden | 23 x 1-bed flats | 1-bed Flat | Completed | 15-Feb-19 |
| Danemore, Tenterden | 11 x 2-bed flats | 2-bed Flat | Completed | 15-Feb-19 |
| Chequers Green, Shadoxhurst | 2 x 2-bed houses (shared ownership) | 2-bed House | Completed | 01-Aug-19 |
| Chequers Green, Shadoxhurst | 2 x 2-bed houses | 2-bed House | Completed | 01-Aug-19 |
| Kings Close, Shadoxhurst | 2 x 2-bed house (shared ownership) | 2-bed House | Completed | 14-Oct-19 |
| Kings Close, Shadoxhurst | 4 x 1-bed flat | 1-bed Flat | Completed | 14-Oct-19 |
| Kings Close, Shadoxhurst | 1 x 2-bed house | 2-bed House | Completed | 14-Oct-19 |
| Ragstone Hollow, Aldington | 2 x 2-bed bungalows | 2-bed Bungalow | Completed | 11-Mar-20 |
| Ragstone Hollow, Aldington | 2 x 3-bed bungalows | 3-bed Bungalow | Completed | 11-Mar-20 |
| The Weavers, Biddenden | 2 x 2-bed bungalows | 2-bed Bungalow | Completed | 13-Aug-20 |
Since 2011 we have enabled the delivery of 963 homes, with 319 of these since 2018 below:
Ashford Borough Council-enabled home delivery

| Registered Provider | Site | Tenure (affordable housing unless specified otherwise) | Delivered |
| --- | --- | --- | --- |
| Orbit Housing | Jemmett Road, Ashford | 3x3-bed houses (shared ownership) | Q1 2021-2022 |
| Golding Homes | North Street, Biddenden | 4x2-bed houses (shared ownership) | Q1 2021-2022 |
| Golding Homes | North Street, Biddenden | 3x3-bed houses | Q1 2021-2022 |
| Golding Homes | North Street, Biddenden | 2x3-bed houses | Q1 2021-2022 |
| Golding Homes | North Street, Biddenden | 2x2-bed houses | Q1 2021-2022 |
| Golding Homes | North Street, Biddenden | 1x2-bed flat over a garage | Q1 2021-2022 |
| Golding Homes | North Street, Biddenden | 4x1-bed flats | Q1 2021-2022 |
| Orbit Housing | Jemmett Road, Ashford | 2x4-bed houses (shared ownership) | Q4 2020-2021 |
| Heyloe Housing | Finberry, Cheesemans Green | 1x2-bed flat (shared ownership) | Q4 2020-2021 |
| West Kent Housing | Hinxhill Road, Ashford | 13x3-bed houses (shared ownership) | Q3 2020-2021 |
| West Kent Housing | Hinxhill Road, Ashford | 4x2-bed houses | Q3 2020-2021 |
| West Kent Housing | Hinxhill Road, Ashford | 2x1-bed flats | Q3 2020-2021 |
| West Kent Housing | Hinxhill Road, Ashford | 4x2-bed flats | Q3 2020-2021 |
| Orbit Housing | Jemmett Road, Ashford | 4x2-bed houses | Q3 2020-2021 |
| Orbit Housing | Jemmett Road, Ashford | 4x4-bed houses (shared ownership) | Q3 2020-2021 |
| Heyloe Housing | Finberry, Cheesemans Green | 5x2-bed flats | Q3 2020-2021 |
| Heyloe Housing | Finberry, Cheesemans Green | 1x2-bed house | Q3 2020-2021 |
| Heyloe Housing | Finberry, Cheesemans Green | 1x3-bed house (shared ownership) | Q3 2020-2021 |
| Golding Homes | Finberry, Cheesemans Green | 6x2-bed flats | Q3 2020-2021 |
| Golding Homes | Finberry, Cheesemans Green | 1x2-bed flat over garage (shared ownership) | Q3 2020-2021 |
| Golding Homes | Finberry, Cheesemans Green | 5x2-bed houses | Q3 2020-2021 |
| Moat Housing | Recreation Road, Tenterden | 2x1 bed flats | Q2 2020-2021 |
| Moat Housing | Recreation Road, Tenterden | 4x2-bed flats | Q2 2020-2021 |
| Moat Housing | Recreation Road, Tenterden | 2x1-bed flats (shared ownership) | Q2 2020-2021 |
| Moat Housing | Recreation Road, Tenterden | 3x2-bed houses | Q2 2020-2021 |
| Heyloe Housing | Finberry, Cheesemans Green | 1x2-bed flat over garage (shared ownership) | Q2 2020-2021 |
| Heyloe Housing | Finberry, Cheesemans Green | 6x2-bed houses | Q2 2020-2021 |
| Golding Homes | Finberry, Cheesemans Green | 7x2-bed flats (shared ownership) | Q4 2019-2020 |
| Golding Homes | Finberry, Cheesemans Green | 3x4-bed houses (shared ownership) | Q4 2019-2020 |
| Golding Homes | Finberry, Cheesemans Green | 1x3-bed house (shared ownership) | Q4 2019-2020 |
| Town and Country Housing | St Margaret's Place, Biddenden | 6x2-bed house | Q4 2019-2020 |
| Moat Housing | Recreation Road, Tenterden | 2x1-bed flats | Q4 2019-2020 |
| Moat Housing | Recreation Road, Tenterden | 4x2-bed flats | Q4 2019-2020 |
| Golding Homes | Finberry, Cheesemans Green | 3x4-bed house (shared ownership) | Q3 2019-2020 |
| Golding Homes | Finberry, Cheesemans Green | 6x3-bed house (shared ownership) | Q3 2019-2020 |
| Golding Homes | Finberry, Cheesemans Green | 4x2-bed house (shared ownership) | Q3 2019-2020 |
| Golding Homes | Finberry, Cheesemans Green | 1x2-bed flat (shared ownership) | Q3 2019-2020 |
| Orbit Housing | Jemmett Road | 8x2-bed flat (shared ownership) | Q3 2019-2020 |
| Orbit Housing | Jemmett Road | 4x1-bed flat (shared ownership) | Q3 2019-2020 |
| West Kent Housing Association | Halden Field | 1x3-bed house | Q3 2019-2020 |
| West Kent Housing Association | Halden Field | 3x2-bed house | Q3 2019-2020 |
| West Kent Housing Association | Halden Field | 4x1-bed flat | Q3 2019-2020 |
| West Kent Housing Association | Halden Field | 4x3-bed house (shared ownership) | Q3 2019-2020 |
| West Kent Housing Association | Halden Field | 2x2-bed house (shared ownership) | Q3 2019-2020 |
| English Rural Housing Association | Goldfield, Warehorne | 2x2-bed house (local needs affordable rent) | Q3 2019-2020 |
| English Rural Housing Association | Goldfield, Warehorne | 2x1-bed flat (local needs affordable rent) | Q3 2019-2020 |
| Golding Homes | Repton Park | 7x1-bed flat | Q2 2019-2020 |
| Golding Homes | Repton Park | 13x2-bed flat | Q2 2019-2020 |
| Orbit Housing | Jemmett Road | 6x1-bed flat | Q2 2019-2020 |
| Orbit Housing | Jemmett Road | 12x2-bed flat | Q2 2019-2020 |
| Orbit Housing | Smallhythe Road, Tenterden | 3x3-bed house (shared ownership) | Q2 2019-2020 |
| Orbit Housing | Jemmett Road | 1x4-bed house (shared ownership) | Q2 2019-2020 |
| West Kent Housing Association | Smallhythe Road, Tenterden | 6x1-bed flat (shared ownership) | Q2 2019-2020 |
| West Kent Housing Association | Smallhythe Road, Tenterden | 3x2-bed flat (shared ownership) | Q2 2019-2020 |
| West Kent Housing Association | Smallhythe Road, Tenterden | 14x2-bed house (shared ownership) | Q2 2019-2020 |
| West Kent Housing Association | Smallhythe Road, Tenterden | 1x3-bed house (shared ownership) | Q2 2019-2020 |
| West Kent Housing Association | Smallhythe Road, Tenterden | 6x2-bed flat (shared ownership) | Q1 2019-2020 |
| West Kent Housing Association | Smallhythe Road, Tenterden | 1x4-house (shared ownership) | Q1 2019-2020 |
| West Kent Housing Association | Smallhythe Road, Tenterden | 2x4-bed house | Q1 2019-2020 |
| Orbit Housing | Jemmett Road | 1x3-bed house (shared ownership) | Q1 2019-2020 |
| Orbit Housing | Jemmett Road | 7x1-bed flat | Q1 2019-2020 |
| Orbit Housing | Jemmett Road | 3x2-bed flat | Q1 2019-2020 |
| Orbit Housing | Jemmett Road | 4x2-bed house | Q1 2019-2020 |
| Orbit Housing | Jemmett Road | 3x3-bed house (shared ownership) | Q4 2018-2019 |
| Orbit Housing | Finberry, Cheesemans Green | 8x1-bed flat | Q4 2018-2019 |
| Orbit Housing | Finberry, Cheesemans Green | 7x2-bed flat | Q4 2018-2019 |
| Orbit Housing | Finberry, Cheesemans Green | 3x2-bed house | Q4 2018-2019 |
| Golding Homes | Finberry, Cheesemans Green | 4x3-bed house | Q3 2018-2019 |
| West Kent Housing Association | Finberry, Cheesemans Green | 6x2-bed flat | Q3 2018-2019 |
| West Kent Housing Association | Finberry, Cheesemans Green | 5x3-bed house (shared ownership) | Q3 2018-2019 |
| West Kent Housing Association | Finberry, Cheesemans Green | 1x flat over garage (shared ownership) | Q3 2018-2019 |
| Town and Country Housing Group | Austin Road | 10x3-bed house | Q2 2018-2019 |
| Town and Country Housing Group | Austin Road | 4x2-bed house | Q2 2018-2019 |
| Golding Homes | Roman Road, Aldington | 2x2-bed house | Q2 2018-2019 |
| Golding Homes | Roman Road, Aldington | 2x2-bed house (shared ownership | Q2 2018-2019 |
| Moat Housing | Recreation Road, Tenterden | 6x1-bed flat | Q2 2018-2019 |
| Moat Housing | Recreation Road, Tenterden | 1x1-bed flat (shared ownership) | Q2 2018-2019 |
| Moat Housing | Recreation Road, Tenterden | 6x2-bed house (shared ownership) | Q2 2018-2019 |
| Moat Housing | Recreation Road, Tenterden | 3x2-bed flat | Q2 2018-2019 |
| Golding Homes | Finberry, Cheesemans Green | 4x2-bed house (shared ownership) | Q1 2018-2019 |
| Golding Homes | Finberry, Cheesemans Green | 4x3-bed house (shared ownership) | Q1 2018-2019 |
| Moat Housing | Recreation Road, Tenterden | 6x1-bed flat (shared ownership) | Q1 2018-2019 |
| Moat Housing | Recreation Road, Tenterden | 3x2-bed flat (shared ownership) | Q1 2018-2019 |