80th Anniversary of the 24 March 1943 Bombing Raid on Ashford
The public is invited to mark the 80th anniversary of one of Kent's most devastating bombing raids on Friday 24 March 2023.
There will be a Commemorative Service at the War Memorial in Ashford's Memorial Gardens at 10am on 24 March 2023. This will be followed by a visit to the Ashford Gateway to meet local author, Ed Adams, who has recently published 'Ashford At War' and to view the 80th anniversary exhibition, featuring World War II artefacts and photographs from the Ashford raid.  The exhibition will be on display from 24 March to 30 April.
During the Second World War, Ashford Railway Works was a prime target for German bombers. Between 1939 and 1945 around 4,000 air raid alerts sounded and bombs regularly fell in the vicinity. The worst incident occurred on 24 March 1943 when an air raid that lasted just three minutes killed 52 civilians, one RAF pilot and seriously injured a further 78.
Although the railway works was the main target, the surrounding areas were also badly hit. Severe damage occurred in New Street, Dover Place, New Rents, Star Road, Hardinge Road, Kent Avenue and at Hayward's Garage.
During the raid, a bomb fell on Beaver Road Primary Schools, formerly located on the corner of Beaver Road and Victoria Road. Thankfully, the sirens sounded in time and the children managed to get into the playground shelters. Long before the all-clear sounded, parents rushed to the school to find the children unscathed. Miss Adams, the head teacher of the girls school, received an award for her actions, which ultimately saved the lives of the children.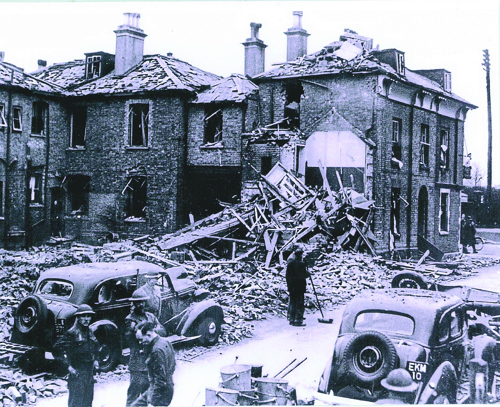 (Above) Dover Place, Kent Arms Bombed 1943 (c) Ashford Borough Museum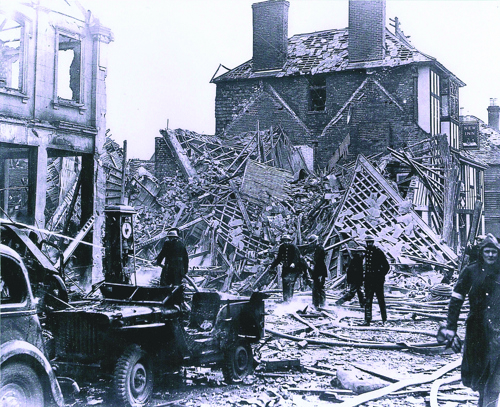 (Above) Hayward's Garage Bombed, 1943 (c) Ashford Borough Museum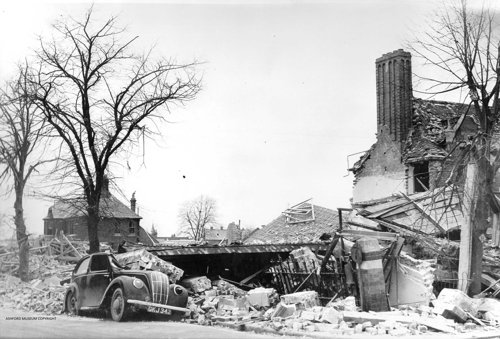 (Above) Bombing of Beaver Road School, March 1943 (c) Ashford Borough Museum