Car Parks in Tenterden
Tenterden Parking Notice
Tenterden Leisure Centre
Please be aware that works commenced on some construction work at Tenterden Leisure Centre on 10 April 2021.
The contractors fenced of an area of the car park as their compound. There will be other areas that are also suspended as they simply won't be safe for use while work is being carried out. 
This means that some areas will not be available for parking at this time. 
This will effect use of Electric Vehicle Charging points and we ask you to use an alternative location for charging.
The existing coach parking area will be consumed by the contractors' compound. However, a temporary coach parking bay will be available.
Car Park Vouchers
Car Park Vouchers are now available.  Vouchers offer a flexible, cost effective alternative for daily parking and can be used in several car parks.  For more information see our Season Tickets and Car Park Vouchers page.
On-street parking in Tenterden
There are a number of free parking bays in the town centre which are subject to prohibitions and restrictions. Most of these are restricted between 8am and 6pm Monday to Saturday (when parking, please check the signs relating to the particular bay or set of bays).
Please note that most bays are subject to a maximum stay of one hour during the day (again, please refer to signs when parking).
There are also a number of designated disabled bays on the High Street, with a maximum limit of three hours for each stay, to increase the number of blue badge holders that might use the bays during the day.
Car parks in Tenterden (Disabled parking rules see below)
N.B. all of our car parks permit a maximum stay of 23 hours.
Car Park Prices and Information
Station Road Car and Coach Park
Tenterden Leisure Centre Car and Coach Park
Payment by card
All Tenterden car parks take card payments (see car park information above for details)
Please follow instructions on-screen, or you can download our pay by card for parking guide [pdf] 218KB
Parking for blue badge holders
FREE parking for up to three hours if you display a valid blue badge and time clock, set to the time of arrival.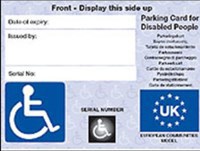 Notes
If no disabled bay is available in the car park you may park in any standard bay and still benefit from three hours free parking
You need to display your blue badge and time clock, set to the time of arrival
In all cases, if you are staying for longer than three hours, you must pay for parking for the entirety of your stay